Top 6 | Best Everyday Backpack
In my humble opinion, "Best Everyday Backpack" is the equivalent to the "Best Picture" category if we're going to use the Academy Awards as a benchmark. It's the most competitive category, with the most products up against one another, all from the world's biggest and best brands. These brands put all of their design efforts into making these packs, which balance the act of being awesome for a casual stroll around town, the commute to and from work, and even for travel/adventure. This is it, the pinnacle. You might notice every other category has 5 finalists and this one has 6. Just like last year, it was nearly impossible to cut down the finalists to only a top 5. So I made the executive decision to have this category have a top 6, because… well, all 6 here deserve a chance at the title.
---
Who It Suits:
The carry aficionado who considers their tech and organization critical on their adventures. Someone looking for a dual-duty pack for the everyday grind and for travel/adventure.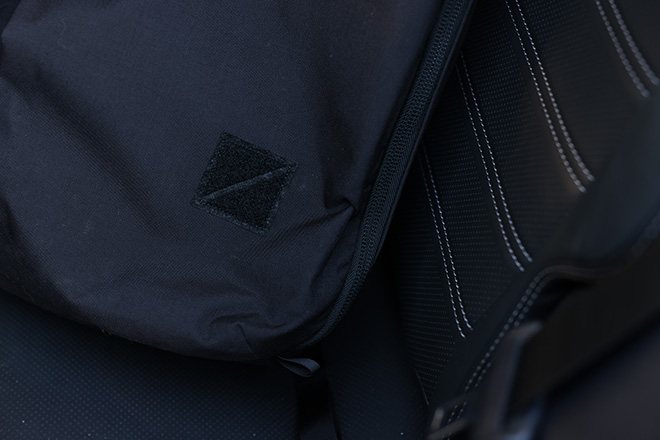 If you've been reading Carryology for any amount of time, there's no hiding that we dig EVERGOODS and their products. The CPL24 (Civic Panel Loader 24 liters) was an instant cult classic here in the pack world. It's been a Carryology team favorite, a Carryology reader favorite, and a Carry Awards finalist. So what could they do to make it better? They introduced a V2 with some tweaks and improvements… they also added a second option called the CPL28, adding 4 liters (18.25" x 7.25" x 12"). For this bit, I've got the CPL28, but both models are essentially the same, so everything is applicable to the CPL24 V2 as well.
The huge clamshell opening gives full access via its big YKK #10 zippers to all your goods inside. At 24 liters, it can swallow up everything you need for day to day. With the 28L version, it will act as an EDC pack effortlessly, not looking like you're walking around your city with a suitcase on your back. This is partly due to the CPL28's clean minimal aesthetics, blending into its surroundings.
Though 28L might be minimal for some for travel, less size means you'll pack less weight. As someone who has gone 16+ days across 8 countries with a 45L travel pack… that's painful stuff. But not with the CPL28. This has to do with the famous ergonomically designed shoulder straps and suspension. The harness is patterned into the panels of the pack itself, wrapping around your shoulders like a nice hug from the Montana-based crew.
EVERGOODS never hold back when it comes to fabric selection, using 420D HT (high tenacity) nylon fabric for their INTERIOR lining fabric. This stuff is nicer than many brands use for their EXTERIOR fabric. As you know, we're fabric nerds here, so this is a big bonus. They're using lightweight, water-repellant, 500D HT nylon for the exterior fabric, which scoffs at the elements with humor.
Finally, one of my favorite improvements is that quick-access top pocket, built right into the negative space of the shoulder patterning (mentioned above). I personally use this for sunglasses, keys, and AirPods. Ultimately, the pack's entire layout is designed so I have everything I need, right there where I need it. Quick and easy.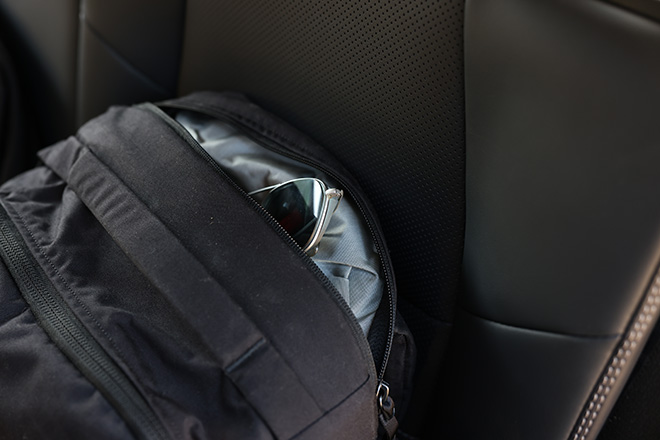 ---
STRENGTHS
Clean, minimal aesthetic
Incredibly comfortable suspension harness
The highest quality materials and hardware
Thoughtful organization throughout
---
Who It Suits:
The Carryologist who is focused heavily on organization, protection, and brutally tough materials/construction that can take abuse out on the road.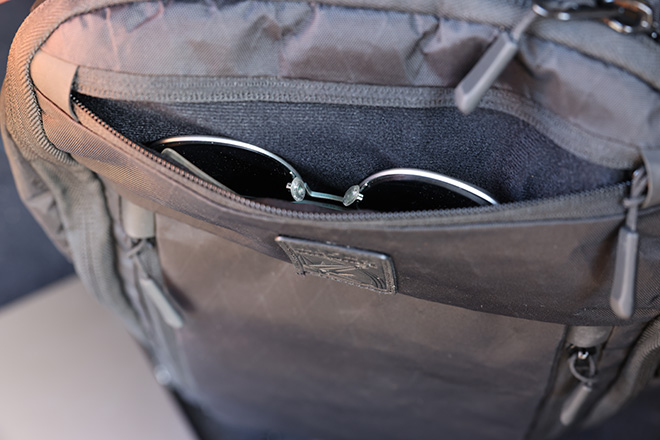 Alpha One Niner (AON) has proven that they're not just a one-hit wonder. The EVADE series of packs has been at the core of their brand, offering nearly a dozen different iterations/versions. The Pathfinder takes everything that makes the EVADE great and then shakes it all up and introduces it in a different form factor with a different layout. I kind of think of the Pathfinder as the tuxedo compared to the EVADE as the waxed cotton jacket.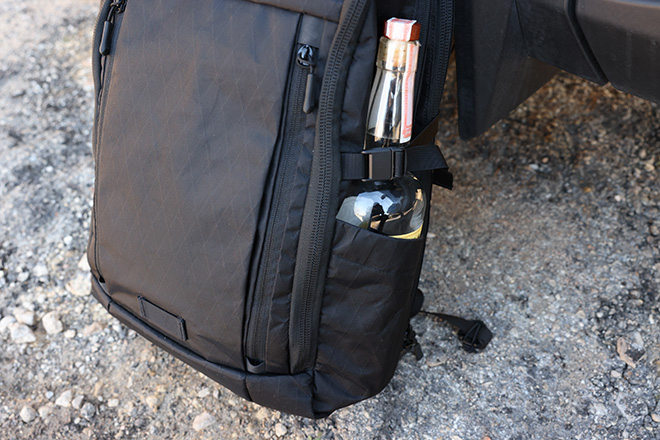 Why do I think that? Well, first, you're not losing any toughness. No, AON has opted to use Dimension Polyant's X-Pac fabric on the exterior for its durability and water resistance, a nice touch since so many were hoping for X-Pac product offerings from AON. The debossed leather logo patch up top is a nice, elegant touch, giving the exterior some visual classiness.
It might look relatively "simple" from the exterior, a bit of a departure from AON's "tactical" aesthetic. But it still has all the organization and tactical features of its brethren. The Velcro-lined front pocket can be used to carry a jacket, toss in some soft body armor, attach a Velcro holster, or add an admin panel or other accessories.
Layout-wise, they've done something clever here. The tech panel is in the rear zipper compartment, protected and away from the elements. This puts your larger main compartment forward for all your gear.
Lastly, the two upper/rear hidden pockets really have won me over… whenever I have something small that I don't want in my hands anymore, there's just that little extra space waiting to be used up.
---
STRENGTHS
Durable and tough
Bright red-lined interior for contrast
Organization master
Really well-designed bottle pockets
---
Who It Suits:
The user who is primarily focused on outdoor adventuring and the features for active pursuits… but also likes to carry some tech!
Remote Equipment might not have decades of years behind their brand, but owner/founder Philip does. And he infuses his experience into all of the designs they create; Alpha 31, Bravo 18, and the Charlie 25. Kickstarter campaign after Kickstarter campaign, Remote Equipment keeps building steam and establishing themselves as a key player in this softgoods game. Their third offering, the Charlie 25, kept that trend going.
The access on this particular pack is certainly unique, not something you see very often in the array of different packs we see day to day. First, there's a floating top "brain" which can be unbuckled to gain access to the main compartment. Additionally, you can opt to remove this and use it as an internal organizer pouch or leave it at home, making your way into the pack faster/easier.
From here, you've got a drawstring cinch top access so you can reach down into your bag, like many larger hiking packs. But here's where things get interesting. The main front vertical zipper opens up to splay your pack open, displaying everything inside and providing easy access to it all.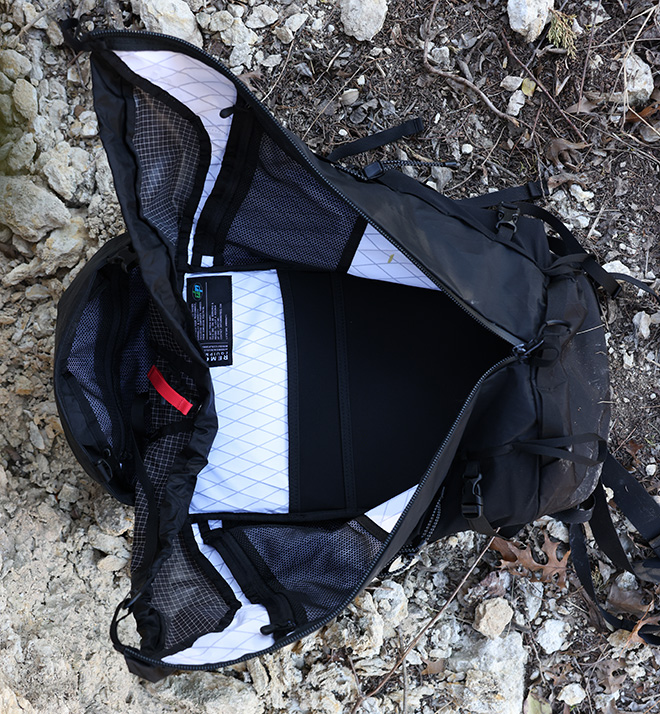 On the interior back panel, you've got a simple stretch nylon drop pocket for your laptop and another for your tablet. While they might be basic in their construction, they keep your tech where they're supposed to be, and they're both suspended so you don't damage either when you put your pack down onto hard concrete. Or, if you're outdoor-focused, you can use these pockets to hold a bladder to keep you hydrated.
On the exterior, you've got modularity and tailoring for days. Due to this, there are more straps than most other packs in this category, but it's a small price to pay for the benefits. Pack feeling a little too swollen? Cinch it down via 7 different web adjustments. Need some additional storage? Toss on one or two of RE's Org Kits, which sit neatly on the sides of the pack, vertically.
This pack offers all the features and suspension comfort of a technical outdoor pack, with the ability to perform well for everyday tasks around the city.
---
STRENGTHS
Technical water-resistant construction and materials
Lots of modularity and tailoring to fit your needs
Very comfortable suspension
Unique access to interior compartment
---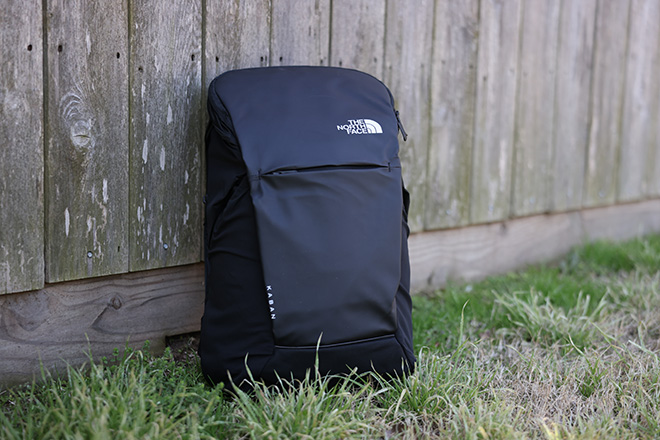 Who It Suits:
The adventurous individual who is looking to have the quality build, organization, and all the high-end features of a $300+ pack, but doesn't want to break the bank with a new purchase.
The newly relocated Denver-based design team at The North Face are seasoned professionals when it comes to creating world-class functional carry solutions. And they proved themselves with the Kaban backpack, becoming a cult favorite among fans. Never willing to back down from an Everest-sized challenge, the team went back to the drawing board and set out to refine the Kaban, improving an already fantastic pack. They nailed it. The Kaban 2.0 delivers.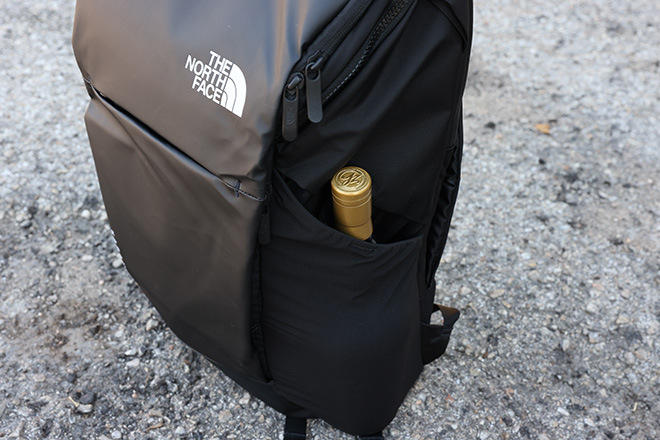 This 27-liter pack has the type of organization and access that I really enjoy. One main compartment with a U-shaped access at the top makes getting your larger, bulkier gear a breeze. The rear microfiber-lined, heavily-padded laptop compartment keeps tech where it should be, protected and away from everything else, yet still quick and easy to get to. They added a water-resistant zipper for this laptop compartment, which is a nice little nod to using this zipper where it's necessary.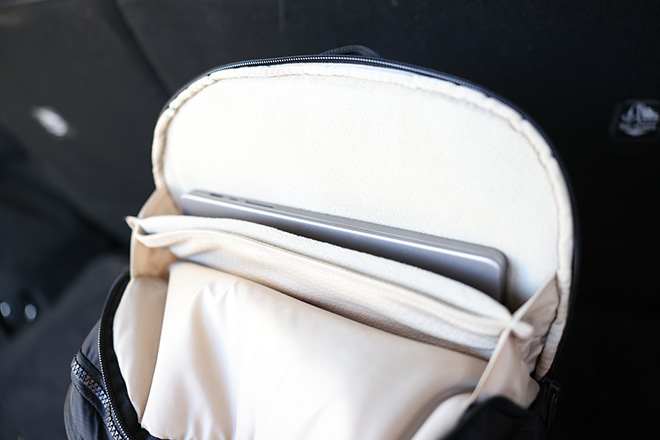 Two "hidden" zipper pockets on the front make it convenient for those little hand-sized knickknacks that need a place to live rapidly. And the most impressive is the top admin organization panel compartment, sharing that same U-shaped zipper line as the main compartment. In here, I stored all my little items, as well as my iPhone 13 Pro Max or even my full-sized iPad in the padded micro-fiber pocket. I know, nothing here is revolutionary, but I really, really enjoy the layout. It just seems to *click* for how my mind wants to organize items.
The North Face might not have opted to use the latest trend or most Gucci fabrics, but again… they work. The front panel is made of a waterproof TPU laminated fabric, shedding off rain without a drop of sweat. They added a seriously hefty 1680D nylon fabric to the base, ensuring you can drag this pack across the ground without scratching the fibers. The material selection here is clearly well chosen, for weight, for cost, and performance… resulting in a harmony of perfect fabric balance.
The Kaban 2.0 comes from a pedigree of design experts. And it shows. I really dig this pack.
---
STRENGTHS
Very affordable for all the features you get
Material selection is chosen for purpose, not flash
Organization compartmentalization is dialed
A cult classic, improved to new levels
---
Who It Suits:
The discerning carry enthusiast who has tried all the rest out there and finally wants to take the plunge into an ultra-premium pack from the hands of Douglas Davidson of The Brown Buffalo.
I want to address something first before we go too deep in! This particular pack is a collaboration edition between The Brown Buffalo and Moblow. Moblow is founded by Mark Oblow, "a lifelong skateboarder, brand builder and veteran photographer". Douglas had completely sold out of the ConcealPack 21L EDC when I needed one for testing and photography for the Carry Awards, so he sent this limited edition pack. This particular pack came with some additional accessories, but it is essentially the exact model of the standard ConcealPack 21L EDC, other than some really cool fabric choices such as the Desert Night Camouflage (pattern used in the Gulf War) printed onto Cordura fabric. So I will be focusing on this write-up treating this as a standard ConcealPack 21L EDC. Cool? Cool.
The best way I can explain this pack is all the benefits of a mass production pack, delivered in a small batch handmade package. Each one of these ConcealPacks is made in Costa Mesa, California, by Douglas and his team. So, if provenance is important to you, this is definitely to be considered.
Ultra-minimal, honest, and simple aesthetics. This doesn't scream "hiking active backpack" like so many packs seem to do. It can blend into a professional setting with ease, yet look casual sitting next to you on a barstool of a local pub. This is true especially in the all-black colorway.
Modularity king. This section is pretty surprising, especially after the last blurb about minimalism, above. Usually minimal design does not allow for customization, but TBB has found a way to find this almost impossible balance. While some might see this as a negative, I personally find this a major plus in the "pros" column. TBB has added lots of Velcro in this pack, which fits an array of their optional Modular Components (a favorite of mine being the MOD002).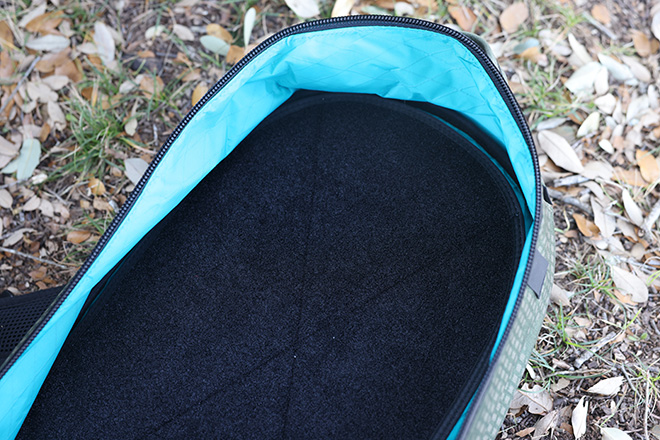 When it comes to construction and durability, Douglas is an industry veteran and leader, so there's no surprise that he leans on his experience to make sure this is done right. While it might not be the sexiest and hottest brand new thing, this pack is made from the iconic classic; Cordura nylon. Specifically the 1050D ballistic variant, which is ultra-tough stuff. It has proven itself as a workhorse for decades and can totally live up to the STORMPROOF designation that TBB gives this pack.
Building off of the above, the interior uses the blazing fluorescent hot RVX25 X-Pac as a liner. This stuff is waterproof, can take a beating, looks amazing, creates a ton of visual contrast to locate items in low lighting… did I mention it's bright as hell?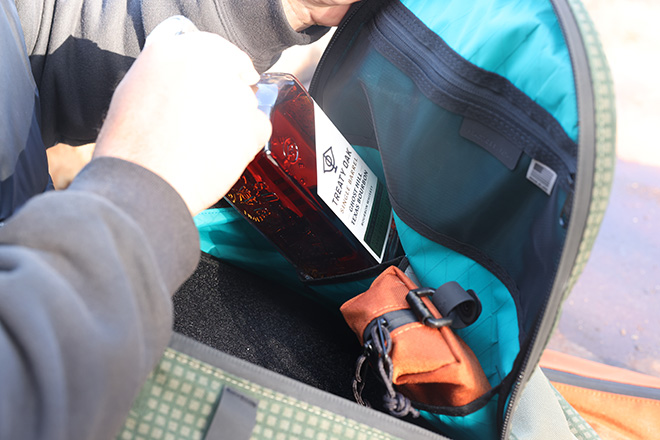 Overall, a fantastic piece to add to your bag wall and carry rotation.
---
STRENGTHS
Handmade by The Brown Buffalo team in the USA
Classic tough exterior fabric and tech interior fabric
Super modularity with Velcro panels for MOD accessories
Minimal, timeless, iconic silhouette and aesthetics
---
Who It Suits:
The commuter who is looking for a well-organized premium pack for every day where defense against nature's elements and clean looks are critically important.
The SHADOW isn't just a backpack; it's a piece of technical magnificence. Truly. Where most packs in this category are panels of fabric that are sewn by hand in a softgoods factory, this thing is the black sheep. It's made with lasers, computers, and cutting-edge manufacturing processes.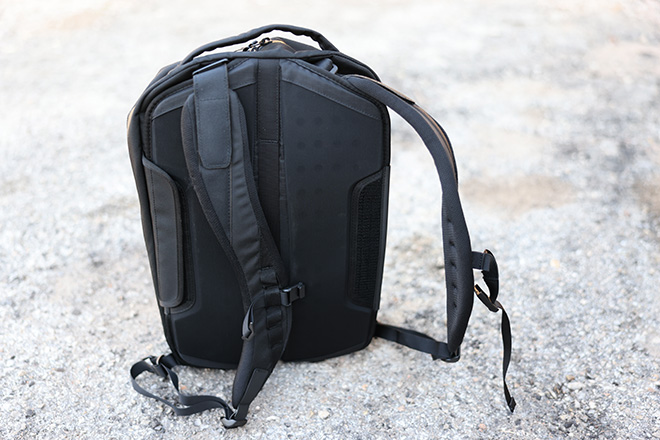 First, the material is Black Ember's own proprietary performance textile that they call HTX. HTX is a nylon crossweave coated with TPU, making it completely waterproof as a fabric. From there, the panels are precision cut via lasers, ensuring exacting measurements for construction. Finally, the panels and the YKK AquaGuard zippers are joined together via Black Ember's BOND-STITCH construction, which uses, you guessed it, both stitching AND bonding to ensure an impermeable connection between them. The result? A pack that is waterproof rated to IPX6 standards, tested with 1,200 PSI water jets. TL;DR… all your gear is definitely going to stay dry.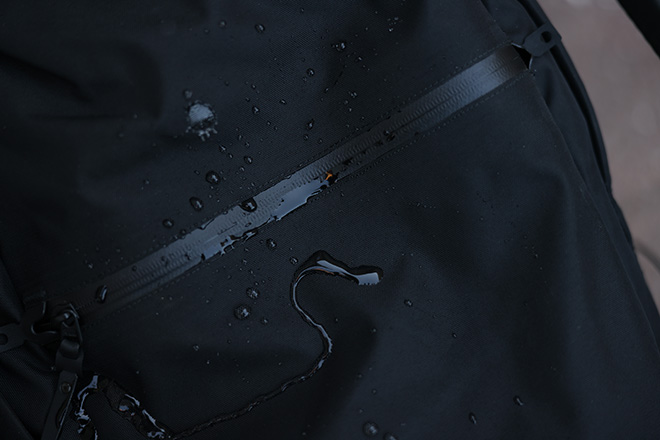 Now, most waterproof packs… how do I put this? They absolutely suck for everyday use. That's because of the way they're patterned or constructed, focusing more on the waterproof aspect instead of the access aspect. Black Ember found a way to work some magic where you can have your cake and eat it too. While extremely minimal in aesthetics, the access is a breeze. The front zipper pocket is surprisingly huge, having a 3D space from top to bottom, perfect for a bunch of pouches or even a jacket. Then, the main compartment opens up (via the "lockable" Hypalon zipper pullers) and lays completely flat, giving you full access to your goods, such as your laptop which is protected within a suspended rear sleeve.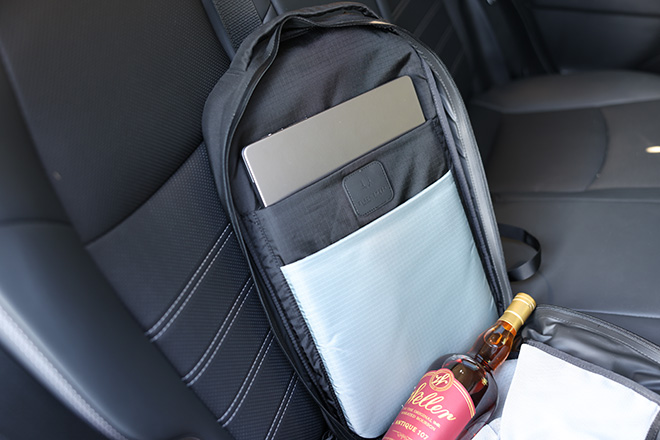 My favorite part? While it's a close second for the rear shoulder straps that tuck away super cleanly and cleverly behind the rear padded back panel, thanks to two beautifully integrated Velcro flaps… it's the built-in tech organizer in the main compartment. Black Ember recently released their TKS Tech-Kit which we instantly fell in love with. Well, the SHADOW has an integrated "TKS Lite" (I just made that up), that sits towards the upper part inside the main compartment, which is exactly where I want to keep my small tech items.
There are way too many innovative features on the 22-liter and 26-liter SHADOW backpacks to list here, which would require its own article. But, this pack has quickly risen to greatness and commands its spot in this finalist list of Best Everyday Backpack, in the running for the best of the year.
---
STRENGTHS
Tough, technical, waterproof build rated to IPX6 standards
Clamshell main compartment for easy access to gear
Integrated tech organizer
Clean aesthetics suit work and play
---
VOTING CLOSES 26 MARCH