Top 6: Best Everyday Bag 2020
Folks, in my humble opinion, the Best Everyday Bag category is the big one. This one is like 'Best Picture' at the Oscars. When most of us think 'carry', the products within this group are the ones that fill our imaginations. A functional backpack for everyday, so simple yet so wildly complicated. A form factor that seamlessly crosses the line between everyday carry, work, travel, and adventure. The do-everything product we're all endlessly searching for. To be a finalist here means the product is nothing short of heroic. And to land in the top 5… it means you've firmly placed yourself into the halls of icons and legends, forever. This year in particular, we're witnessing carry makers nearly hitting a critical mass of quality, design, and thinking. As a result of this, for the first time in the 8 years of the Carry Awards, the votes were so incredibly close… that there was a tie. Presenting to you, in no particular order… the top 6 Everyday Bags. Now, dear reader, it's up to you to decide what is the very best everyday bag. Good luck!
---
I've been saying it for years now, since the launch of the original 'version 1' Axiom 24… this is one of my favorite everyday/travel backpacks ever made. The design team over at Triple Aught Design listened to customer feedback from their already successful v1 (Highly Commended in last year's Carry Awards as well) and tweaked the design to be even more functional and just, well, better. Normally brands will make small line changes to improve a pack, sometimes almost too small to detect to the untrained eye. But TAD went with 13 deliberate upgrades in total for this pack, which, in our opinion, makes us consider this A24v2 a brand new product.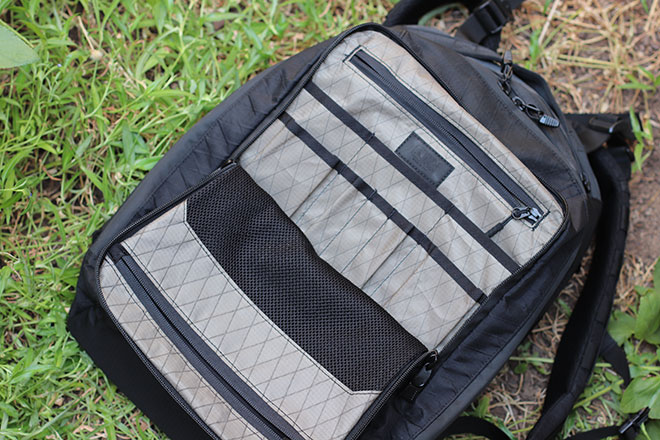 This bag has been used as an around town backpack, a pack that I've carried all my tech in to design meetings, a camera bag to shoot outdoor events, and I've even carried this single 24-liter pack to Japan and the Philippines for 14 days of adventuring. While it does need some thoughtful and minimal packing for a long trip, I found it's totally doable.
Made in the USA from waterproof and incredibly tough Dimension Polyant X-Pac fabric (both exterior AND interior liner), it can handle abuse from rainforests and concrete jungles while still looking fresh and tidy the next day. Aside from the fabric's performance qualities, I find it quite handsome for all of its intended purposes.
Adding organization which borders the line of clever for days and days, you'll have everything you want at your fingertips… and then you can rearrange your loadout for your next mission, whatever that might mean for you. The inverted pocket on the front section might be confusing to some, but I really love it for storing an emergency rainshell jacket. Quick access, separate from my other gear, and right where I would prefer it to be placed.
---
STRENGTHS
Wins in organization
Top-tier build quality
Super versatile
---
Most of us are familiar with the story of Goldilocks and the 3 bears, yeah? Well, Mystery Ranch seemed to follow this tale almost to the letter. They already had an icon that was universally loved across the globe, the 3DAP, of course. But it was just a bit too big for most to really consider it an everyday pack. Then, they revealed their new 1DAP. Albeit a bit hard to acquire, it was smaller and more everyday-friendly. But… it just wasn't exactly perfect. Both the 3DAP and the 1DAP were built as purpose-driven military assault packs, after all. And then, the clouds parted. They revealed the pack we had all been dreaming of. The attractively priced ($199) Mystery Ranch 2DAP is just right.
Where the 2DAP really shines is the thoughtfulness which is tailored for city dwellers and weekend warriors alike. It still offers the same rugged aesthetic and build quality as their military packs, with MOLLE/PALS webbing on the exterior, but with a smart and organized interior. Sitting neatly between the 1DAP (18L) and the 3DAP (32L), it offers a perfect balance of gear swallowing with 27L of capacity. It just hits that Goldilocks sweet spot, large enough for 1-2 weeks of travel but small enough not to make you feel out of place on a crowded urban sidewalk.
With 27 liters, you have to be a bit mindful of your carrying… as EDC and electronic gear can get pretty heavy. Toss in a laptop, iPad, cables, accessories, a mirrorless camera, two lenses, and more… that adds up. Fortunately, Mystery Ranch didn't skimp out here, offering up a unique variation on their tried and true comfortable and adjustable Futura harness. I've heard the phrase 'Rolls-Royce of suspensions' used before and I don't disagree. This will make every step of your journey that much better, floating that load via a custom tailored fit to your body, short or tall.
Organization-wise… you get the critically civilian-demanded laptop compartment that the 3DAP and 1DAP were so desperately missing if you wanted them to work for you. That laptop compartment also has a quick exterior access zipper, making grabbing your high-tech rectangular frisbee a breeze. And I know this is always a fun one, as there are two camps here, but you get stretch water bottle pockets. Yep, one on each side. This is a deal-breaker for some folks, so it's nice to see them include them.
A great balance of both the military DNA where it was born from and the civilian-friendly requirements that customers needed, the Mystery Ranch 2DAP is a home run.
---
STRENGTHS
Industry-leading harness
Killer access
Rugged build
---
More, from less. I had the pleasure to see a prototype of this bag at Outdoor Retailer and I was immediately laser focused on it, desperate to know more and to get one on my back. Bellroy's CEO Andy Fallshaw put it best for the Apex: 'This is the bag I always dreamed of creating. It's essentially our version of a concept car – the culmination of 10 years of design learning, distilled into one bag that works in a multitude of environments.' This isn't just fluff marketing talk, either. Pop open the hood (see what I did there?) and you really start to begin to see what makes this pack special, despite its minimal, modern, and sleek exterior. All the clever, high-tech, waterproof bonded construction is hidden to the untrained eye… making it a bag almost specifically made for discerning bag nerds, but that can still be enjoyed by everyone. Made from Bellroy's custom water-resistant and durable 100% recycled Baida nylon, you can casually shake off nature's elements while not feeling bad about harming them. At 26 liters, it's that perfect everyday volume and plenty usable for thoughtful one-bag travelers.
Let's get back to opening up the hood/bonnet… the access to the main compartment can be as discreet or as extreme as you'd like it. Kind of a mashup between a roll-top and a universal zip (think Arc'teryx Khard or 3-Zip). Access it from the top opening by undoing the injection molded hook/clasp and unfold the lid for a top-loading experience or splay it open by pulling the zippered front flap forward for full access. And once you've opened it all in front of you, all of your EDC items are on full display for quick access. The stretch interior pocketing keeps items where you want them, with an extra magnetic snap button to provide that extra bit of security.
Those straps. The moment I laid eyes on them, I was curious, excited, and intrigued. It would be months later until I finally got to try them on over my own shoulders… and, well, they are brilliant. Thought-provoking yet comfortable. I often think 'Nomin' when I handle them. But that's doing a bit of disservice, as this Apex's shoulder straps have a bit more complexity and a bit more functionality over the Veilance pack. High-end buttery leather meets nylon cording meets supple squishy foam. A removable and adjustable sternum strap rounds out the package, offering a bit more than you'd expect.
Ten years in the making from insights, development, and carrying… the Apex has firmly earned its finalist spot in this year's Carry Awards.
---
STRENGTHS
Wins in X-Factor
Killer access
Most technical build
---
Helmie Ashiblie, at the helm of Alpha One Niner (A19 for short), might just be the new guy to be watching in the carry world. Then again, 'new guy' doesn't really fit, as he has years of experience working on high-end fashion goods and for decades. But the Evade series from A19 is a recent project, launched in just 2016. And folks, we're damn happy that he's gone all in on this new venture.
The original EVADE launched (now dubbed the 1.0), then a larger and an improved version called the EVADE 2.0, and finally the EVADE 1.5. The 1.5 comes in two variations: Full and LITE. We're focusing specifically on the Full variation here. The LITE is the same pack, minus the laptop compartment.
First and foremost, we need to talk about the price, which normally isn't a major factor for us when it comes to the Carry Awards. We typically ignore dollar and sense, focusing on the performance of the product ahead of everything else. But at $180, this is possibly one of the best values for a backpack… in the world. Yes, in the world. What you get in this sub-$200 package is normally what you would expect to find in a $300+ competitor product. It even comes with an additional Type 1 Organizer Velcro-backed accessory admin panel, which normally you'd find yourself purchasing a la carte.
And though the price is shockingly low, the EVADE 1.5 doesn't skimp out on materials, build, or quality. Customers have a choice of 3 very nice fabric options; 500D Nylon (various solid colors and MultiCam Black), 420D Diamond Ripstop (various colors), and even a 1050D Ballistic Nylon in black just in case you really want some bombproof exterior skin. Mated with proper YKK #8 reverse coil zippers and sewn together with an incredibly high level of detail, you can tell this thing is meant to last for a lifetime of serious loving abuse along your adventures.
The 25-liter (that perfect sweet spot) E1.5 basically has taken the dream list of what everyone asks for in an everyday pack and made it standard. External water bottle pockets. Rear grab / trolley handle. Modular webbing and elastic shock cord for modifying your load-out. A discreet Velcro loop panel for morale patches (covered by a panel of matching pack body fabric). And so much more. The EVADE 1.5 offers rugged durability, quality materials, incredible organization, comfort, and more… and somehow this thing is still only $180. This pack screams epic value.
---
STRENGTHS
Wins in value
Quality build
Highly adaptable
---
Peak Design is no stranger to the Carry Awards. This crew has gained a serious following of carry lovers who use their products around the globe daily. In my opinion, this Everyday Backpack Zip is Peak's first time really pushing their own boundaries and creating a pack that fits the needs of this everyday bag category like a glove. Now, we can't forget their humble beginnings as a "camera accessory brand". But their V2 Everyday bag collection really seems to focus on everyday people… who might also be keen into photography.
The 400D 100% recycled material on the exterior is extremely weatherproof from my experience getting caught with it out in the San Francisco rain and it's beautifully patterned in such a sleek minimal way that it almost seemed like it would be…. simple. Simple, it is not. It's no secret that I've been a fan of PD's thoughtful use of magnets in their carry collection and this one doesn't disappoint. All the pockets snap shut quietly and firmly, keeping things tidy from baggy excess. When you need to get into a pocket, they open like a charm.
As the 'Zip' in the product name implies, the difference between this backpack and their Everyday Backpack, is, well… the zipper. And what a difference that zipper makes. Giving 270 degrees of access to every cubic inch of the 20L bag's interior (also available in 15L), you'll never find yourself trying to reach your arm down into a cavernous space via a small opening at the top. Better yet, depending on if you want your pack set up in 'camera mode' with the two included FlexFold dividers, you can flip your pack around to the side and zip open the side panel only, providing immediate access to that new compartment you've created for yourself. Not looking to have all that space broken into different sections? Remove the FlexFold dividers and toss them into one of the myriad accessory pockets throughout the bag and forget about them… until you might want to utilize them again.
And since external water bottle pockets seem to be such a big thing lately, let's talk about them. I'm more in the camp of 'I'll keep my bottle inside my pack' since most exterior pockets look like a tacked-on afterthought during the last 5 minutes before sending the tech package off for production. These, well, they're part of the design. They'll hold a large Nalgene without any issue. They even swallow up Peak's Travel Tripod, keeping it firmly in place, even while I was doing some rocky scrambling up a mountain in Colorado. When they're not in use, they disappear into the sweeping lines of the overall design. This example of extreme attention to detail is what puts Peak Design's Everyday Backpack Zip into the finalist spot here. Everything they touched on this pack has hours upon hours of critical design thinking behind it. And when you use it, you recognize it.
---
STRENGTHS
Killer access
Super versatile
Smart details
---
Jack and Kevin, the two handsome gents who make up the EVERGOODS team up in Bozeman, have been delivering high-quality carry goods since they hit the scene in just 2016… but they're delivering at a level which we'd expect to see from a brand that's been around for at least a decade or more. So when they launched their new Civic Half Zip 22L (CHZ22) surrounded by a tidal wave of hype, we weren't surprised to see it earning a finalist spot in this year's Carry Awards.
Taking inspiration from the Civic Panel Loader backpack, the CHZ22 is a stripped-down everyday version, leaving only the very best elements with a unique access twist. I was lucky to get my hands on an early production unit before it launched, and for many months now, this pack has filled at least half a dozen different roles, and handled them all really well, I may add. The 22-liter capacity provided just enough room for a 3-day round-trip flight from Austin to Philadelphia and plenty of gear space for a day hike up in Ouray, Colorado. For the latter, the CHZ22 comes equipped with hydration bladder accommodations as well as two generously sized external water bottle pockets, so you have your liquids ready to go, whichever method you prefer to stay hydrated.
Often, with packs on the smaller size (between 18-24L) if you put a laptop in the rear sleeve, the back panel will become stiff and straight as a board, which is not a great thing for comfort, as the human spine is well curved. EVERGOODS pulled off some clever 3D patterning and shaping for their shoulder straps and back panel, so when you put a full-size 15″ laptop in the suspended rear stretch-fit laptop sleeve, the CHZ22 is still comfortable, wrapping around your back and shoulders like a nice nylon hug from Jack and Kevin.
Now, they do call this a single cavity bag, but don't let that description fool you – there's plenty of organization built in here. There's a perfectly sized zippered accessory pocket on the internal front panel, I use it for keys, a phone, etc. Since it's within the main compartment, I use this as my 'secure stash pocket'. The two aforementioned water bottle pockets on either side can also be used for external organization, if you so choose. And then there's another external zippered accessory pocket up at the top/rear. I'd call this one a sunglasses case pocket, but I found it to hold a whole lot more; like sunglasses and lots of snacks. Snacks are important.
Ultimately, the CHZ22 is a fantastic everyday bag that has all the bells and whistles of a bag that would come in at least $100 more, yet stays focused on being minimal and not trying to be something it's not.
---
STRENGTHS
Exceptional build quality
Great value
Top-tier comfort
---