Top 5 | Best Work Backpack
A great work backpack puts in the hard graft on both the style and functionality fronts. Work-friendly aesthetics are key and should fit the pack's intended use environment, whether that's the board room or somewhere a little less formal. Good organization and easy access to your gear are crucial features too, since these will influence your ability to work effectively throughout the day. Durability, comfort, and weather resistance play important roles too. A work backpack needs to be able to handle regular use and you can't always count on sunny commutes. And lastly, a little versatility can go a long way too, be it doubling up as a gym bag or stashing gear for overnight trips.
So with the above in mind, we've narrowed down our Best Work Backpack candidates to the top 5 finalists. Which one deserves the ultimate promotion? Decide below…
---
Bellroy's Transit line has impressed me over the last eighteen months; I've enjoyed both the Weekender Plus and the Transit Backpack. While excellent bags in their own right, they're both a little large for day-to-day, and particularly the office. Enter the Transit Workpack, the smaller sibling of the Transit line.
Coming in at 20L, this bag is perfect for commuting and hides a lot of functional features in its smaller frame. The Baida Nylon that it is constructed from is recycled from industrial nylon offcuts – a nod to Bellroy's commitment to circularity and minimal waste. Not only does it do well for the environment, it performs well too. The crinkled finish is the result of heat treatment during the manufacturing process which also increases its water resistance and durability – admirable traits for a work bag which should see a lot of use.
The Transit Workpack's real ingenuity comes from its ability to hold such a vast quantity and hide it all so sleekly. From the hidden water bottle pockets (one with key loop) that hold a 26oz Hydro Flask easily, to the drop down tech pouch at the opening of the laptop sleeve (which holds 16" devices), this whole bag is full of secret surprises. As a glasses wearer, the quick-access sunglasses pocket is a real bonus for me, not least because of the microfiber lining, meaning I don't need to carry another cloth with me. The admin pocket on the front of the pack is accessible via the vertical zip, and houses your EDC comfortably. The main volume can carry a change of clothes, and can easily be packed full with the help of the magnetic cinch straps. I comfortably fit a pair of sneakers in the stretch pocket, with a sweater and a shell on top during testing.
The harness is comfortable too, with a breathable back panel and nicely padded shoulder straps. I've always liked Bellroy shoulder straps; I find them very comfortable under load. It's hard to believe this bag comes in under $200, and for that money you are getting exceptional design and functionality.
---
STRENGTHS
Recycled materials
Ingenious pocketing
Comfortable carry
---
We are fortunate to live in a time where carry design continues to evolve and there are new solutions for where to put X and Y. There's often a pocket for this, and a pocket for that. While it works for some, it can also often be overwhelming. I know I've certainly had times where "learning" the layout of a new bag and its pocketing can stifle me and I yearn for simpler times.
Well, the folks at Tanner Goods must have stumbled upon the same problem because the Holton Leather Backpack is decidedly stripped back, in the absolute best way. They even state that part of the inspiration for this bag came from musing about Hemingway and his travel methods of the '20s. As an ex-English teacher, that's a message I can get behind.
Made from hearty full-grain leather, the Holton is a special carry experience from the moment it escapes its dust bag. At a slender 12.5L, this isn't for the maximalists out there, rather the opposite in fact. A laptop sleeve capable of holding a 15" machine sits on the back side of the backpack, while a small pocket on the exterior holds your EDC.
The leather is buttery smooth, and is the champion feature of this bag. It softens and conforms to you with each use. There is a hearty heft to it that you only get from leather bags, and in true Hemingway fashion each scuff and scrape becomes a story to be told down the line. The smell alone is endearing.
However, this isn't just a nice piece of leather. It is a considered design that speaks volumes about the design language at Tanner Goods. Hand-stamped logos, aluminum hardware, and a ripstop cinch show a deep understanding of what it means to carry well; they've melded tradition and modernity exceptionally well with the Holton. I can't wait for mine to tell more of its own stories.
---
STRENGTHS
Heirloom quality
Stylish and sleek
Blend of traditions
---
San Francisco-based Aer are known for their stylish and elegant carry solutions, and the City Pack is one of their more recognizable silhouettes. Now enhanced with VX42 X-Pac, it's even easier to love this fan favorite.
The X-Pac, paired with YKK® AquaGuard® zippers and Duraflex® hardware, means that you're getting a pack ready to tackle the elements on your commute. At 14L, this is a smaller volume than many, but it lends itself well to taking the necessaries and not much more; an admirable trait for a work backpack.
I really enjoyed how this bag carries. Smaller volumes are usually an issue for me as a chap with a larger frame, but I haven't found it to be an issue with this bag–mainly due to the contoured back panel that provides great comfort. The straps are well padded, and include a sternum strap for extra support. There are also a few well-placed grab handles on the side, the top, and the back of the bag for easy grab and go! On the rear, there is also a luggage passthrough.
In use, the City Pack's greatest strength is its ease of use. All of the openings and pockets are very methodically placed, so whether the bag is at your side or slung off your shoulder to grab an item of yours, it's pretty seamless. On the front of the bag you have two openings, one mid-way to a well-sized "dump" pocket; this is where I keep things like masks, hats, and gloves. You also have a half-clamshell opening that reveals an admin pocket and the glorious blaze orange interior! The front admin pocket has a spot for every part of your EDC, and they're all within easy reach. A mixture of open mesh pockets, pen slips, and a zippered pocket allow you to organize this as you see fit. Just behind this admin pocket opening is a lined quick-access pocket. I found this to be the place where either my sunglasses or phone lived.
The main compartment is home to an excellent laptop sleeve that is padded, suspended, and lined. The holy trinity of laptop protection! It'll hold up to a 16" device comfortably, and you could also easily store a tablet in the slip pocket on the front of that sleeve. There is room within the main compartment to use a Dopp kit or two, and you can squeeze a jacket in too if needed.
The City Pack is a really well-made and designed pack, particularly if your commuting needs are tech-focused. High-quality materials, brilliant functionality, and all at a reasonable price make this a worthy Top 5 candidate.
---
STRENGTHS
Excellent value for money
Brilliant tech organization
Highly weather-resistant
---
German company Heimplanet are traditionally known for their incredible inflatable tents with geometric frames, but in recent years they've made great headway into the bag market.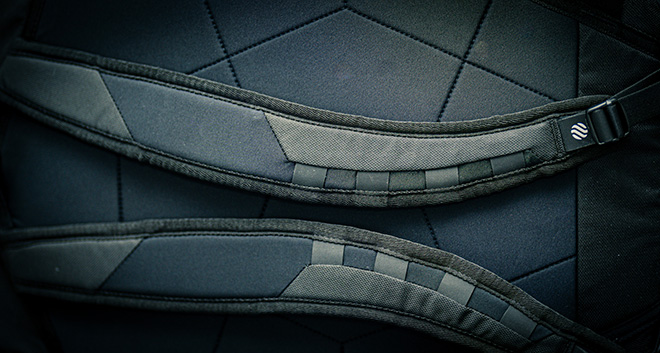 That progress continues with the Commuter Pack, an 18L daypack made from excellent materials and with a streamlined design. The magnetic roll top gives you the option of expanding and compressing the pack based on your loadout, but without changing the aesthetic and silhouette significantly–often a curse of rolltop bags. There is a magnetic G-hook closure which is adjustable to cinch down the size of the pack.
The DYECOSHELL material is an area where Heimplanet have really led the market for the last few years, on their whole Transit line and now with their commuter line. The 800D and 660D nylon materials are dope dyed, which is both environmentally-friendly and durable. Not only do these dyes look incredible, they provide a really nice tactile feel to the bag, reducing stiffness and increasing pliability. While that might sound negligible in some respects, I found it made a huge difference in how the bag carries on body and how it loads out. It is more malleable and more comfortable thanks to these processes.
Aside from the materials and the silhouette, all of the organization is well thought out and easy to use. On one side, a slender grab handle is paired with side access to the main compartment, making it easy to grab a water bottle, jacket, or anything else that you have stored quickly and easily.
A well-padded (and suspended) laptop sleeve sits against the back wall with a nice microfiber lining to keep your devices scratch-free. There are two EDC pockets, one small one on the side, perfect for sunglasses or a phone, and a larger floating pocket on the front of the bag with some simple organization inside. A removable hip belt and sternum strap mean that you can carry heavier loads in this if needed.
The Commuter Pack is an elegant bag that does the basics very well, all in an environmentally-friendly and robust package. Heimplanet continue to excel in their bag-making endeavors!
---
STRENGTHS
Environmentally-conscious construction and materials
Brilliant access
Exceptional comfort
---
London-based Troubadour are a hive of streamlined innovation and hybrid bags that can serve multiple purposes in one package. That is never more apparent than in the Explorer Pioneer backpack.
A slender 23.5L backpack, the Explorer Pioneer blends in from hip Hackney to the glamorous West End, without a second glance. It is a very intuitive backpack to use, and I found it to be useful–which is exactly what I want from an EDC pack. I don't want to overthink when on the move for work, I just want it to work. With the Pioneer, that's the case! The waterproof fabric is lightweight, easy to clean, and durable. All while maintaining a subdued, under-the-radar aesthetic. The aesthetics alone are a standout feature on this pack, as it is sleek enough to be by your side in the boardroom and sporty enough to take with you to your next 5-aside game.
On the exterior are two water bottle pockets which are large enough for a 26oz insulated bottle. There are two exterior organization pockets, one vertical on the front of the bag, with subtle branding running alongside the zipper; this pocket is a good spot for an e-reader or notebook. On the top of the bag you have a horizontal quick-access pocket which is microfiber-lined, making it a comfortable home for your phone or sunglasses. The other exterior access zipper on the side of the bag leads you directly to the padded 16" laptop compartment. I really enjoy this feature, it makes it easy to work without having to dump out your whole bag. It turned out to be especially useful on trains or planes–anytime where you have to quickly crank out an email or similar. Small touches like leather side panels and zipper pulls add a touch of class to the backpack and feel great in hand; Troubadour's attention to detail really stands out in these instances. The back panel is comfortable for extended use, with hearty cushioning and good airflow. The same can be said for the shoulder straps. Underneath the lumbar support, you'll find a luggage passthrough for those overnight airport trips!
Underneath a wide half clamshell opening, you'll find access to the elegant organization options. You have access to the same laptop sleeve mentioned above, which is adorned with a zippered pocket (easily big enough for charger/cables) with two deep open pockets, card, and pen organization attached to the front. All of your essentials are held upright by this admin configuration, which allows you to fill the remaining space with a change of clothes and gym shoes. Gym shoes? Yes, that's right. The Pioneer has its own dedicated shoe pocket, which is both waterproof and ventilated, meaning you needn't worry about your electronics inside the bag. I've always been a fan of this feature on backpacks, particularly when it's well executed like it is here. I have carried a pair of size 10 hiking boots in here without problem, and I'm willing to bet you could squeeze bigger sizes in, particularly athletic shoes. Even with the shoes in the bag, there is still a surprising amount of room for your work EDC. I can see this bag being perfect for the walking commuter who puts a lot of steps in on the way to the office and wants the comfort of their favorite shoes, but still wants to look professional in their presentations! Equally, you could comfortably pack your gym outfit into the shoe compartment and fit your workout in, or head to your pick-up game after work.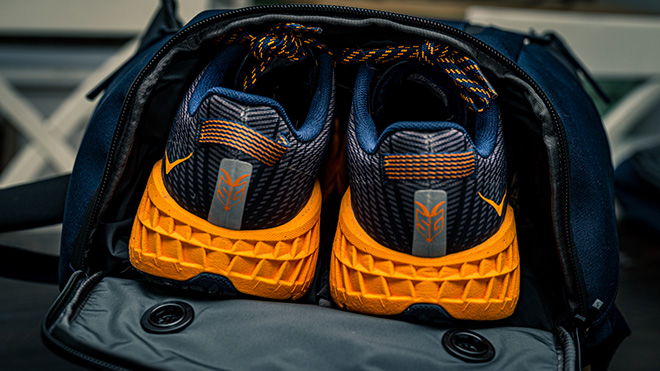 With the Explorer Pioneer, Troubadour have done an excellent job of creating a hybrid pack that is equal parts comfortable, innovative, and stylish.
---
STRENGTHS
Sleek style
Waterproof shoe compartment
Excellent access
---
VOTING CLOSES 11 MARCH