Top 5: Best Sling Bag 2020
The sling bag has become one of the most popular styles for bags in recent years. The compact and lightweight design makes it effective for carrying daily essentials without the need to stuff your pockets or carry a larger pack. They have become the go-to bag for both daily use and travel for their convenience in keeping items organized and easily accessible. Not all sling bags are alike and we've narrowed down the best sling bags for 2020 in this highly competitive category.
---
The Bedouin Balian is an all-star sling bag (and offspring of our Carry Collab 5). It checks off all the requirements to stand out from the rest, from the innovative materials used to the luxury styling. Crafted in England, this is a modern take on the classic sling that features a few subtle and not so subtle details.
Let's start with its construction and the killer combination of the incredibly strong, lightweight, and weather-resistant Dyneema composite fabric and the premium rumbled vegetable-tanned leather, which is soft to the touch and provides a smooth surface that helps avoid shirts being ruined by chafing materials rubbing against each other when being worn. The combination of Dyneema paired with the leather gives the bag a unique luxury feel when compared to the other bags, which justifies the higher price point just under the US$300 mark.
Another standout factor is the use of AustriAlpin Cobra hardware. Two Cobra frame tension locks are utilized on the front of the bag to aid with compression to keep internal items securely in place. Additionally, a Cobra buckle is used to hold together the shoulder strap. This premium hardware is lightweight, works effectively, and adds major style points. The main strap adjusts easily and a pair of elastic bands keep loose webbing at bay.
No matter which way you wear the sling, the Bedouin logo can be seen via the leather embossed tonal black branding located on the two strap wings. It's a nice classy touch to the understated bag. One last logo can be found embossed on the leather back side.
This sling keeps it simple and straightforward when it comes to organization. There are only two zippered pockets. The main pocket is accessed by a YKK nylon coil AquaGuard zipper. Inside the main compartment features three sleeves for items such as a phone or pair of sunglasses and a pen slot that is adorned by one last fashion label with their logo and art. One significant detail is the lining, which is made with natural cotton drill and features their hand-printed signature crank design. The hidden back AquaGuard zippered pocket protects valuable contents such as a wallet, passport, or other important items you may want to be tucked away and safe.
Overall, this is truly a one-of-a-kind sling, that manages to craft together an urban style with luxury enhancements. This is great for those who are looking for a premium everyday solution and those who require more technical materials and want to make a statement.
---
STRENGTHS
X-Factor
Materials and build
---
Code of Bell was the winner of this category last year with their X-Pod sling. This time around they have introduced a completely new style in the Annex Liner. This expandable sling case is inspired by the traditional Sacoche, but with more advanced materials and clever details that make their version unique.
The main highlight of this sling is its ability to expand its carrying capability on the fly – from a mere 1.5-liter volume capacity to a robust 9.7-liter capacity. This makes it one of the most versatile slings in the game, perfect for daily use and travel alike. The overall size transforms from a discreet 12 x 9 inches with a 1-inch depth to 12 x 9 inches and up to an 8-inch depth. This is made possible by its clever design utilizing folds in the material and a combination of plastic buckles and metal snaps that click into place until extra room is needed.
The design allows for various uses as well as the ability to carry everyday essentials and more. The front pocket is slim when compressed and can easily hold items such as keys, a wallet, sunglasses, and other items that you may want readily available. There is also an internal key ring and a single pocket to help keep things in place. When expanded, the unassuming front pocket can hold even more items such as over-the-ear headphones and a water bottle. A bottom zipper access provides an additional solution for quick access to the contents.
The main compartment when flat can hold a tablet up to 11 inches in the dedicated sleeve that has light padding, while two additional internal pockets help keep other items organized. This compartment expands to provide ample storage for slightly larger items such as mirrorless cameras to packable jackets.
Both compartments' interior lining is safety orange which provides clear visibility of the stored items, making them easy to find while on the go or in darker areas.
The Annex Liner is draped in high-quality performance materials including the front of the bag in water-resistant Dimension Polyant VX-21RS and YKK AquaGuard zippers and the rest of the sling in a 1680D Cordura nylon. This combination is both lightweight, weighing a mere 13.8 oz, and durable where it counts the most. The Hypalon fabric used for the zipper pulls is a nice touch to give the sling a modern look and feel. The rest of the hardware consists of plastic clips, rings, and nylon webbing.
This sling also excels in its versatility with the ability to carry it in several ways including across the body, over the shoulder, and even as a clutch after easily removing the shoulder strap. With multiple attachment points on the front and back of the bag there is the ability to relocate the strap and carry with just the top grab handle, which also stores away neatly in the rear pocket with a magnetic closure. The strap is rather simple in design but features thoughtful details such as a clip to secure loose strap webbing, easy-to-use buckles that snap securely, and metal clips to attach and detach the strap.
Overall, the sleek styling combined with the weather resistance of the Annex Liner makes it universal to wear daily, while fashion-forward enough to make a statement. This is great for city commuters and travelers looking for versatility as they make their rounds.
---
STRENGTHS
Ultimate expandability
Minimal and versatile aesthetics
---
When it comes to achievements in the bag community, Peak Design has cemented their status at the top. Always continuing to progress their designs forward, the Everyday Sling was part of their revamped Everyday Collection – making an already good bag even better with slight enhancements.
The feature-heavy Everyday Sling visually stands out from the rest of the finalists. While the other packs are available in solid black, the Everyday Sling is available in three colorways including the tested Ash grey with leather trim. For those looking for more variety, it is also available in three sizes – 3L, 6L, and a 10L option. We focused on the middle option with their 6L sling that can hold up to an 11-inch tablet inside of a magnetic closure sleeve that is found within the main compartment, as well as a DSLR camera.
In pure Peak Design fashion, this is the only bag in the bunch that was built with photographers in mind. As the leader in the hybrid photo / everyday bag this does not come as a surprise. Utilizing their signature FlexFold divider system, the 6L version comes with two dividers that can be rearranged and customized to fit various camera loadouts including a camera body and extra lens. The Velcro system makes them removable, which allows them to hold more traditional or larger daily items such as over-the-ear headphones. The main compartment is easily accessed due to the almost full clamshell style opening with guards that help to secure items in place without over-opening. Inside is a zippered pocket that can secure smaller items and has smaller stretch pockets made to access items such as memory cards or spare batteries. Two additional stretch pockets can be found in the main compartment to hold anything from rolls of film to hand sanitizer.
The front access pocket is roomy enough and can hold a smartphone, keys, and wallet easily. A nice detail is the overlap that helps protect the contents from the elements and also hides the zipper to create a clean and seamless look overall.
Helping to keep precious digital electronics safe from rain, dust, and dirt is the weatherproof 100% recycled 400D shell paired with the weatherproof UltraZip into the main compartment. The sling is padded throughout which provides some peace of mind in the case of accidental bumps. There are also three subtle carry handles that can be used to grab and go when ready to hit the streets, with the two side handles designed to be used with an attached Peak Design Capture Clip. For those who want to stick with one brand, Peak Design thoroughly crafts their products to seamlessly work with one another to create a complete system.
The sling is lightweight and smartly designed with ergonomic details for unrestricted carry. Angled strap mounts, a padded cross-body strap, and lightweight strap hardware made this very comfortable to wear. The shoulder strap itself was the best designed from the group. It easily adjusts for various activities, from active hikes to rides on a bike. Additionally, the strap can be adjusted to wear the sling across the body or on the hips by tucking in the padded strap and then attaching the clip to the Hypalon loop.
Protection is simple with the ability to tuck the zipper pulls through an integrated carry loop on either side of the sling. An optional lock could be added to aid in security if needed. There are four carry loops that can work with the included pair of external straps, which can be used to attach extra items such as a tripod (it pairs well with the award-winning Peak Design Travel Tripod) or a lightweight jacket.
Overall, this is a great solution for photographers who want to carry less gear, be discreet, and are looking for great value as it's priced right under the $100 mark.
---
STRENGTHS
Most innovative
Super versatile
Great value
---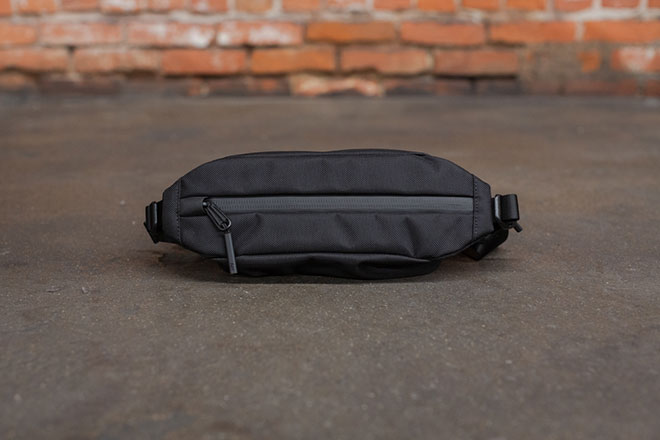 The Aer City Sling is extremely compact and durable. Constructed with water-resistant 1680D Cordura Ballistic Nylon, YKK zippers, and Duraflex plastic hardware, this sling can withstand the elements and practically any abuse that comes its way. Its portability shines weighing less than one pound and it's only 12.5 inches by 4.5 inches.
Organization is minimal when compared to the other bags, but effective with a host of internal compartments and pocketing. The front pocket is designed for quick and easy access and has a built-in key ring – items in this pocket are protected by a water-resistant zipper. The main compartment is the largest and features three additional internal pockets to keep gear in its place. The back pocket is designed to hide a passport or wallet.
The City Sling is the most compact from a volume capacity (2.4L) perspective in comparison to the other slings in this category, but can easily hold everyday essentials such as keys, a larger smartphone, wallet, and even a water bottle. This sling is versatile and can be worn across the body, over the shoulder, and even around the waist as a hip bag.
The name "City Sling" is quite fitting with its minimalistic and sleek style. The black tonal approach ensures that the sling is more of an accessory that complements your outfit rather than an all-out fashion statement. This is a perfect companion if you're looking for a daily EDC solution without breaking the bank, as it's priced reasonably at US$75.00.
Overall, this is a solid choice for someone looking for a minimalist everyday carry solution for just their daily essentials. Its lightweight nature and portable size provide freedom of movement, allowing you to make your moves throughout the day.
---
STRENGTHS
Compact king
Rugged but light
Sleek and versatile aesthetics
---
Chicago-based DEFY continues to produce practically indestructible bags with a tactical feel. The Insidious Jr. Sling, not to be confused with its big brother the Insidious Sling, is no exception as they have taken their handcrafted and Made in the USA approach to their latest offering.
The bag is built tough to withstand heavy use and last for years to come. Constructed from a burly water-resistant 1050D mil-spec Ballistic Nylon exterior combined with a 500D Cordura Silver Lining interior and YKK AquaGuard zippers, this sling offers ample protection from the elements. This is the most rugged bag when compared to the other finalists.
Sitting towards the larger side compared to the other slings in the category, the Insidious Jr. Sling offers generous storage within its 12.5-inch by 9-inch frame. This provides the option to carry larger daily essentials such as tablets, over-ear headphones, and even a mirrorless camera and lens. The two zippered compartments help separate and organize gear. The front compartment has two pockets that can hold items such as a wallet or phone and includes an attached key ring, while the larger main compartment has five pockets with one large enough to keep a tablet in place and one smaller one for a pen.
For additional storage, the sling utilizes PALS webbing on the exterior, adding versatility with the ability to attach extra items with a clip or via a carabiner, Velcro, etc. A D-ring located on the back of the sling offers the ability to attach an optional Cycling Stabilizer Strap for added comfort and support while riding.
The sling's strap itself has multiple features including the ability to remove quickly and easily and switch the closed-cell foam padded side for either Lefties or Righties, a D-ring for attachments, and additional webbing for optional attachments. The main highlight of the strap is the use of the AustriAlpin Cobra quick-release buckle for quick and convenient on and off wear. The top nylon grab handle offers a solution to carry the bag when not worn or simply to help stabilize when accessing the compartments.
Overall, this is a great selection for anyone looking for just enough storage for their larger daily gear, who wants a solidly built bag that will last for years to come, and desires a minimalist bag with a tactical feel.
STRENGTHS
Wins in ruggedness
Build quality
---
VOTING BEST SLING BAG 2020
CLOSES SEPTEMBER 7TH