Top 5 | Best Carry-On Bag
The carry-on pack is an extremely tough design to nail down perfectly. It walks the line between everyday EDC and travel ranging from 3-5 days and pushing out to 2-3 weeks (or more) depending on how you pack. So to even get here to the top 5 is no small feat. These finalists have been tried, tested, vetted, and voted by you. Now, it's time to see which of these comes out as the champion for Carry Awards IX.
---
Who It Suits:
The traveler who demands rugged dependability from their pack.
Though YETI is synonymous with high-end coolers for the outdoors, the designers over at YETI have been going hard with their break into this softgoods category. The same high-quality design is apparent. Though their design inspiration and execution does seem driven by their outdoor roots, I consider this a positive thing… as the outdoors are pretty tough on gear. Though I have only been testing this pack for several months, the TuffSkin Nylon fabric has yet to show a single scuff or tear or anything to speak of. Water beads up nicely thanks to a DWR coating on the surface.
This 35L pack (13" x 11" x 19 ¾") sits towards the higher end of the volume spectrum on this list, but it feels smaller than you'd expect for 35 liters. Not a negative thing whatsoever, as shoving a massive pack into an overhead bin can be a pain. Not to mention, too large of a pack makes you look a bit ridiculous while you're traveling.
While the "tough" story is certainly the focus here, the full clamshell Crossroads 35L is no slouch when it comes to features and an overall well-rounded pack; this did make it to the top 5, after all. This is a carry-on pack for travel and this category is generally pretty feature-rich.
The non-stowable (bonus IMHO) shoulder straps are comfortable (and edgeless). It comes with four, count them, FOUR grab handles for easy grab and go. A rear passthrough for a luggage trolley. Beefy locking water-resistant zippers top it off. This thing checks all the boxes and won't let you down, whether you're out in the wild of the outdoors or in the wild of travels.
---
STRENGTHS
Tough – built for outdoors and travel
Full clamshell opening
Four grab handles
A great balance of simple with lots of features
---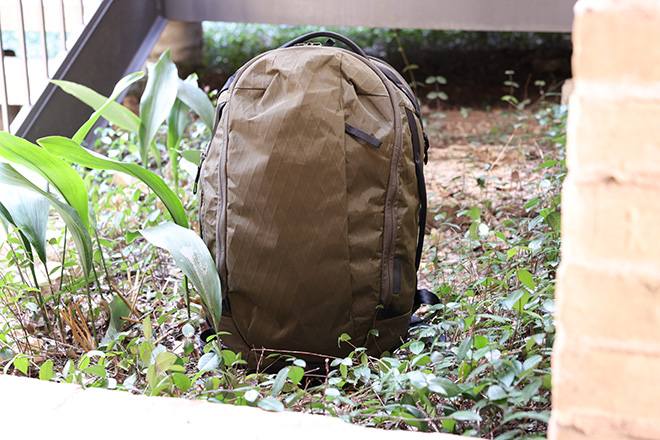 Who It Suits:
The traveler who is looking for a classic silhouette, with many features unexpected for the price point.
I was lucky enough to get the opportunity to have the first look at the Able Carry Max when it first launched. And as you can see from my initial thoughts, I really liked this pack. It was no surprise when I saw it pull in plenty of votes to firmly seat it here in the top 5 finalists.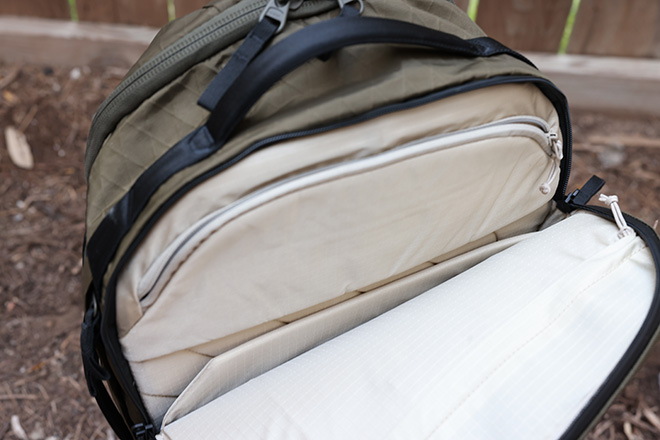 As mentioned in my initial article, I don't think of the name "Max" to mean "maximum" in size, as it's not some monstrous lump on your back. It's the perfect cross-over size at 30L capacity, seeming to somehow hold 34+ liters of gear while carrying like a 28L pack… maybe even smaller. In my humble opinion, this has a lot to do with the aesthetics. Elegant minimal lines prevent it from drawing too much attention, keeping it visually "smaller".
While I originally had the pack made from X-Pac in black, which is by far my favorite color… I've got to admit this olive ("Earth Green") X-Pac is absolutely stunning. Round it out with their MCB (MultiCam Black) and Ocean Blue options, and you've got whatever vibe you're looking for. As you're well aware, X-Pac is durable, strong, and waterproof. Well, they didn't stop with just X-Pac. They included 1000D Cordura nylon paneling where it was needed, providing even more durability and structure to the pack.
Though the features are plentiful and useful, the best way I can describe the features overall as a whole… they're tastefully designed and executed. Organization-wise, it's my preferred layout with an admin section in the front of the clamshell main compartment. Like I mentioned, I'm not surprised this pack is in the top 5 whatsoever, well deserved team Able Carry!
---
STRENGTHS
Quality materials and construction
Near perfect organization layout
Great price for everything you get
Tasteful execution all round
---
Who It Suits:
The traveler who appreciates advanced organization, maximum features, with handsome aesthetics.
I'm going to admit this right away… this pack absolutely shocked me with its quality and features. Not saying that I originally thought NOMATIC would release anything subpar, not that at all. My bar was already set incredibly high; anything in the top 5 has already been well vetted by our team and our readers. This thing sailed over the bar like a Falcon 9 rocket.
The edgeless straps are squishy and comfortable on this wearable luggage that fits 32 liters of your gear. What I love is the expansion feature, growing out to 41L in a smart effortless manner. Mind you, this still fits in an overhead bin thanks to its snag-free exterior.
The tuckaway and removable waist belt is a massive draw for me, as permanently attached waist belts are a real bummer when you don't need them. Bonus, the waist belt is actually comfortable and functional, not just some webbing.
Organization is extremely well thought out in the Navigator, with a svelte front admin section offering plenty of zippered pockets for your small bits and tech, with a large main compartment to swallow up your clothes and gear.
Feature-wise… I cannot do this thing justice with such a small amount of space to write here. They've added everything and then some. Yet, it still remains a minimalist sculpture on your back.
---
STRENGTHS
Some of the best "hidden" water bottle pockets I've seen
Incredibly feature-rich
Minimal yet bold exterior aesthetics
Quality execution throughout all aspects
---
Who It Suits:
A traveler who enjoys organization, simplicity without excess frills, and killer looks for any urban center you might find yourself in.
Our Hamburg, Germany-based friends Heimplanet are no strangers to finding themselves among the greats here in the Carry Awards. But that hasn't stopped them from making even more and better products year after year since their humble beginnings back in 2003.
This 34L pack is one of my personal go-tos when it comes to grabbing a pack to hit the road, for a weekend away, a week away, or just a stint out into town. It smoothly glides along that line of travel and EDC, while dressed in a stylish suit. If that makes sense. The main fabric is to thank here, an eco-friendly DYECOSHELL, a nylon made from dope-dyed nylon which keeps its color for longer.
The organization is quite clever here, which is probably why I enjoy this pack so much. There's an internal divider which allows you to make the two clamshell openings into one large compartment, or keep them divided to keep your tech separate from your clothing and gear. The subtle geometric print on the lining is a really nice touch and it's light in color for ease of spotting small things in the dark.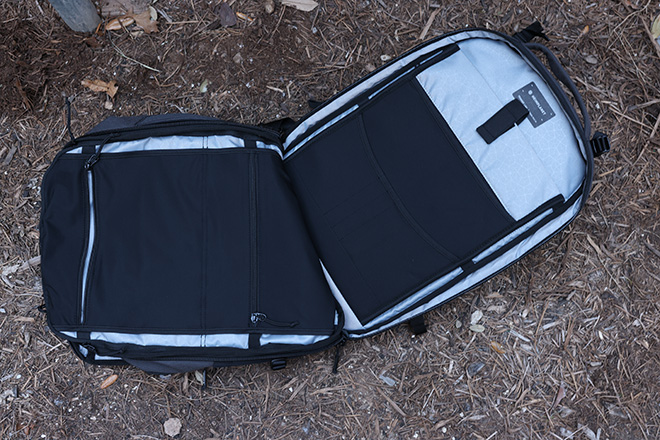 The rear tech compartment is a dream to use, with a suspended and padded laptop sleeve that is easy to access, making your trip through TSA a breeze.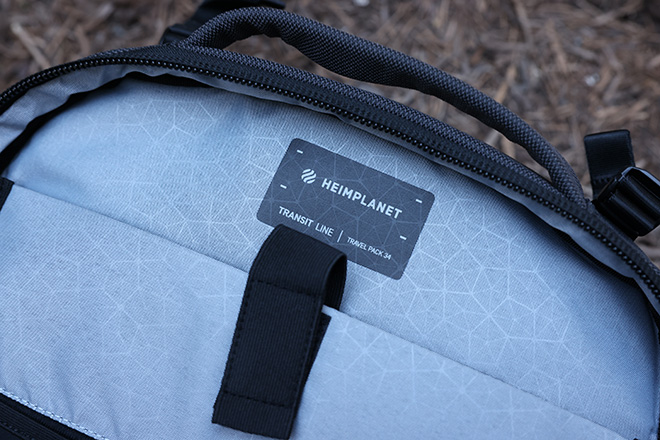 One thing I really dig on this pack, which surely other folks will appreciate as well, the shoulder straps have load lifters. For me personally, anything that creeps around the 30L mark or higher should consider load lifters in the design. Once you fill out a pack for travel, they get heavy. And load lifters make comfort out in the wild much more tolerable.
---
STRENGTHS
Stunning looks, looks like a well-tailored suit
Exterior fabric that is durable, water-resistant, and eco-friendly
Load lifters and side cinch straps are absolute game-changers
Classic and easy-to-navigate organization with clever tricks
---
Who It Suits:
The traveler who prefers different carry options (on foot, on an airplane, on a boat, etc.) and has water resistance high on their list.
We need to discuss something straight away and it's right there in the name. 44L. Yep, that's 10+ liters more than the others on this list. By comparison, you'd think this 22.05"H X 14.17"W X 12.2"D backpack is actually not all that much bigger than its peers. But, it's well balanced. You see, most packs that have such a large literage look odd or frumpy when not packed out full. Perhaps it's the extremely water-resistant bluesign approved TPU-coated (PFC-free) 450D recycled polyester with DWR treatment that hides it so well.
More about that fabric. This pack is built to laugh at water. The material itself is inherently waterproof thanks to its TPU coating. It's also durable and good-looking, I've yet to properly scuff it (even if I was being a bit more aggressive than I normally am). I opted for the Smoke Grey color option to mix things up, but it's also available in Venturi Blue and Black.
The first of the biggest takeaways after using this pack, for me, is the modular carrying options. While I'm 50/50 on stowable shoulder straps, this Transporter actually does it well; unzip, clip, and you're done. Osprey also includes a shoulder strap so you can use the pack as a duffel. And of course, there is a luggage trolley handle passthrough.
Secondly, as mentioned before, there are 44 liters to swallow up your travel necessities. While most of this literage is provided in the rear compartment, there's still plenty of organization to carry your tech. Not to mention, the rear padded laptop compartment? It has plenty of room to fit your 16" laptop. It could likely eat a 20" laptop if they made them… maybe two!
---
STRENGTHS
Waterproof fabric that is good-looking and durable
Osprey offers a no questions lifetime warranty
Lots of liters to fill if you need, doesn't look frumpy if left empty
Different carry options to suit your needs
---
VOTING CLOSES 18 MARCH