Top 5 | Best Active Backpacks
This might have been my biggest challenge so far at Carryology – to start with 10 truly exceptional nominees and whittle them down to the Top 5 Best Active Backpacks. Simply because all 10 are great packs, and each of them is unique in its specific way: lightweight, packable, heavy-duty, winter specialized, crossover, climbing, etc. So after a couple of weeks in the field with all 10 of them, I finally landed on the 5 finalists below.
Now it's your turn to dig in and vote!
---
PS: You can still find all 10 in my mini-review series on the Carryology Classified Facebook group tagged with #ActivePacks_2021 – so join in and check it out.
---
The Osprey Talon 22 is a well-known classic, with a reputation as an excellent lightweight multipurpose daypack. In 2021 Osprey upgraded the Talon series with some notable changes. Now it's an even better pack with even more features.
The biggest change is in the suspension – the current version uses an injection-molded back panel with die-cut foam and mesh overlay, which makes it ultra-breathable and comfortable. It's also fully adjustable for torso size. The hip belt is fully integrated with the pack and it's really load-bearing instead of just a stabilizing function (which is very common in this category). However, you can't remove it – so there's always some price to pay. With the sternum strap and load lifters, it is one of the most comfortable suspensions in the world of small active daypacks.
It's made of 210D and 100D high-tenacity nylon (recycled) with an abrasion-resistant 420HD packcloth bottom part. That makes it pretty lightweight, but with all reinforcements where necessary. The organization is very good, especially for such a size. The main compartment occupies almost the whole pack's body with a small zipper pocket inside. There's also a handy top pocket on the outside – good for sunglasses, watch cap, etc. Two stash pockets in the hip belt are great for snacks, a headlamp, pocketknife, and other small gear. All zippers are equipped with big zipper-pulls so they can be easily operated even in thick gloves. Finally, there is a big, deep, elastic dump pocket with a compression strap at the center, which can be used to store a rain jacket (also wet after rain), a wind-shirt, sitting pad, or even an avalanche shovel if you use the helmet toggle to keep the shaft in place.
Elastic side pockets are sized for a standard Nalgene, Grayl filtering bottle, or another similar item. Other features outside: Z-style side compression straps, elastic pocket on the left shoulder strap (for mobile or GPS), ice axe loop and keeper, and tube-covered gear loop. That gear loop can be used in conjunction with a similar tube-covered lasso (on the shoulder strap) as quick hiking pole storage. Cool design, which allows it to be used with the pack still on your back – sometimes that can come in handy.
Additional features on the Talon 22 include a special rear holder for a bike light and a toggle/keeper for a biking helmet (a ventilated climbing helmet would fit too). The Talon 22 is fully hydration compatible with an external pocket for a bladder – safer and easier to operate than the usual internal one. Osprey also put an oversized grab-and-go webbing loop handle on top of the pack. Now imagine all that storage, features, and advanced suspension at a mere 900 grams. That is neat!
Bottom Line: The Talon 22 is a very good personal daily carry tool for virtually any outdoor sport in any season. It's also lightweight and compact enough to be carried as an additional daypack in/on your big basecamp hauler.
Who It Suits: Anyone looking for an outdoor-rated active daypack. And no, that's not a typo – it's for anyone! It's one of the most versatile packs out there, fast and light, and truly feature-rich. Hikers, cyclists, cross-country bikers, MTB, skiers, free-riders, climbers, mountaineers… you name it – all of them could use the Talon 22 and be happy with that choice.
---
STRENGTHS
Low weight without compromising features
Versatility, all sports all seasons
Comfortable and ventilated suspension
Organization inside and outside
---
I really like specialized packs; they're true masters of that specific carry area and usually are genuinely cool too. The Snoskiwoski 40 is just that – a dedicated winter sports pack designed for skiing, ski-touring, snow scrambling, and ice climbing. It's a serious piece of gear and it's obvious instantly when you handle the Snoskiwoski. A handsome pack too, created in a modern alpine style. The pack is basically one big top-loading sack with a drawcord top opening and integrated storm flap – purpose-built, slick and smooth. The volume of 40 liters is absolutely enough for a full day (or even weekend) in the mountains. It's not just a top-loader, there's also full access via a weatherproof zipper on the side, which works great when you carry skis in an A-frame style (which blocks top access). Plus you can find a full-length integrated zipper pocket on the other side – perfect for quick-access gear like an emergency shell, thermos, ski skins, etc.
Inside is just a big cavity and a bladder sleeve. Yes, the Snoskiwoski is fully hydration compatible, just make sure your system is insulated and truly sub-zero rated. On the outside are multiple gear attachment points: daisy chains for carabiners, gear loops, crampon straps, side compression straps, ice tool attachments, and even A-frame ski loops on the sides. And last but not least an ingenious system, which allows you to mount and cinch skis diagonally on the back on the fly when wearing the pack! It really works. A super handy feature for ski-alpinists, if they need to traverse an area not possible to cross in skis – sometimes there's no space around you for a pack.
The front of the pack is one big flat quick-access pocket for an avalanche rescue kit. Actually, this can be a true life-saving feature – rescue action after an avalanche is all about time (or rather lack of it). There are two open-bottom sleeves inside dedicated for probe and snow-shovel handle storage and the pocket's bottom is tough enough for a shovel blade. Plus some space for an emergency blanket and IFAK and even a small zipper pocket with retention strap and clip. The avalanche section is made of 500D Cordura for enhanced durability and padded on the outside for separation between avalanche gear and skis (diagonally carried).
The pack's main body is a recycled 210D high-tenacity ripstop nylon. It looks white, but it's just undyed for environmentally-friendly fiber production. The base of the pack is made of 500D Cordura too so it's fully durable when it comes in contact with ice and rock.
And finally the suspension: the shoulder straps are comfy and functional; double-density foam padding, ergonomically shaped, long enough for winter layers. They're also equipped with load lifters, a sternum strap, and gear attachment loops. The waist belt is padded too, wide enough for weighty load distribution. With a gear loop on one side and elastic zipper pocket for essentials on the other (perfect for a headlamp, Swiss Army knife, and other handy stuff). It's removable too, but for dynamic winter action (also considering the 40-liter capacity) I'd always leave it on the pack anyway.
The Snoskiwoski's structure is based on an internal aluminum frame with a removable high-density foam back panel frame sheet. The padding is really thin and the back material is flat nylon, which is exactly what you want on a snow sports pack. It doesn't collect snow, is easy to clean off, and stays dry. Your base and insulation layers work as your padding in the winter, and the wicking effect of proper layering protects you from sweat build-up on your back. And that's precisely what makes the Snoskiwoski a true winter pack – not color scheme or overall look, but primarily the harness system and some dedicated winter gear attachments.
Bottom Line: If you need a serious winter backcountry dynamic action pack, the Snoskiwoski 40 should be absolutely on top of your shortlist. It ticks all the boxes for me as one of a very few really flawless packs for its target users. Well designed, with all required features, fully snowproof, and all that at just 1100 grams.
Who It Suits: Anyone who goes mountaineering in the winter. It'd be a great choice for ski-alpinism, full-day ski touring, free-riding, ice climbing, snow and rock scrambling, and other snow action sports. It's ideal for all that.
---
STRENGTHS
Comfortable winter-specific suspension
Specialized attachments for winter equipment
Dedicated avalanche rescue pocket
Ski load and carry "on the fly" system
---
I've been using various Hill People Gear (HPG) packs for more than a decade, including the iconic Umlindi of course. Recently HPG introduced an updated version of its classic – the Umlindi V2. This thing is simply indestructible. Made of 500D Cordura, produced fully in the USA (by First Spear in Missouri) – it's a Berry Amendment Compliant fully mil-spec combat-tough product. Actually, it could be used as a reference point for measuring the toughness of outdoor gear.
The inside is one big sack with a flat pocket inside (now with additional front access). Another change is a pocket on top of the flap. But the biggest and most welcome upgrade is in the side pockets, which are now huge, expandable, adjustable, and can easily swallow two Nalgene bottles each! The compression strap system looks a bit complicated at first but it's easy to understand and can be used in multiple ways: side sections and front sections can be operated together or independently, with a different tension – just as you set it. It's an ingenious system, especially if you carry a lot of gear outside like an axe, snowshoes, crampons, hiking poles, or even a short bush rifle if you're exploring wild Alaska. There's also an open quick-access pocket just behind the back padding, which I often use for maps or other flat objects. Overall it's a pack that works great as a heavy-duty backcountry daypack. But it's big and modular enough for a weekend mountaineering trip too (I checked exactly this).
Outside are extra attachment straps on top (now doubled in V2) and on the bottom, perfect to carry a rolled blanket, tarp, tent, drybag, or some trapper's stuff. HPG has dedicated accessories/pockets for the Umlindi too, like a Line Pocket, which goes on the front and works as an admin/EDC panel or quick-access 5L volume pocket. Modularity is one of the key strengths of HPG packs.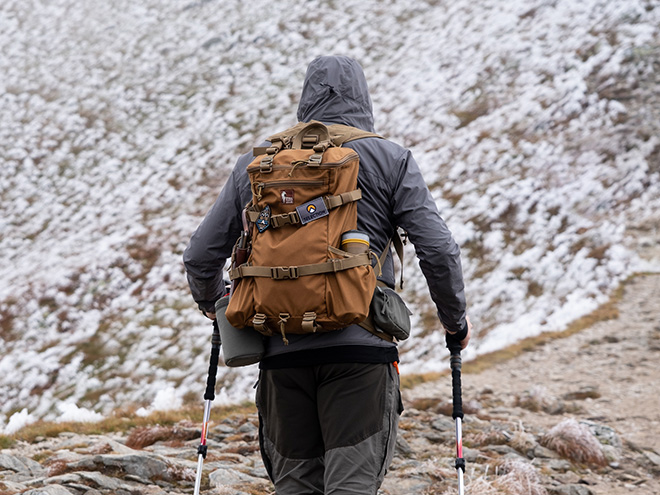 So the Umlindi seems to be another heavy-duty, top-loading, 30-liter pack at first glance – but you couldn't be more wrong! Just turn it around and look at this harness system! It may look strange, but it's among the best heavy load carrying systems out there (if not just the best). The wide Cordura horseshoe-shaped harness distributes load evenly on your shoulders and back in a unique and very comfortable way with a much bigger contact area than standard shoulder straps. Try it once and you'll be sold! The optional waist belt (HPG Recon Belt on mine) is exceptionally wide too and really hugs around your hips. All in all, this system is comfortable for even the heaviest load, overbuilt, and made to last. Plus you'll find loops and bungee on the shoulder straps, so you can put there whatever you need – soft flask, folding poles, or a drinking tube since the Umlindi V2 is hydration compatible. Additionally, there are laser-cut MOLLE slots on the hip belt for add-on pouches. The back is padded with a removable frame sheet and aluminum stay (bendable) inside. The Umlindi's back panel is not ventilated, but due to the harness construction, it doesn't stick to your back (especially with an optional belt acting as a pivoting point). But you know what? With a heavily loaded pack, you'd sweat anyway. And the Umlindi is not designed to be an ultralight trail runner's pack.
Bottom Line: No doubt the Umlindi is a fantastic pack for heavy-duty backcountry use. Not super light but very comfortable even with a really weighty load. Did you know that it was designed for the anti-poaching armed units in South Africa? Hence the name – Umlindi means Guardian in Zulu. If it's tough enough for those guys, it's tough enough for anyone. This pack will serve you for a lifetime… and then just pass it on to your kids.
Who It Suits: Outdoorsmen, bushcrafters, trappers, hunters, and anyone who needs a heavy-duty pack made to last. It's tough enough for anything – probably the toughest but still practical and comfy pack I've ever had. Of course, there's no free lunch – all these straps, pockets, and bomb-proof construction make the Umlindi a 4-lb pack in total. It is not ultralight for a 30L pack, I know. But if you need a heavy-duty carry system for remote backcountry use, then the durability and heavy hauling comfort of the Umlindi are more than worth it. I also tried the new Umlindi V2 in the mountains in severe sub-zero conditions – no complaints.
---
STRENGTHS
Long-term durability and overall toughness
The top-tier quality of US-based manufacturing
Carry comfort even with heavy loads
Modularity and compression strap system
---
The Grisetti is handmade in Italy by Arch Ind. (IG: @arch_ind). Custom packs used to be niche products but that's been changing recently (also thanks to our community) since more and more people want a pack tailor-made to meet their needs. This year for the first time a custom pack was nominated for a Best Active Backpack award. So let's see how it compares to some of the finest production packs also covered in this article.
This is a standard Grisetti 30 Base Camp without any significant changes, just to show you a solid starting point of Arch's offerings. However, you can ask for many customizations when discussing your order. Think of additional pockets, changes in zippers, openings, loops, straps, etc. Also, you could be asked about your size for that truly bespoke fit. That's how a custom project works – it's made for you, like a tailored suit. Arch Ind. offers various high-end materials. Mine is mostly X-Pac: coyote X50 body, front panel in Multicam X33, side pockets are VX21. There's Coolmax 3D mesh on the back panel, 20mm nylon compression straps, 40mm nylon waist strap, YKK AquaGuard zippers, and 100% Kevlar on the bottom. Already sounds cool, doesn't it? To add a bit of Italian finesse I let the maker surprise me with the lining… and it's a beautifully vibrant purple 68g nylon. At first, I thought it was a bit too bright for my tastes but… the more I use it the more I like it. And also what a cool way to slightly de-militarize the tactical-looking X-Pac fabric. But with your pack, it'd be all up to you.
The Grisetti is a rolltop design, tall, slim, alpine style. It can be significantly overloaded (up to about 38+ liters) by unrolling that long sleeve and using the purple drawstring collar to close the pack – hence the second part of its name: the Base Camp, which means spacious. Inside: just a hydration bladder sleeve and series of loops on the back and side. I totally love these loops, which are perfect to attach all kinds of climbing gear or pouches inside and keep them in order. It's an internal-frame pack and you can also spot an aluminum frame there. Even the Arch label has its purpose – it's a hidden pocket for an Apple AirTag. Ingenious!
I wanted my Grisetti to be tough for use in rocky terrain, that's why I opted for X-Pac even on the side pockets instead of more common stretch material. Still, I can fit a CamelBak flask or Grayl filtering bottle in there. The pockets are finished with a bungee-cord cinch system and feature a drain hole with a small grommet (a must if open pockets are made of waterproof fabric). Also, the Kevlar-reinforced bottom should do the trick against rocks and ice. There are two compression straps on each side and full-length daisy chains with ice-tool loops for leashing gear, carabiners, etc. The front Multicam panel is actually a quick-access full-size zipper pocket for some small gear like a first aid kit, maps, multitool, beanie, compass, etc. The zipper on the other side opens the main compartment for unrestricted access to any part of the pack.
The Coolmax 3D mesh back panel with a venting channel along the spine ensures breathability, ventilation, and comfort for any weather conditions. The shoulder straps are softly padded and anatomically shaped. They feature 20mm webbing, D-rings for gear attachment, and even Multicam accents for that true custom look. The sternum strap and load lifters are obvious features. The waist strap is attached to the sides via D-frames and can be easily removed. You can order a more advanced waist strap if you want, but a 30L pack just needs some stabilization, which helps a bit with effective back venting too. The overall quality is top-notch, as expected. The stitching is absolutely even and protected with black webbing tape. X-Pac and clever design make the Grisetti really light, only slightly above 900 grams – quite amazing if you ask me. The Grisetti 30 in basic material (but with a Kevlar bottom) starts at about 310 EUR (or $350) but the price can grow with fabric upgrades and by adding extra features.
When I put the Grisetti on my back for the first time I knew I had found my new mountaineering machine. It's set perfectly for my body and sits absolutely stable on my back, without the slightest wobble. No hot spots, perfect strap configuration – you can't beat a real custom fit. I was able to carry comfortably 30 lbs in this pack. I didn't try more but I'm sure it would handle overload with ease. And last but not least X-Pac is a laminated fabric so the Grisetti is not just tough but also pretty much an all-weather-resistant pack.
Bottom Line: The Arch Grisetti 30 is unique, lightweight, tough, custom-made to your specs, and tailor-fitted. It's exactly what you want and ready for the mission you specified when ordering your pack.
Who It Suits: Any outdoor adventurer! It's an almost perfect daypack for mountaineers, hikers, forest wanderers, wilderness enthusiasts, free-riding skiers, and even climbers (with the frame removed).
---
STRENGTHS
Custom made to your needs – fabric, features, colors
Bespoke fit for ultra-comfy carry
Top-tier materials to choose from when ordering
Heavy-duty weatherproof construction (Kevlar bottom comes as standard)
---
Most of the packable packs are quite sloppy, thin, and unstructured. The Matador Beast18 is exactly the opposite – made of durable 210D nylon with waterproof coating, plus YKK zippers. Now imagine a packable pack with… a frame! An elastic frame of course, but it holds the pack's shape and structure, which massively increases carry comfort and ease of packing. Speaking of its shape – it's an attractive-looking little beast: tall, slim, alpine style. As the name suggests it's an 18-liter pack, just fine for personal essentials on a day hike. By the way, there's a 24-liter version too if you need some extra storage for a longer winter route. The Matador Beast can be easily folded and compressed into a small package – a dedicated mesh sack comes with the pack, of course. It's a very lightweight package at about 600 grams. Nice!
The organization is unexpectedly good – the main compartment occupies about 75% of the pack's volume. An additional front quick-access section works fantastic for a rain jacket or other extra layers. On the inside of the pack is a zipper pocket for valuables plus a dedicated small key zipper pocket on a sidewall. And a hydration sleeve as the Beast is fully hydration compatible, just like any serious mountaineering pack. Honestly, this is a well-equipped pack, not just a sack and straps as you could expect from a light folding pack.
The outside of the pack is just one integrated surface of coated nylon, so it's quite weatherproof – not only by materials but also by design. And honestly, just look at this thing… it's a remarkably handsome daypack! The elastic side pockets are big enough for a full-size Nalgene (or similar bottles) but you can also store gear like a wool beanie, gloves, or even a small fixed blade if you're in real wilderness. There are also straps and loops for hiking poles and an ice axe. And yes, you can attach both at the same time. Plus the side compression straps can keep longer items stuck into the side pockets.
For carry comfort, the padded mesh back panel with a ventilation channel along the spine works fine in any weather. The waist belt is also slightly padded and finished with mesh backing. And it's removable too, which certainly makes sense in an 18L pack. The shoulder straps are also padded and fully breathable, with daisy chains along them and webbing loops for gear attachment (or a hydration tube). The straps are long enough even for me in a full winter outfit including a puffy jacket (I'm 6'1 and about 190 lbs). The sternum strap is adjustable and removable too (but I'd keep it as it really helps). To sum up – the harness system is surprisingly advanced for a 'packable pack' and absolutely comfortable. I was surprised how well it was actually riding on my back.
Bottom Line: The Matador Beast18 may fold into a small package, but it's a fully capable compact alpine daypack. As the name says – it's a beast of a packable pack. And I mean a real (but ultralight) BEAST! Just pack your essentials and you're ready to go.
Who It Suits: It's a very clever daypack, great for fast and light mountain day hikes in summer and autumn, and even for winter mountaineering (especially the 30% bigger 24L version). The Beast18 could be good for resort skiing too. It is super light, but still tough enough for typical mountain use – 210D nylon fabric is a standard thickness for lightweight mountain packs by many top players in this segment. Multiple attachment points, hydration compatible, comfy harness, good organization, and even an internal frame – all that comes in at just 600 grams (or 21 oz). And last but not least – it can even be your bolt-pack to place inside your basecamp hauler, to be used for fast and light daily outings from a camp or a hut day by day. Or simply keep it in your car for that unexpected hike, especially if you're traveling a lot. A short summer outdoor stroll in the afternoon, when you're on your way to a customer meeting the next day? Been there, done that!
---
STRENGTHS
Lightweight, compact, and really packable design
Comfortable and breathable suspension with an elastic frame
Quality, uncompromised, full-thickness fabric and weatherproof design
Good organization, both inside and outside
---
VOTING CLOSES [FEB 15TH]