Top 5 | Best Sling
Carrying too much for your pockets to handle but not enough to merit a backpack? Sling bags find that sweet middle ground. Roomy enough to hold day-to-day essentials, while still maintaining a compact, easily portable form. Many also offer flexible carry options: sling them across your chest, back, or around your hips; keeping gear easily accessible when you need it and out of the way when you don't. Of course, like any carry category, sling bags come in a wide range of designs aimed at an equally diverse set of use cases. And you'll see that reflected in our top 5 finalists for Best Sling.
From shredding trails to sleek efficiency on city streets, each of our finalists performs excellently in its own right. But only one can score the category crown. Vote for your top choice below!
---
Who It Suits
Those seeking a good-looking, stylish, around-town sling with some extra space. The Largo has a larger volume than most of our other nominees so we'd choose it when doing more than a pocket dump. It also caters to those looking to dress up their carry a bit, as the dry waxed canvas moves well from outfit to outfit.
The Trakke Largo is one of the more stylish slings out there this year. The dry waxed canvas and natural cotton webbing bring a heritage look and feel to a surprisingly modern product, given away by the AustriAlpin Cobra buckle, high visibility orange liner, and waterproof YKK zippers.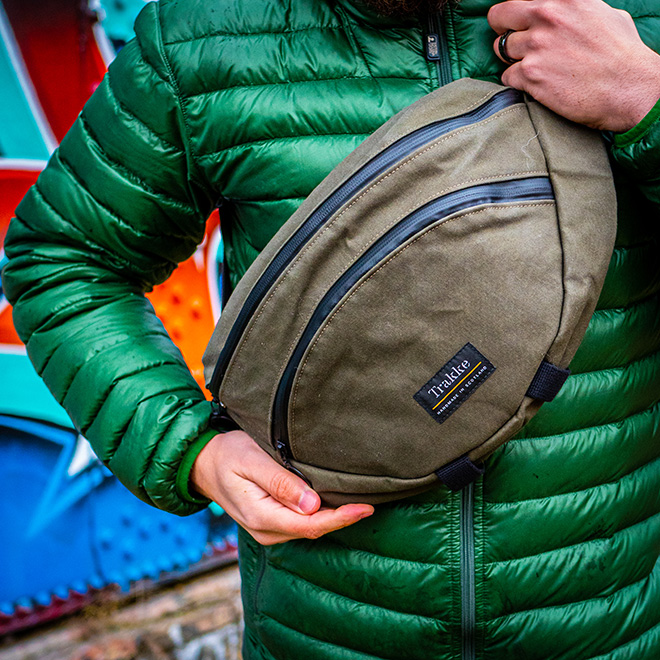 The Largo has two compartments, a small one on the front and the main compartment behind it which holds most of the volume. The smaller pocket is a great place for getting gear out of your pocket – phone, wallet, keys. The two internal slip pockets are sized appropriately, and the high visibility liner makes grabbing your gear at a glance a breeze.
The main compartment is secured with a horseshoe zipper, similar to the EVERGOODS MHP3.5, giving you wide bucket-style access to the interior. We loved this, as it allows easier stowage of bulkier items like a mirrorless camera. The organization is simple yet appropriate, with sufficient pocketing all around, and even a spot for a tablet or e-reader. If you know Carryology, you know we love high visibility liners, so we'll just mention that part again.
We love the modern touch of the Cobra buckle, which is perfectly situated on the end rather than the middle of the strap. It gives the wearer a nice statement piece when out and about, while still allowing the Largo to blend in with your everyday wear.
Against the other slings in the lineup, the Largo is certainly on the larger side, but the heritage materials and organic shape allow it to hug your body comfortably. It feels natural to wear, and even more natural to use. This is the sling we used when exploring mountain villages and ski towns before heading to a casual patio dinner.
---
STRENGTHS
Thoughtful blend of heritage and modern styling
Wide opening for easy access and stowing of gear
High-vis lining for enhanced visibility of the contents
High-quality materials and construction
Good option for larger loads
---
Who It Suits
If you're looking for something a bit more technical than the Trakke Largo, but still need to carry enough for a day in the city. Those looking for a more heritage look should look at the former, but if you want to nerd out on textiles then look no further. If you need flexibility in your carry, the compression system will deliver.
The Venture Sling is the culmination of Bellroy's exploration of cross-body carry. The size is generous, but not too large as to be unwieldy. The pocketing is considered, and the access is intuitive. It doesn't hurt that the brains at Bellroy are huge textile nerds, so you're getting your hands on interesting materials you can't get anywhere else.
The Venture Sling covered here uses Bellroy's excellent Baida Nylon. This is one of our favorite fabrics in years, and it leaves us wishing other brands had access to it. It's crisp-feeling yet natural-looking. The crinkle and somewhat-of-a-patina is the way you see it out of the box, and it doesn't really age any further. For a really special treat check out the Baida that was specifically designed for the Apex Backpack.
The strap attachment mechanism is how the Venture manages its larger size. When packed out, the compression system naturally expands to fit whatever you're carrying. When you're carrying less, it slims the Venture down against your body. This same system exists on other Bellroy slings, and we think it's great.
The front slash pocket of the Venture has easy access for items like your wallet and keys, but the real magic is in the main compartment. Every wall has a pocket, and they stay out of the way when not in use. There's a good mix of stretch, open-top, and zippered pockets. The side pockets are a favorite – they add functionality to a commonly unutilized area.
The Bellroy Venture Sling is the perfect bag for schlepping around the city. It's stylish and sleek, and while it's large enough to carry whatever you may need, or want, throughout the day, it still maintains a small footprint. Throw your pocket dump, your COVID carry, your mirrorless and pancake lens, and even a memobottle or small shell in here, and head out on the town.
---
STRENGTHS
Sleek, clean aesthetics
Flexible compression system accommodates a range of loads
Eye-catching, 100% recycled fabric
Well-considered range of pockets
---
Who It Suits
Those with an active lifestyle, looking for a do-all sling or hip pack to get them from the trail, to the beach, to the mountains. Those who are minimalists may want to look elsewhere – the MHP is a good size to expand your carry options rather than dump your pockets. If you need to make sure your gear stays secure against your body, this is a great option.
EVERGOODS had one of the strongest entries this year, with the much anticipated Mountain Hip Pack 3.5 (MHP3.5). With a priority on ergonomics and plenty of pocketing, including a hidden sleeve on the front, the MHP is equally at home on the trail or in the city. The 420D Nylon shell sheds dust, lint, and water alike, and the beefy #10 YKK zips are a welcome addition – something we don't usually see on bags this small.
The ergonomic shape allows the MHP to hug your body, even when full, making it ideal for active pursuits. This is also the first bag in the EVERGOODS lineup to feature their new breathable back panel, which really helps in hot weather activities. We also loved the dual buckles situated on either side of the bag. This keeps the buckles completely out of the way and allows for ambidextrous adjustment.
The main compartment is spacious, and opens similarly to the Trakke Largo – with a horseshoe-style zip. The pocketing is thoughtful and has slots and space for everything from your keys to a small water bottle. The rear zipper has less volume, but holds valuable, slimmer items closer to your body. This is where we usually kept our wallet and phone.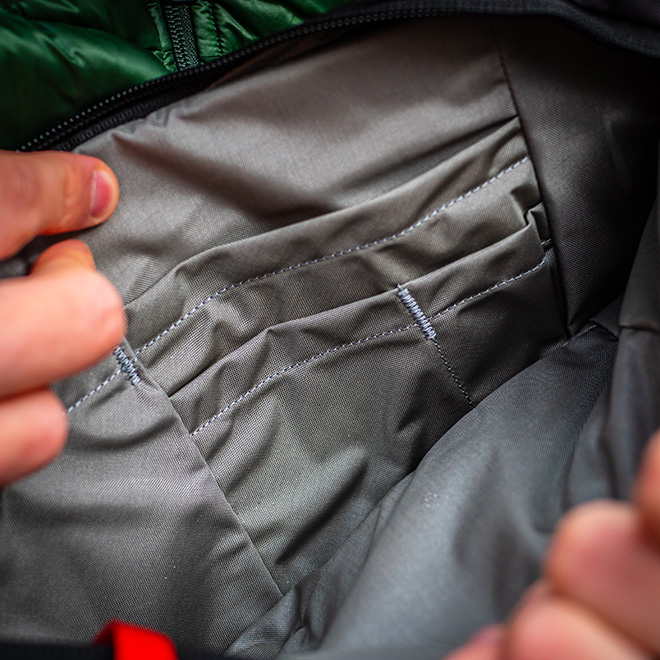 One of the standout features, that we've never seen anywhere else, is the hidden front pocket. It's completely invisible, and since it's slightly gusseted, it doesn't take up too much space in the main compartment when you decide to store a rain shell or water bottle in here. You'll be surprised with all of the uses you think up for it.
The EVERGOODS MHP3.5 is probably the most "active" sling on this list, except for maybe the High Above Venture which is a bit more purpose-driven. The breathable back panel, body-hugging shape, and mid-sized capacity means you can take this anywhere from shredding trails to walking the dogs and it will feel right at home doing either.
---
STRENGTHS
Well suited to active use across a range of settings
Keeps gear secure against the body for stable, comfy use
Useful range of pockets including quick-access front sleeve
Wide main opening for easy access
Dual side strap buckles for easy, ambidextrous adjustment
---
Who It Suits
Those looking for a solid, everyday sling. The Transit XL isn't specialized to any specific activity, but that's to its strength. It works great as a pocket dump with just enough extra room for some EDC essentials. If you're looking for a sling to use every day when walking out the door, the Transit is worth checking out.
The Heimplanet Transit Sling Pocket XL is a marvel of German softgoods engineering. It hits all of the right notes, from the fabric and hardware to the considered organization and pocketing. If you're looking for an everyday, grab-n-go sling, this may be the one.
The Trimmers Alutica buckle is front and center on the Transit and it really ties the whole piece together. It's bold and feels great to use. Is it overkill? Yes. And we love overkill.
The Transit XL has three compartments. At the very front is a dedicated sunglasses pocket, lined with scratch-resistant, stretchy fabric. Sunglasses disappear here, and rarely affect the use of the rest of the sling. In fact, I often "lost" sunglasses because I would just forget they were in there.
The center-front pocket does share a bit of space with the sunglasses slot and also shares the same stretchy material. We found this pocket was better for smaller individual items, like keys, rather than larger solid items, like your phone.
The interior of the main compartment is one of the most useful we've seen on a sling. The stretchy pockets line every side of the Transit, except the front. And similarly to the Bellroy Venture, the side pockets are a very welcome addition. The stretch material allows these pockets to conform to whatever you may throw into them, large or small. And when not in use, they stay up and out of the way.
While Heimplanet may be well known for their unique tents, their softgoods deserve just as much attention if not more. The entire Transit line is sleek and luxurious, as if it came off of the line at BMW or Mercedes-Benz. We think the XL is a great size for everyday use, but there's also a smaller variant that's still very capable. Check out either for what we think is best in class slingage.
---
STRENGTHS
Great for grab-n-go daily use
Well-considered organization
Sleek, understated style
Durable, high-quality build
---
Who It Suits
If you ride a bike, you want this hip pack. It's designed for the minimalist mountain biker, with enough space to dump your pockets while leaving some extra room for trail tools and emergency items. Those who use water bottles rather than hydration packs will love the different bottle carrying options.
The High Above Venture is definitely more hip pack than sling, but it's our favorite thing to wear while mountain biking. Its intuitive magnetic clasp is self-adjusting, and it holds just enough for your ride without ever feeling bulky. Upgrading to the Fidlock bottle adds some extra magic.
The Fidlock upgrade, while optional, is a true standout feature of this hip pack. While many other hip packs offer a bottle holder, we've not yet seen any others using the Fidlock system. It's incredibly secure, but just a flick of your wrist gets it into your hand and up to your face for some much-needed hydration. Use it as an alternative to on-the-bike carry or as a supplement on longer rides. If you don't love hydration bladders, this alternative will work really well for rides.
The closure system is also relatively unique for a hip pack. It takes cues from messenger-style bags with a fold-over flap secured by a Fidlock bungee. It's easily adjustable if you need to carry more gear. Speaking of which, other little bonus features are the eyelets on the top-rear side of the pack, which allows for using an extra two pieces of cord to lash a rain shell, vest, or a burrito on your way home.
The main compartment has a split sleeve on the front and a single sleeve on the rear. High Above also offers little zip pouches that fit perfectly into each of these sections. Under the flap there's also a small slip pocket secured by a YKK AquaGuard zipper. This was typically where a phone was kept for easy access for trail selfies.
To top it all off, you get your choice between a standard plastic side-release buckle, a Fidlock V-Buckle, or an AustriAlpin Cobra buckle. We opted for the Fidlock to stay on brand with the rest of the pack, and also to shave some weight versus the Cobra.
We truly think this is the best minimal hip pack out there today, especially for riding. While it's designed for shredding the trails, we've used it around town with great success. Pick one up before your next outing, with all of the bells and whistles you want (or don't want).
---
STRENGTHS
Great for minimalist mountain biking
Optional Fidlock bottle carry offers secure yet quick hydration access
Adjustable flap closure accommodates various loads
Tough, weather-resistant build
---
VOTING CLOSES 28TH FEBRUARY