Top 5 | Best Packable Bag
Our Best Packable Bag category is a new addition to our Carry Awards this year. High-fiving everyday and travel-friendly pieces that are perfect for stashing in luggage or a vehicle or carrying about town, this category is all about lightweight bags that pack away compactly until you need them. Our top 5 finalists vary in design and intended use settings but they all celebrate carefully considered compact carry, whether you're heading up a mountain, meandering in a market, or stashing some souvenirs during a day of sightseeing. But which one really excels as a worthy benchmark for this category? Choose your top contender below…
---
Specs
Liters: 28
Weight: 24oz/680g
Material: Interior – 210D Robic® Nylon / Exterior 100D Robic® Nylon
Price: $150 USD
Who It Suits
The Beast28 is a feature-packed, ultra-lightweight, packable backpack for more technical use. Could you use it as a daypack? Sure. But it's better to take on long hikes where saving weight is useful.
The Lowdown
This 28L bag packs a lot of organization. The exterior has two water bottle holders that can house a Nalgene-sized bottle, and each has webbing above to secure any taller items that might move about. Two lash points are provided up top and two down below for attaching any gear that one may need, along with a daisy chain on either side of the front panel. There is a fairly large pocket on the front that is large enough to hold a rain shell, gloves, or a slew of snacks. Within this compartment, there is a zippered drop pocket perfect for holding your wallet, keys, or any other smaller items that you don't want to dig around for. The main compartment has a hanging water bladder pouch that is separated from your gear, as well as a small zippered pocket with a key lashing point.
The back panel of this pack was built to be carried for miles. The vented mesh back padding and straps will allow airflow but are not built to carry heavy weight as the padding is minimal. A small adjustable sternum strap is provided to help secure the bag for scrambling and adverse movement. The Beast28 also comes with a removable waist belt that has two mesh zippered pockets. These are not large pockets but rather sized for a snack bar or small trail trash.
Two options make this bag a unique packable bag. The first option is to keep this bag flat and pack other items on top of it. With minimal padding and framing, there is little bulk. But Matador did not stop there. They designed the Beast with a flexible frame so not only does it move with your body, but you can also twist the pack and pack it into the provided stuff sack, allowing for a clean webbing-free stow option.
---
STRENGTHS
– Packability
– Organization
– Comfort
---
Specs
Liters: 17
Weight: 27.7oz / 785g
Material: 525d Ballistic Nylon/ 400d Halcyon® Nylon
Price: $103 USD
Who It Suits
Are you looking for a simple daypack that is built with rugged materials and will last for years for around $100? Then stop looking!
The Lowdown
The Tom Bihn Daylight Backpack is just this bag. At 17 liters, it is just big enough for anything from a day hike to the college campus to a personal item in the plane. The Daylight lays super flat, so you could also toss this bag in your duffel for any travel and have a lightweight backpack for when out exploring. The ballistic nylon is the type of material that can take a beating. But with no padding in the back panel, you won't want to carry any bulky or heavy items.
There is minimal organization in this pack, but just enough to keep you organized for the day. A full-width diagonal zipper across the front allows for separation of items and a quick-access drop pocket. There are two small O rings for attaching optional pouches or small carabiners. In the main compartment, two drop pockets have an elastic opening and overlap each other. Both these pockets run the full width of the bag but are only about eight inches deep.
The harness system is minimal; there is a slightly adjustable sternum strap as well as a small webbing waist belt that is removable. The Daylight Backpack also comes with an eight-pack of zipper pulls that you can attach to the zippers if you so choose.
Overall this is a clean and simple bag that is a great option for those who want quality but want something more cost-effective.
---
STRENGTHS
– Strong materials
– Classic daypack silhouette
– Simple and intuitive
---
Specs
Liters: 12
Weight: 6.3oz/ 180g
Material: 100D Cordura Mini Ripstop®
Price: $60 USD
Who It Suits
The definition of simplicity, the Heliad Tote is a perfect bag to carry either alone or in other bags and is way bigger than the advertised 12L.
The Lowdown
The Heliad is a zipper close tote with two zippered pockets, one on the exterior and one on the interior. While this bag is a 100D Cordura Mini Ripstop, I wouldn't take this out on any trails or for much adventuring. This is more of a durable street bag. Take a run to Whole Foods and pick up some brunch items, or pack a change of clothes for yoga after work.
The external pocket has a key leash and is sized for a wallet, sunglasses, or any other items that you need to reach easily. The interior pocket is smaller but can still hold a phone, passport, or something similarly sized. Since this is a tote, there is a single, lightweight shoulder strap that has no padding, so packing the Heliad out with a camera, or something equally heavy will put some strain on the shoulders. At just over 6.3oz, the Heliad is the lightest weight bag on this list and can pack down the smallest. Where this bag shines would be keeping it stuffed in the side pocket of your car door or within your everyday bag so that when you run to the store, you have a tote to avoid those pesky bag fees.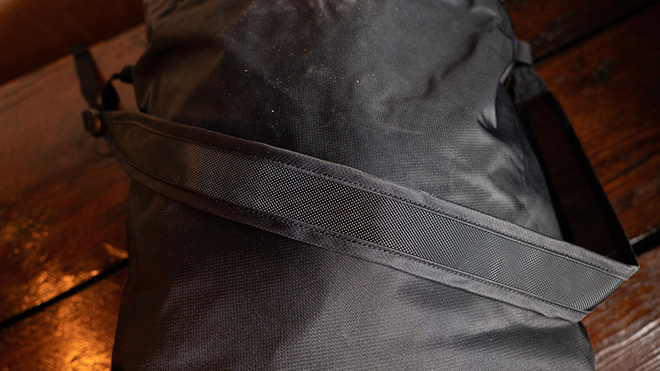 ---
STRENGTHS
– Super packable
– Classy lines
– Extremely lightweight
---
Specs
Liters: 20
Weight: 12.35oz/ 350g
Material: Polyester Ripstop made from 100% recycled water bottles
Price: $99 USD
Who It Suits
If you are a fan of Bellroy's quality and like sustainability, then the Bellroy Lite collection is for you.
The Lowdown
The Daypack is a perfect 20L backpack that you can pack with you on any trip or carry daily as your lightweight backpack. This pack is made of 100% recycled water bottles, is 3x lighter than Bellroy's other fabric, and is still a durable ripstop.
While this pack is small, it still maintains enough organization for the daily essentials. The exterior has only one pocket on the top for quick-access items like AirPods or sunglasses, but there is no felt lining. There is a panel within the main compartment that is separated into two drop pockets, one with an elastic top sized to hold a water bottle and a smaller pocket that can hold pens, or any other items. Above these pockets is a full-width zippered pocket that contains a key leash. Behind this panel, there is a drop pocket that can be used for a laptop, iPad, or just to keep items separated, but since there is no frame, items might rub on your back.
The back panel of the Lite Daypack has some padding, but it is minimal. If there are any bulky items within the pack, you will feel it for sure. The straps have a nice mesh backing but are very slim, so the user will feel any weight within the bag. There is a very small adjustable sternum strap that has three positions.
Overall for the $99 price tag, this is a great bag for travel. It packs down fairly small and has a good amount of organization for the weight and space of the bag.
---
STRENGTHS
– Extra organization
– Comfort
– Sustainable materials
---
Specs
Liters: 20
Weight: 20.8oz/ 589.67g
Material: 210D Cordura® crinkle nylon
Price: $99 USD
Who It Suits
Travelers and lovers of minimal style.
The Lowdown
Aer has become synonymous with high-quality city and travel bags that blend in and pack a punch with features. The Go Pack 2 is no exception, especially with a $99 price tag. The most significant difference between the Go Pack 2 and the other Aer bags is the fabric. For the Go Pack 2, Aer chose the 210D Cordura® crinkle nylon instead of the usual 1680D Ballistic nylon. This change in the fabric is a weight saver and still strong and durable.
The Aer Go Pack 2 has a fantastic amount of features for a $99 bag. There are two expandable water bottle pockets on the exterior of the bag as well as a large drop pocket with a magnetic closure that runs almost the whole front of the bag. Behind the metal buckle on the top of the bag is a decently sized zippered drop pocket that can hold power banks, small notebooks, or any other items you need to access quickly.
The main compartment of the bag has a lot of space with a few sections to keep things organized. Two small drop pockets sit on the front of the compartment, each with an elastic top that expands only slightly. On the back side, there is a mesh zippered pocket that runs the full width of the bag. This pocket is only about four inches deep so not built for large items. Behind this pocket, there is a laptop sleeve that is suspended, but with the lack of a frame, that doesn't mean a whole lot for protection. This laptop sleeve can fit up to a 16-inch laptop with ease.
As you would expect for a packable bag, the back panel and straps have minimal padding. But the Go Pack 2 does have a luggage pass-through for air travel. There is no sternum strap, so taking this bag out on hikes or more rugged adventures may be harder to handle.
---
STRENGTHS
– Light but Rugged materials
– Organization
---
VOTING CLOSES [APRIL 2ND]