Top 5 | Best Carry-On Bag
Now, normally the everyday backpack category is the most competitive in the Carry Awards. Don't get me wrong, it still is a very tough one this year. But this time, in my personal opinion, the Carryon category is the most competitive of the entire competition, with several brands refocusing on travel bags and what makes them great. Even getting this list down to 5 finalists via the public voting from a few months back, was a serious challenge. After enjoying using all five of these bags on trips over the past several months along my travels, I can say that I have a few favorites here. But it's also up to you, dear reader, to vote for the ultimate winner. I don't envy you this year – good luck!
---
Who It Suits
For the well-organized professional traveler who appreciates looking the part. The third iteration of the previous Carry Award winning Travel Pack 3 really excels in offering tons of features, which are expertly crafted into a minimalist and waterproof exterior, keeping function high and aesthetics clean.
The Lowdown
USA-based Aer, in my opinion, are the current reigning kings of minimalism meets functionalism. And for a travel pack, flying under the radar and not having gear that screams "look at me!" is a major win. But you still want all of the features and functions filled to the gills of a product that most can only offer with bells and whistles and dangly bits hanging all over the place. The third installment of their Travel Pack trilogy, aptly named TP3, truly delivers… unlike a lot of cinematic threequels where they use B and C list actors to replace their A listers. This thing is A list throughout every last detail and does it with seemingly effortless style and tough grace.
Now, let's get into the details that make this thing not only great, but incredible. Beneath it's blacked out X-Pac (VX42) waterproof stoic but beautiful exterior, you smoothly glide the heavy duty YKK AquaGuard locking zippers, to unveil an orange visual assault from the wide opening clamshell's cavernous main compartment. Broken record, but a bright interior helps you find small bits when you're in a dark hostel room with 8 weird strangers or heading to an island village in the Philippines on a highly questionable leaky boat. Bonus, that orange fabric is bluesign certified and ripstop for strength and tear stopping magic.
This pack can cinch down via the 4 exterior compression straps, bellowing out from a stout 35 liters, down to a completely manageable walk around the city pack, estimated around 20 liters. One thing that always drives me crazy about backpacks with cinch straps… is the straps cross over the zippers, blocking your access to grab something quickly. It's just annoying. Aer clearly has taken note of this and added one-hand quick open and close magnetic hardware on all 4 compression straps. Who knows how these magnets work, but they work flawlessly.
Little details like the perfectly-sized Apple AirTag holder slot, a disappearing water (whiskey) bottle pocket, three grab handles (including the luggage trolley pass through), clever hidden pocketing for valuables and quick access, and load lifters on the shoulder straps to keep you comfortable after days or weeks of travel (these are one of my favorite features of a travel bag)… all these details somehow mathematically add up to the number 3, and the Aer TP3 delivers 300%.
Strengths
Maximalist features in a minimalist aesthetic design
The third iteration of their Travel Pack, which keeps getting better and blowing us away every time
Compresses to a small pack for walking around, expands to mammoth mode when you need it
Multiple colors? 1680D Ballistic Cordura nylon? X-Pac VX-42? Multiple colors? Yes, please.
Like Patrick Swayze in Roadhouse; it's tough as hell, but also handsome/beautiful as hell.
---
Who It Suits
For the globetrotter who wants all the volume and access of a proper piece of luggage, but requires different carrying modes for mixing it up. Like the product name suggests, the F.A.R. excels in morphing from a carry-on sized backpack, to checked luggage, and to duffel, all in a quick flick of a zip.
The Lowdown
Familiar with the Carry Awards veteran brand AWAY? Sure you are. But probably not for softgoods. I personally use The Bigger Carry-On rolling suitcase for when I need some serious liters for my travels. But, as you're well aware, those times are few and far between, as we pound our chests about the benefits of one bag travel. So the design team at AWAY's New York City headquarters took all their hard travel knowledge from suitcases and… made it soft for your next one bag journey.
F.A.R. stands for For All Journeys and I've got to say that we agree. Coming in at a massive 45 liters, they packed it all into an overhead bin sized package (21.7″ x 13.6″ x 9.5″), just mildly defying the laws of geometry. That all tips the scales at a super respectable 3.32 lbs, which is honestly comparative to some 24L packs that we all love and respect. Nearly double the volume but the same weight. That's a win.
Available in three colorways, the FAR Convertible Backpack is best described as a soft luggage that converts to a proper backpack, via a discrete zipper up on the top of the airmesh padded backpanel. While the method of stowing the straps away for checking your bag in, simple is good, which means stuff won't break or get fumbly in a stressful situation rushing through the airport. Once stowed away neatly, you'll find a trolley handle sleeve to toss on top of your AWAY Suitcase, if you so choose. And if you're rocking a backpack without a rolling suitcase, you can grab the included padded shoulder strap to sling over your shoulder like a duffel. Optimus Prime blushes with happiness.
Lastly, it wouldn't be a proper travel backpack with some well-thought pocketing and organization. While the main compartment is massive, it does include an integrated cinch down strap inside to squish down the volume of your threads. But my favorite part? A clever little hidden passport pocket to keep your pockets empty while you're on the go.
Strengths
Luggage forward design that's convertible to 3 different carry modes
Coated highly water resistant recycled fabrics
4 different compression straps to shrink down your haul
Completely stowable shoulder straps for a snag-free checked bag
PRICE!
---
Who It Suits
For the traveler who is serious about stepping up their carry game, you can't do much better than the Travel Backpack from Tortuga, a brand founded on the single concept of creating carry-on sized packs to travel the world. Both the brand and their products have evolved into a well-refined class that puts them at the very top of the heap.
The Lowdown
For me, the name Tortuga is almost synonymous with the word "travel". Fun fact, I personally designed the very first Tortuga travel backpack for friends and co-founders Fred and Jeremy wayyy back when and I will say… it was primitive. Since then, they have built up their team and added a real arsenal to the design side of things. Everything I've seen come out of the brand just keeps getting better and better. Which is why I was a little hesitant when they told me they had a new travel backpack coming out. Why was I hesitant? Because I wondered just how they could do even better with a new design. Sure enough, they delivered. And then some.
Measuring up at 40 liters (21.7 x 13.8 x 7.9 in), this is on the largest end of the spectrum for this category. It's also the largest max out carryon size, which is fantastic for those who want to maximize their one bag carry capacity. The Travel Backpack is also offered in a 30L size for those minimalist one bag folks.
But what makes it a contender? First up, it has my favorite travel backpack harness that I've ever used. Yep, that's a bold statement. It uses a proper suspension that has extra cushy foam padding with breathable mesh to keep things cool. And bonus- there are load-lifters, which I live. The removable padded hip pad pods are a nice addition when your load gets extra heavy. Did I mention how much I love the harness? I could go on, but I'm running of out words.
Other killer highlights on the Travel Backpack; made from Tortuga's own "SHELL200" fabric which is a 100% recycled and waterproof durable sailcloth fabric, it looks minimalist yet is feature packed, easy access dedicated laptop sleeve makes TSA a breeze, it seamlessly transitions from backpack to side grab handle carry without any zippers or buckles, a big panel loader to pack in all the bulky items with plenty of small quick access and organization to balance it out, it's available in any color you want as long as it's black (the correct color for a travel pack in my humble opinion), and by the way… did I mention how comfortable the suspension is?
Strengths
Minimalist aesthetic
Travel focused brand who keeps getting better and better
WaterPROOF fabric that is durable (and 100% recycled)
Considerably light for its size (4.5 lbs at 40 liters)
Available in a medium 30L and a maximum 40L
---
Who It Suits
This one checks nearly all the boxes for the jetsetter looking for all the organization and pocketing found in the legendary Carry Award winner CPL24 everyday backpack, but Jack and Kevin cranked up the volume on this one, stuffing in even more features and more volume. Super tough, comfortable, and from a well-respected brand… there's a whole lot to love about the CTB35.
The Lowdown
EVERGOODS has been crushing the everyday carry game to an extreme level in the past few years, churning out several winners in the Carry Awards in everyday backpacks and accessories. However, serious fans of the brand noticed one huge hole in their lineup after their universally loved CTB40 travel bag was discontinued a while back… there wasn't a proper dedicated travel backpack in their arsenal. While I personally loved the CTB40 and used it on a handful of international jaunts (albeit a little boxy), I had a sneaking suspicion that Jack and Kevin pulled it off their lineup while they had plans to cook up something. And because it's EVERGOODS, I expected it to be amazing. Admittedly, this is kind of unfair, having such high expectations before something sees the light of day. Well… it destroyed all my expectations.
We were lucky to get the exclusive first look of the new CTB35 (Civic Travel Bag, 35 liters) and our entire Carryology crew has been rocking these on trips ever since. Universally, this bag is already an icon and loved by customers, filling that void in the lineup with pure gold. First up, in my humble opinion, there's a clear visual and functional similarity between the CTB35. And there's the real magic. The CPL24 is a tried, true, proven performer (and previous Carry Awards winner). So there's a natural familiarity when using the CTB35 for your travels. The same front vertical "sling around" access organizer pocket for all your little items. Everything else, which I won't list off one by one, but then… cranked up to 11. The CTB35 adds water bottles, one on each side, as well as a top quick access pocket on the front face, which I find incredibly functional while on the move.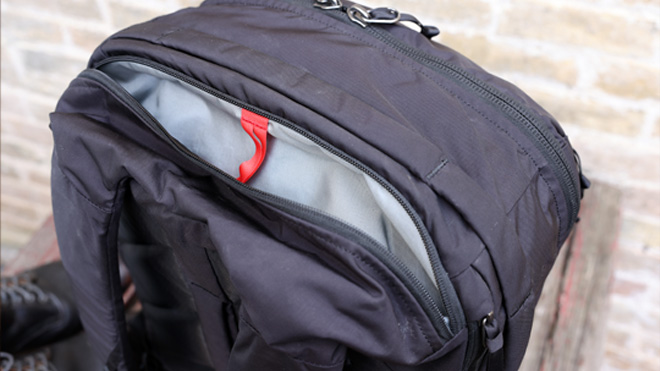 It would have been a big miss if the CTB didn't have EVERGOODS's newly released highly breathable and comfortable mono mesh backpanel. And they didn't miss. The addition of this heavily tested mesh has kept my back as sweat free as possible and I run hot like a furnace. While we're at it, the expertly tailored 3D patterned harness with Zote foam hugs my shoulders, making 30+ lbs of gear feel like considerably less. But when your gear's weight really starts tipping the scales, popping out the hidden stowable 3D cushioned waistbelt takes no time and transfers weight to your iliac crest like a proper hiking pack.
Incredible organization. Incredible materials. Incredible comfort. Incredible brand. Incredible product.
Strengths
Similar to the fan favorite and much loved CPL24, but on a heavy dose of travel steroids
Super technical custom performance fabrics used throughout, while maintaining a casual aesthetic
Magical and luxuriously comfortable Zote foam shoulder padding
Designed by a brilliant team up in Montana who stand by their products with a lifetime warranty
Near perfect balance of organization and access in one minimal package
---
Who It Suits
The brand Tom Bihn is synonymous with travel and travelers who quietly know their stuff without needing to shout about it. The Techonaut (love that name) is a carry-on pack made up in Seattle, to the rigorous standards that Tom Bihn customers have come to expect over decades. A king of accessory modularity, you customize your convertible Technonaut to your needs or leave it as is and it's ready to fly at a moment's notice.
The Lowdown
Let's start off by talking about a travel backpack that *isn't* this bag, called the Aeronaut. The Aeronaut (30L and 45L) is a Carryology favorite and traveler's favorite bag. We've been singing its praises since back in 2017 and these packs have surely traveled more than 1 million miles collectively. You don't gain a reputation like this without earning it. So the team up at Tom Bihn took a look at what was working… and then took all the good and improved upon it with the Techonaut.
Having used the Aeronaut extensively in the past, what I really love about the Techonaut's updated design is that it feels more like, well… a real backpack. The Aeronaut, while amazing, always kind of felt like a really nice duffel with some backpack straps. The Techonaut has a symmetrical design when sitting upright in pack mode, which can convert into 3 different mods of carry (a shoulder carried duffel with provided strap, gran handle side carry, and of course, backpack). Another major bonus for folks wanting to upgrade, the new design has its own dedicated suspended laptop compartment which easily eats up a 15"/16" laptop in the 30L version and takes basically any massive laptop in the 45L version. Hence the name switch from "Aero" to "Techo". Dig it.
Sure, the Technonaut has all the checklist of features that makes a travel backpack amazing, as you'd expect since it's here in the top 5 finalists for this year's Carry Awards such as; a rolling luggage pass through for trolleying, a sternum strap, breathable mesh backpanel, and one massive main compartment. But the two things that make me fall in love with the Techonaut everytime I grab it and load it out for a trip? First, those beautifully executed super extra padded shoulder straps with Tom Bihn's signature "edgeless" design, meaning there isn't a scratchy piece of binding around your neck/shoulders, the soft stretch fabric on the interior of the streams seamlessly wraps around and over to the front, almost like a Mobius Strip. Almost. And secondly, that little pocket there at the bottom, just quietly minding its own business. It appears to be just a short zipper, but there's a ton of hidden secret room behind there. Perfect for shoving in a rain jacket, another small packing cube full of voluminous clothing, a toiletry kit, whatever you want. I find myself using and loving that pocket whenever I use it… which is all the time.
Strengths
One of the most legendary carry brands on earth
That sexy Halycon exterior fabric and that vibrant POP of color inside
All kinds of awesome modular accessories and pouches available
3 different ways to carry (backpack, shoulder bag, side grab handle)
Available in 2 different sizes (30L and 45L) and a BUNCH of colorways
---
[VOTING CLOSES APRIL 1ST]