Top 5 | Best Active Backpack
Active backpacks – without any doubt, my favorite Carry Award category. To compete here, each pack must be a champ on many levels: comfort, durability, used technologies, organization (inside and outside), and more. In this category, you'll find cross-functional packs and very specialized sport-specific packs featuring cutting-edge technologies of the backpacking world. Each of these packs is different, but each is unique and a true star in its category. Which is the best? Not an easy choice… enjoy!
---
Who It Suits
If you're looking for a versatile travel and outdoor pack which doesn't scream "Outdoor!" the new Mantis 30 might be your choice. Handsome, clean lines and good organization allow you to use it as an office pack during the working week and as a hiking pack at the weekend. And anything in between.
Features and Practical Use
The Mantis 30 follows a trend of modern multirole packs – it will be an excellent day hiking pack, travel/vacation pack, gym bag, and even an office/college pack to a certain extent. It's a top-loader with additional side access, keys & wallet pocket inside, a big lid pocket (2-2.5L at least), an under-lid document hidden zipper pocket, and a flat front pocket with generous side access. It also has a hydration sleeve, which can work as a laptop sleeve for urban use. Plus, there's a long front pocket below the lid (on the inside), which can be used for an easily accessible rain jacket. The two side pockets are expandable, and compatible bungee cord keepers can be hooked in two positions for short or long items. The Mantis's lid closes backward, so facing your back – not only is such a system easier for discreet use (like at the airport), but it makes the pack look very slick. And makes it even more waterproof. The harness is relatively simple but still comfortable. The shoulder straps are designed for moderate weight and include an adjustable chest strap. The stabilizing hip strap is removable if required and is an excellent addition for dynamic activities (like skiing).
The Mantis 30 may look simple, but that's the power of Arc'teryx design – yes, it looks simple but works like a champ! It's like a Chris Reeve Sebenza of the backpack world – it is premium and truly works. If you prefer to own just one pack for most activities (college, office, gym, hiking, skiing, etc.) the Mantis 30 should be on your shortlist. It's not a specialized pack. I'd not take it for winter climbing or kayaking. However, for general outdoor use, it checks all the boxes.
---
STRENGTHS
– Jack of all trades for outdoor, gym, and urban use
– Immaculate design, superb quality
– Not-so-outdoorsy look is well suited for general traveling
– Could easily be used as cabin luggage when air traveling
– Excellent access to inside and all pockets
---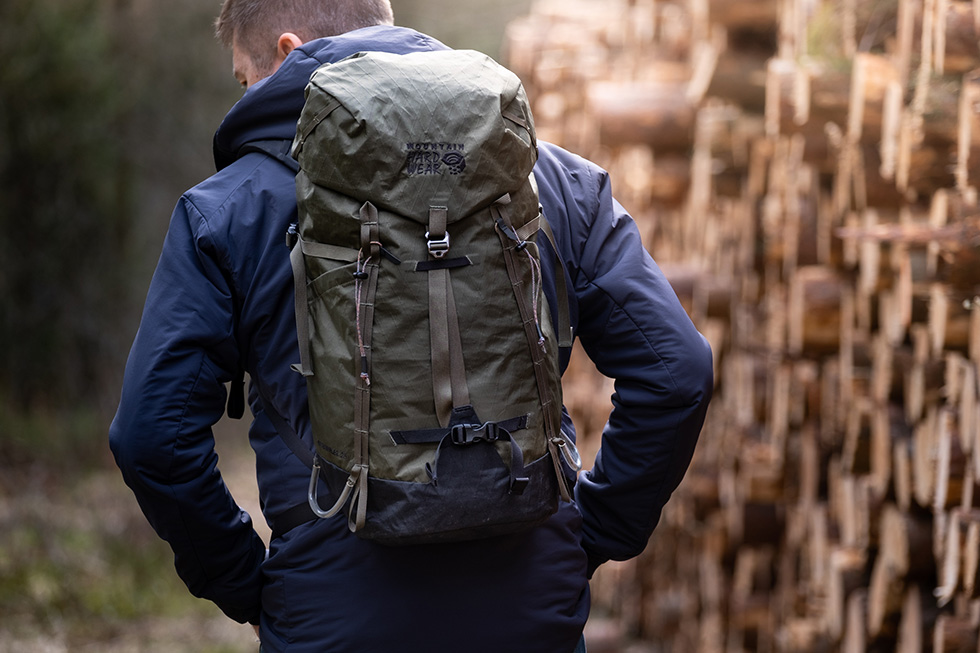 Who It Suits
It's simple – the Scrambler 25 is a perfect daypack for mountaineers and climbers. It's a true mountain machine – lightweight, rugged, and with all the necessary features.
Features and Practical Use
One look at this pack, and you know everything – it's an all-season climber's tool. The 25-liter capacity is just enough for a day in the mountains. It has one big cavity with an open hydration bladder pocket inside. Plus, an internal gear loop running across the back – a feature that is worth its weight in gold for climbers. On the outside, you'll notice two expandable side pockets, which stay fully flat to the sidewalls when not in use (an excellent feature in a mountaineering pack). Side straps, side gear loops, ice-tool keepers with additional safety cover for tool heads/spikes – all this works great!
The material is nothing less than VX21 4-layer laminated X-Pac – everywhere except the padded back and inside shoulder straps, so where the pack connects with your body. That makes it tough and fully weatherproof. The floating lid is generous (about 2L), features a hidden document pocket underneath, and can be removed entirely for an ultralight carry mode. And even then, a draw-cord closure and dedicated micro-flap keep the pack weatherproof. Two oversized grab handles can be attached centrally to a climbing rope (for solo climbing and even some self-belay techniques). Two daisy chains run along the pack, and two short ones along the lid.
It carries very comfortably on fully padded shoulder straps. A hip webbing belt is mainly used for side-to-side stabilization during dynamic moves. It's non-removable but easy to stow away in dedicated side slots. Overall it's one of the best genuine mountaineering daypacks I've tried in the last few years. It's super-feature-rich, especially considering the total weight below 850 grams. It's a hidden gem in Mountain Hardwear's lineup.
---
STRENGTHS
– A lightweight but still rugged pack
– Premium materials (X-Pac)
– Complete set of features required for vertical mountain sports
– Very comfortable
– Removable lid for ultralight summit mode
---
Who It Suits
Tactical-minded active EDC enthusiasts will love the Gunfighter 14 and its inside/outside organization, especially the SB (Special Blend) edition shown here. However, it'll also work for everyone who needs a compact and super-tough pack for everyday use or dynamic sports like biking, resort skiing, day hiking, forest walking, visiting your range for a short sport shooting session, etc.
Features and Practical Use
It looks small, but it proved to ride very comfortably on my back thanks to the generously padded mesh back panel, wide and ultra-comfortable shoulder straps with multiple attachment points, sternum strap, and removable stabilizing waist band. The shoulder strap webbings are extra long, so the pack can be dialed to fit any torso size, which is often a problem with small backpacks. All the organization inside is just exemplary: hydration/tablet sleeve (with Velcro flap) on the back, inner side mesh zipper pockets, and big front 'admin' pocket with well-planned internal sub-pouches. On the outside, you'll find two side bottle pockets, side panels with laser-cut MOLLE for pouch attachment, classic MOLLE on the bottom, a large Velcro panel for patches, and a full-size grab handle. All that in a 14L pack makes it an ultra-comfortable mini-monster.
SB (which stands for Special Blend) means that the pack has some unique features not to be found on a regular version – an internal laptop/hydration sleeve, in this case. It sounds like a small change, but it's a clear benefit for everyday use. Also, SB means the pack is US-made at Mystery Ranch HQ in Bozeman, MT. All materials, hardware, and manufacturing quality are top-notch too.
I've used it in an urban environment and my local forest for a few weeks. Primarily for my weekend micro-adventures, walking the dog, or even when testing knives and gear for upcoming Carryology articles. What I like the most are the brilliant organization inside (especially for the size) and the quick rip-style opening front flap. And last but not least, the MCB color scheme has tactical flavor but is not as flashy as a classic multicam. It blends well with most colors and stays relatively 'grey' in urban environments. So if you need a rigid and compact pack for your short but intense outdoor activities and occasional EDC use, the Gunfighter 14 SB is the right option.
---
STRENGTHS
– Compact size with exemplary internal organization for EDC use
– US-made at Mystery Ranch HQ in Bozeman
– Laser-cut side MOLLE for modularity
– Advanced harness for such size, very comfortable
– Tough as nails!
---
Who It Suits
PDW's AT (All Terrain) series of carry products are made for all kinds of amphibious activities, blending land and water use. So think kayaking, rafting, boating, fishing, beach sports, snorkeling, and hiking in humid or rainy conditions.
Features and Practical Use
First things first – it's a fully IPX7-rated pack, which is not just waterproof (like many similar bags on the market) but submersible under IPX7 conditions. It's also equipped with a buoyancy control valve so that you can inflate/deflate the pack depending on the mission. So even if you end up in the water when kayaking or rafting and you have to swim with it, the benefit is that it won't let even one drop of water in and can be used as an improvised floating rescue device. And it still has a very convenient-to-use horseshoe opening via a water-tight diver's style zipper (teeth made of Delrin, T-bar handle, metal slider). The pack comprises laminated 1000D RPET (recycled polyester fibers) with high-frequency welded seams. Critical spots and items (like carry handles) are first sewn in (for strength) and then sealed with an extra layer of 600D RPET by frequency welding – so it's an ultra-durable pack.
The harness system is not only rigid as well but truly comfortable too. It offers soft wide shoulder straps, back cushioning with ventilating channels, an oversized lumbar pad, and load-bearing waistband. The shoulder straps have load-lifters, multiple attachment points, D-Rings, laser-cut MOLLE slots, and quick-release buckles. The waist belt also is MOLLE-ready to attach pouches, sheaths, etc. Overall it's a very advanced suspension system that can be fully accessorized for any task or adventure (including professional use). On the outside, you've got a nylon webbing daisy chain, D-ring, top and bottom grab handles, bottom MOLLE panels, side straps to attach gear, and a Velcro panel for easy attachment of ID patches. There's even a separate waterproof pocket for quick-access items on the front. Inside there's a safety pocket (with another water-tight zipper for double safety) and a loop for hanging pouches or modular inserts.
I've used this pack for boating and fishing on a small RIB and for 2 weeks of sailing on lakes. It proved to be a great all-around pack for water use and a regular hiking backpack when exploring the forest on the lakes' banks. And even for some small local shopping in nearby villages during our yachting trip. It never let me down and still looks brand new after all that – it was super easy to clean with… a garden water hose! Try that with your standard bag. This pack is dedicated to outdoor adventures around rivers, streams, lakes, sea, etc. It's an impressive, unique, and surprisingly comfortable amphibious action pack.
---
STRENGTHS
– Rugged IPX7 waterproof construction (submersible)
– Convenient horseshoe-style opening via diving-rated zipper
– Good organization (especially for an IPX7-rated pack)
– Versatile design for any amphibious adventure (rafting, kayaking, fishing)
– Advanced harness system, especially for a waterproof pack
---
Who It Suits
This is a multi-day backpacking/travel pack. If you need to carry a substantial amount of gear for you, and often also your family, or if you need to bring a lot of climbing and mountaineering gear to the remote basecamp – no other backpack will give you more comfort than the Osprey UNLTD AirScape. It's an excellent general travel pack, too, with a summit/sightseeing small packable backpack built into the lid.
Features and Practical Use
Let's start with the price tag – at $700, it might be the most expensive classic outdoor backpack on the market today (not counting customs, special editions, and external frame behemoths for backcountry hunting). But your money buys a pinnacle of backpacking technology, a remarkably comfortable harness with a lightweight stainless wire frame, 3D printed Carbon DLS elements, and virtually unlimited adjustment possibilities (but surprisingly easy to dial). The shoulder straps are wide and comfy and superbly padded too. The multi-layer waist band must be the most comfortable load-bearing one I've ever tried. And that 3D-printed lumbar support and back panel! Not only ultra-comfortable but with unrivaled breathability. It's the first time I've experienced genuinely breathable lumbar support – a next-level experience.
The AirScape depending on size (S/M or L/XL) has either 68 or 72 liters of total volume, so you can load everything but the kitchen sink in there. You can use it as a classic top-loader or pack your stuff via a massive panel access gate in the bottom part. A unique sleeping bag compression system is nestled on the bottom for convenience. Outside features include two spacious front zipper pockets (great for your rain jacket and an extra insulating layer), two deep vertical side bottle pockets (elastic), and a handy quick-access bottle pocket at about 45 degrees on the right-hand side. Additionally, you've got side compression straps, sleeping pad straps, ice-tool/pole loops and bungee, a full-size side gear loop, two pockets in the waist band (zipper and open-access), and quick-fit trekking pole attachment on the shoulder strap. But in reality, it is not an over-complicated pack – it's designed to give you quick access to your emergency gear while being efficient as a one-cavity main body. The bottom line: it's all fairly intuitive, and you don't need a map to navigate through the pack. The hydration sleeve is separated from the main compartment for safety and ease of use.
At a total of 3 kg, it's not an ultralight option, but it was not designed with UL hikers in mind. Instead, it's a hauler designed to carry a lot of gear in comfort. Ultralight packs are suitable only up to a specific weight limit. At 60+ lbs of load, the additional 2-3 pounds 'invested' in a full-blown harness system can significantly improve your hiking comfort. And when I hike in the mountains for an entire week with two kids, camera gear, a tripod, etc… yeah, my pack gets heavy!
The lid is spacious at roughly 4-5 liters of capacity. It can be transformed into a separate 18L fully functional bolt pack with a main compartment, two zipper pockets, and four attachment webbing points (they can also be used to tie bungee-cord). It has anatomical S-shaped padded shoulder straps with a sternum strap (movable up/down) and is hydration compatible. And it doesn't look like a 'transformer' but a regular stand-alone day-hike backpack! Of course, you can also use the AirScape in a lid-less mode with a dedicated protective flap instead.
To make your life easier, you also get a dedicated rain cover (big enough for the pack and all items attached outside) and even a distinctive duffel bag so that traveling by bus, train, or air is safer for your precious Osprey AirScape and easier for you. All in all, it's a backpacking travel ecosystem that can be used/adopted for multiple long-lasting adventures around the globe. Undoubtedly it's a very capable pack with some unique features, allowing you to carry all your gear as comfortably as today's technology permits. No corners were cut when designing and manufacturing this pack. If you want the best – here it is!
---
STRENGTHS
– The pinnacle of backpacking technology with 3D-printed Carbon DLS elements
– Ultra-comfortable and adjustable suspension
– Designed for severe loads / backpacking expeditions
– Fully functional 18L summit pack built into the lid
– Rain cover and storage/travel duffel bag included
---
VOTING CLOSES [APRIL 14TH]