Sling bags have stepped up in a big way over recent years. Commandeering the spotlight as the go-to option for carrying smaller loads. And it makes perfect sense. A solid sling will deliver across multiple fronts to keep your essentials secure yet close at hand.
This year we're welcoming a strong list of Best Sling Bag finalists. All carefully designed to keep you agile, and your gear organized and accessible. But which finalist really shines? Pick your top choice below.
---
Looking for minimal meets tactical, with super-rugged construction? DEFY's Insidious Jr. Sling is a bag you can depend on when the going gets tough. The Chicago brand's signature build-it-like-a-tank approach is well on display here. The handcrafted sling features a choice of burly fabric exteriors, YKK AquaGuard zippers and an AustriAlpin Cobra buckle for the super-comfy strap. Front and main compartments with interior organization keep gear separate and accessible while a strip of PALS webbing allows for external attachments. Versatile and badass, need we say more?
---
dyborg is a small brand based in Hamburg, Germany, producing minimal UL carry in small batches. And a fine example of this is the Dyneema Fanny Pack. Made to order in Hamburg, the bag offers customization across buckle orientation and hardware choices (Fidlock Snap Buckles or AustriAlpin Cobra buckles). Plus different fabric weights, colors, patches and more. The highly weatherproof build incorporates taped seams, water-resistant YKK AquaGuard zippers, and a hybrid Dyneema Composite Fabric. Front and rear external pockets keep small essentials at the ready, while the versatile design hops between cross-body and waist carry to suit your needs.
---
Yep, we know we had a pretty big hand in this one. And we're super chuffed that Silas and his team at Bedouin re-released a variation of our Balian collaboration as a staple in their line. It's a sling that blends luxury with urban style. Crafted in England, classic meets technical with an epic combination of Dyneema Composite Fabric and premium rumbled Italian vegetable-tanned leather. Interior pockets keep small items organized on the go, while the AustriAlpin Cobra buckle delivers that important X-factor.
---
WANDRD's D1 Fanny Pack is everything you could want in a sling: sleek, light and functional. The bag can be carried around the waist or cross-body and is a compact, cleanly-styled companion for keeping minimalist loads tidy and secure. A range of interior pockets organize daily or travel items, with enough space for a small camera too if desired. Built to handle the elements, it's made with a combination of coated 840D Jr. Ballistic Nylon and 1680D Ballistic Nylon and trusty water-resistant YKK zippers. Add in the magnetic Fidlock strap buckle and you get a versatile, durable sling that's easy to use and ready for a variety of everyday and travel needs.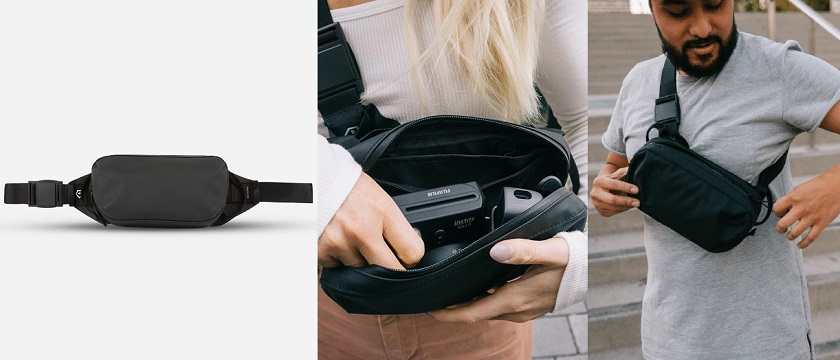 ---
As the name suggests, the Dayfarer Active Sling is designed for life on the move. Ideal for staying agile with smaller loads, it combines easy magnetic Fidlock access with a sleek and compact design that can be worn cross-body or around the waist. Additionally, a Fidlock buckle on the strap makes removing and donning the bag quick and easy too. Crafted with durable, lightweight and weatherproof X-Pac VX21 fabric, it provides a protective gear shield from the elements without weighing you down. The German brand round out this stylishly practical piece with a variety of interior pockets to neatly hold smaller items throughout the day.
---
Not ones to settle on good when great is achievable, Peak Design have revamped their Everyday Sling as part of their Everyday Collection V2. The sling now comes in 3L, 6L and 10L sizes to accommodate a variety of loads. Thoughtfully designed as an adaptable everyday, photography and travel sling, the bag offers a range of convenient organization including multiple pockets, FlexFold dividers, and external carry straps. The two smaller sizes can be worn cross-body or around the waist, while the 10L sticks to sling mode but also integrates a luggage passthrough. The pared-back exterior looks suitably understated for work, day-to-day settings, and discreetly carrying photography gear, making this an exceptionally versatile piece for any carry collection.
---
Want to stay agile in the city? Aer's City Sling zips effortlessly through crowded streets and public transport, pairing their signature minimalist street aesthetics with intuitive organization. Made with a burly water-resistant 1680D Cordura Ballistic Nylon, the sling features a main compartment accessed via a swooping central zip and a killer combination of internal pocketing, a separate front pocket and discreet rear pocket to meet every need. This is Aer at its best: stylish, reliable, and timeless.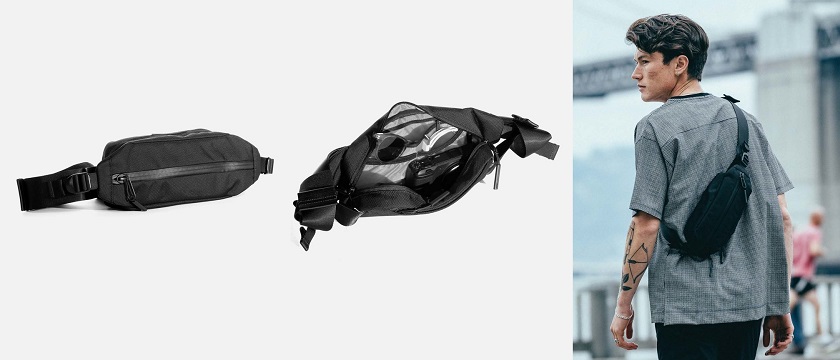 ---
When it comes to ultralight and flexible carry, the Hyperlite Mountain Gear Versa is hard to beat. Handcrafted in Maine with a Dyneema Composite hybrid, the bag weighs in at just 2.91 oz (83g). But don't let the light weight fool you. It's built to perform, with front and back pockets complementing the main compartment and keeping items well organized. Additionally, the bag not only serves as a waist or cross-body bag but can also attach to a backpack on the sternum strap, most hip belt straps, and daisy chains.
---
Sometimes you need to carry small loads, so a small bag makes sense. But what if your carry needs increase during the day? Last year's Best Sling champion, Code Of Bell have returned with a new solution for these changing needs. The ANNEX LINER is designed to keep you always prepared, whether you're roaming light or want to carry a few extra items. The flat design works well as a slim and stylish companion for carrying the essentials. But it's got some clever tricks up its sleeve to adapt on the fly. The bag's two independent compartments are both expandable, so you can shrink or grow the bag throughout the day depending on your needs. The weatherproof bag also integrates a removable shoulder strap, so you can carry it as a clutch if desired. And details haven't been overlooked either, with a clip to secure loose strap webbing, attachment points for quick-access items, and a selection of interior pockets to keep your gear in check.
---
Mystery Ranch knows the value of utility and durability. So that's exactly what they designed the Full Moon Pack to offer. Built in a range of hard-wearing fabrics, in a classic silhouette, and a choice of colorways, it's a bag that lets you embrace a bold personality or keep things more subtle and under the radar. Two-way zippered access to the main compartment reveals an interior zippered pocket, while an exterior zippered pocket stores quick-access items at the ready. And the bag also includes compression straps, making it easy to adjust to changing loads.
---
Streamlined for those times when you're after clean style in a bag that won't weigh you down, the CamelBak Pivot keeps things enticingly simple and sleek. Weighing just 190 grams (7 oz), it's made with 70% recycled materials and can be worn as a cross-body bag or around the waist. the main compartment features a two-way zip closure for easy access, while a discreet rear pocket stashes valuables neatly out of sight.
---
You can always count on côte&ciel to get creative with their carry, lending a distinct fashion-forward twist to their offerings. And the Adda is one of their most creative yet. This multifunctional zippered shoulder strap can be worn as a standalone cross-body or waist bag. However, included carabiner clips allow it to secure to other côte&ciel products as an accessory, serving either as a carry strap or as additional storage. So whether you want to keep things super minimalist with a stash for keys, a wallet and a phone, or you're looking for a handy partner for other carry pieces, the Adda gives you the flexibility to enjoy both options.
---
Tokyo-based ANONYM CRAFTSMAN DESIGN blend heritage vibes with urban/outdoor in their 3H Fanny Pack. The bag comes in a variety of colorways and keeps the elements at bay with its weatherproof Breathatec™ nylon and water-resistant YKK zippers. This bag's strength is its simplicity that allows it to adapt across urban streets and outdoor trails, securing essentials in a dual-zipper main compartment with interior organization and a quick-access exterior zippered pocket.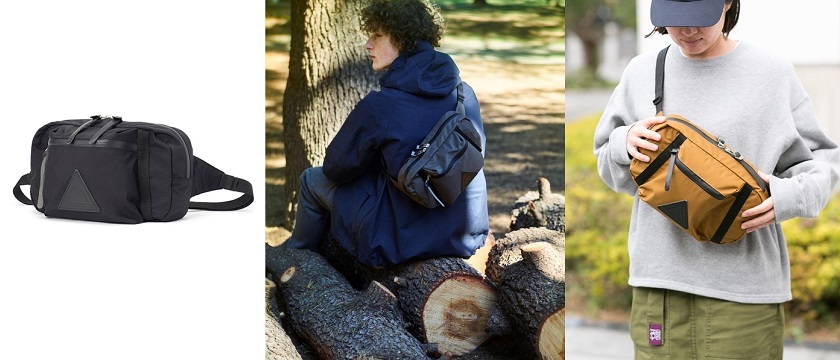 ---
Japanese brand Fredrik Packers gets straight down to business with the Division Hip Pack. A compact, no-frills but full-of-function sling that's lightweight and ideal for carrying smaller loads. The tucked front design allows for added storage space while maintaining a compact form. The bag is crafted in a variety of durable fabrics, letting you tailor your carry to your preferred tastes. And it's easy to swap between cross-body and waist carry to suit changing settings and needs.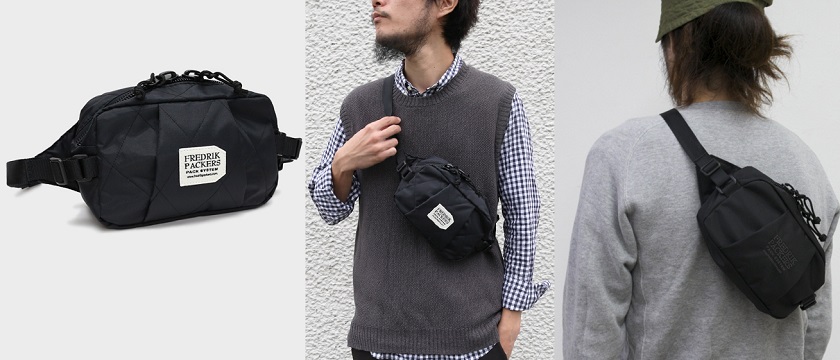 ---
If you prioritize easy-access and appreciate a place for everything, Timbuk2 has your back. Well versed in crafting practical gear (with an impressive 30-year history behind them), the brand has created an organizer's dream with the Vapor Sling Crossbody. The bag offers a host of externally accessible pockets, so you've got plenty of options for keeping smaller and frequently used items close at hand. And for larger items the main compartment has you covered, also keeping tech tidy with padded storage for a 10.5″ tablet. Whether you're a rightie or a leftie, this bag also adapts easily to your carry preferences with its ambidextrous strap.
---
The realm of slings sometimes gets a little left behind when it comes to luxe carry. But if you're after a sling with elevated style and sophistication, you can trust Danish brand Mismo to do it right. Their M/S Belt Bag offers a classy, refined take on sling carry, bringing heightened materials and craftsmanship together. Available in a choice of hard-wearing yet stylish fabric and colorway options, the bag has a zippered main compartment with interior pockets to store your everyday essentials. An additional eye-catching feature that sets the bag apart is the bridle leather belt strap. Adjustable to your desired length, the belt allows for cross-body and waist carry as you see fit.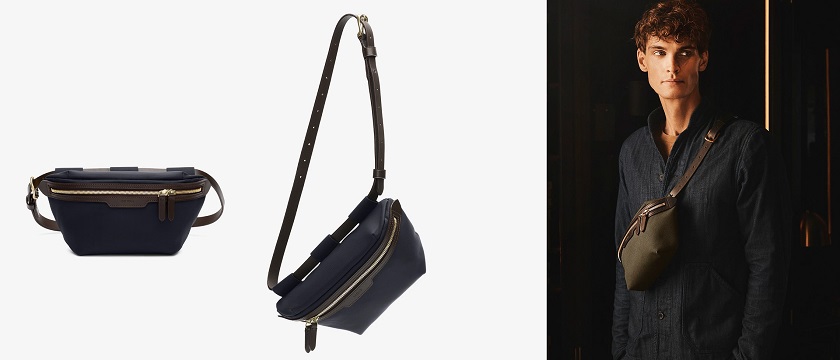 ---
Founded in 1975, Swedish outdoor and mountaineering brand Klättermusen is a brand that always stands out. Designed to tackle the great outdoors and active use, the Klättermusen Eldner packs their distinct vibe into a compact, adventure-ready offering. The Eldner can be carried around the waist, over the shoulder, or cross-body, with toggles to secure it to a larger pack too. An elastic front pocket holds quick-access items, while large bulky items can be secured on the bag courtesy of bungee cord located on the top. Thoughtful features such as reflective detailing and a main zipper pull that doubles as an emergency whistle enhance its practical appeal. And Klättermusen supports sustainable construction, crafting the fluorocarbon-free bag with 70% recycled polyamide and 30% polyamide.
---
The Japanese masters of carry craft demonstrate why they're one of the most respected names in the business with the Force Waist Bag. A piece that expertly blends superior construction and utilitarian design with a fusion of military and urban styling. The Force Waist Bag features three exterior easy-access pockets, along with a useful removable pouch in the main compartment to help you stay organized in high-flying style.
---
The women's Electra Sling moves from the gym to travel environments and trips about town. All while staying streamlined in an elegant teardrop silhouette. The stylish design is enhanced with a comfortable carry setup including a padded back panel and adjustable padded shoulder strap with a handy phone pocket built in. The main compartment features an interior zippered pocket, while bulky items such as a yoga mat or outer layer are easy to secure with exterior carry straps.
---
Voting Closed