Top 5: Best Travel Luggage 2020
Best Travel Luggage 2020, what an awesome idea and award… until you throw in the year that is 2020. But as we study the walls of our confinement, what better time to plan that future adventure?
Do your travel plans look domestic, maybe shorter flight times and more chances to explore your local neighborhood? Are you waiting for the business trip, need to impress? Is the wanderlust burning inside you?
This year's set of finalists are, simply, exceptional. We have a spread of bags that fulfil a suite of travel styles and environments.
I think that is what is making the number one spot such a challenging proposition. The PROJECTKIN is a flex into the future of materials. Bellroy's weekender updates the aspirational weekender form in high-grade recycled wovens, while the Topo Designs Travel Bag Roller is tested manufacturing bliss with travel essentials. Carl Friedrik's The Carry-on is a jet-setter's dream that contrasts with SALKAN's ready-for-anything, beaten-path-avoiding backpacker's essential setup.
I guess the question is what really sits in first class for you?
---
First things first. What is that biodegradable material like in the hand?
There is an immediate and undeniable requirement that you touch it. Once you've had the bio shell moment you appreciate the rest of the bag. It is a true 'sum of all parts' product.
PROJECTKIN's environmental goals state that where possible they use the most ecological option available; when eco is unavailable they will use the highest quality components to ensure the longest life.
With that the wheelie is designed for many years of use, to make that investment financially and environmentally worth it. One of the other factors is that they use design to prolong age through clean lines and proportions.
The result is a beautiful statement of simplicity, cleanliness and cohesion. Enough design speak, what does that mean? Well, the mounted details feel like they're in the perfect spot. The structural steps in the bio shell look like there is nowhere else they should be. The internal organization is uncluttered and useful.
However, the real hero is the bio shell. It is an attractor. Wheeling this through an airport gives a clear and obvious signal of something different, of something natural in the unnatural task of flying through the air in a metal tube. It shows real innovation – and with a big touch of class.
---
STRENGTHS
Wins in innovation
Eco-friendly materials
Refined aesthetics
---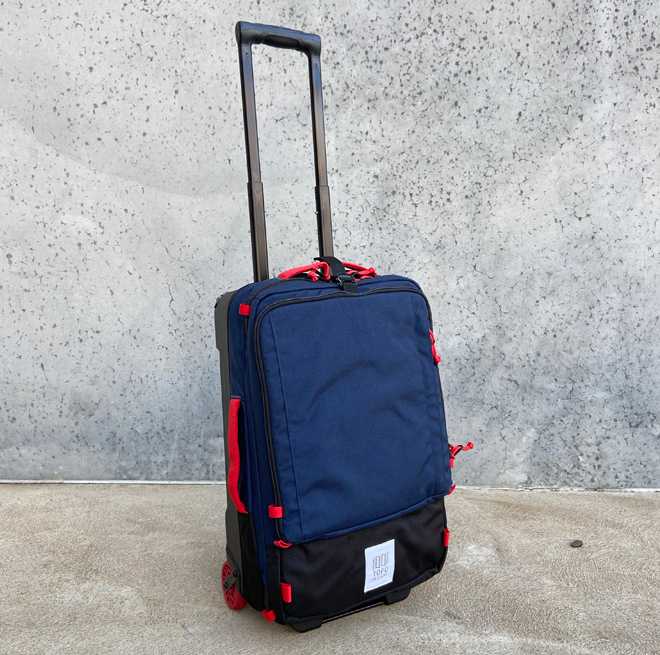 This piece of luggage shifted my perceptions of Topo. I'd associated them with clean heritage-inspired softgoods and quality builds made to stand the test of time. But with the Travel Bag Roller they've been playing in the engineering space, with a hard-sided back, and they've completely nailed it.
It has a contrast between the front and back that is in surprising harmony. There is something about the strength of the trolley assembly execution that helps the tried and tested soft front construction make even more sense.
The skateboard wheels are big and well-placed to take on any terrain. And the multiple carry options notch up the versatility.
Organization is mapped out well and they've made one of my favorite trolley moments, being able to open the trolley and not show to the world what style of briefs you wear.
When photographing this I found the most amazing experiences happened behind the scenes. You have access to all of the hardware blocks. The trolley assembly can be easily unscrewed and reconstructed with replacement parts down the line. Yes, I have seen this before, but never executed so well and with such a clear intention of actually being used. It is not marketing asking for repairability, it is clearly a value of Topo. And they've made a rugged luggage piece that'll last even longer because of it, all with their signature playful flair.
---
STRENGTHS
Most burly build
Versatile carrying options
Playful vibe
---
So, want to make an impression? The Carry-on by Carl Friedrik is an amazing execution of modern jet-setter style. It is steel gray metal strapped with warm leather. And it's all class.
When you consider that Carl Friedrik was founded by Swedish siblings in London, the design lines and high-quality European styling makes perfect sense. Their goal was to bring high quality to customers, cutting out the retail margin excess.
The opening hinge has exactly how many rivets you want, 26, on one side; there's even more when you turn it over. The precision feel of the security locks is awesome. They close so satisfyingly (and they are nesting two interconnecting reinforced metal frames – this is precision).
The leather adds the warmth in a controlled, flawlessly executed manner. Stitches only where stitches provide strength, stability and executed with, you guessed it, precision.
The Carry-On conveys its presence from a distance. It shows your values to all whose eyes behold it. You are precise, calm and strong, competent and powerful. Your bag leaves no room to negotiate, it is The Carry-on, and it is beautiful.
---
STRENGTHS
Wins in X-Factor
Clean, refined aesthetics
---
Weekenders are a funny thing. They symbolise aspirational goals. A casual journey, taking a car for a weekend over flying. Exploring the countryside, maybe taking some tasting notes of wine. But they're normally pretty stripped out on the inside. Poor access, heavy fabrics, zero organization and old-world materials.
Bellroy aimed to flip the old-world baggage of a weekender but keep the essence, the aspirational ease. That clear message that I am traveling for pleasure, but I still need my laptop and I hope they've got acceptable Wi-Fi.
The Weekender Plus has a classic silhouette and a ton of organization on the inside. There is a dedicated laptop sleeve, end cap stretch pockets, double internal mesh pockets, a large front pocket organizer, back exterior slip pocket and trolley pass-through. It is the burger with-the-lot in a refined shell, with a big mouth opening that lets you actually use all the space.
The Weekender Plus does all of this organization while still looking like you're playing it cool. If someone asks, yes the materials are recycled, oh they're B Corp, yep, Australian, oh and there is this cool pocket and another one, and my laptop is jammed in here because… well, just remember, when you get into the specs you lose your chill vibes.
---
STRENGTHS
Smart and innovative feature set
Sleek and timeless aesthetics
Sustainable materials
---
The Backpacker is two backpacks with a symbiotic relationship (a larger 60L main backpack and a smaller 20L daypack combined) and it takes the standard of what a backpacking backpack should be, and makes it a whole lot more refined and nicer.
The harness is amazing, the build quality is impeccable and the organization in the main 45L is awesome. There is a fine line between lots of pockets and overkill. I feel like SALKAN has made the call to put a usable-sized pocket in each location you need it. There is an included laundry roll-up bag that nests into the top, waist belt pockets, even a whole other bag to arrange your gear!
So the premise is, you're traveling off the beaten track and you need to haul all of your gear, but you want to explore too. Or you've got a flight and you need to check in your bag. Or it is jammed under the bus while you flirt with the guard rails through the Andes. You use the main pack, throw it under the plane / bus / cart, and carry on with your 20L.
As a combo set it's crazy versatile and the comfort has not been sacrificed for carrying up to 65L of gear with you. The materials are all high quality and the natural touch of the waxed 900D COTNA polyester is so refreshing, in a field dominated by synthetic tones and textures.
---
STRENGTHS
Versatile modular design
Lovely material choices
Sweet heritage vibes
---