A great everyday bag is a consummate all-rounder. Keeping gear close at hand through access and intuitive organization. Delivering the kind of durability that takes the daily grind in its stride. And offering that oh-so-important versatility to adapt as your loads and environments change. A bag that can flex from the commute to weekend adventures. Our Best Everyday Bag finalists all deliver the above in their own distinct ways.
But which finalist truly excels as a flexible companion you can trust day-to-day? Choose your top pick below.
---
Triple Aught Design's Axiom range is fast becoming an icon in the EDC world, taking the gold in Carry Awards 5, and notching a finals spot with each new iteration, as TAD pushes to take their range a notch higher with every new release. And the Axiom 24 Gen 2 does just that, welcoming 13 new updates, while retaining its clean silhouette. Updates focus on dialing in the organization, ranging from a redesigned admin compartment, to two separate zippered compartments on the back panel for storing tech, documents, and magazines. The main compartment's Helix Attachment points and PALS matrix let you customize carry setups to changing needs, while compartment-specific zipper pulls and plugs make it easy to quickly identify the bag's many compartments. The pack is crafted in the USA with a VX-21 Ripstop shell and YKK AquaGuard zippers, providing a weatherproof build for daily urban and outdoor adventures. Of course, a solid everyday bag needs to be comfortable too, and TAD deliver with a channeled closed cell foam back panel, wide and padded shoulder straps, a sternum strap, and load lifters for comfy all-day carry.
---
Bag design is often a one-way street, with designers creating packs and customers presented with a finished design which may or may not be to their tastes. But when you have a passionate customer base and a brand founder who really wants to meet their needs, you get pieces like the Alpha One Niner Evade 1.5 Full. The pack is the latest iteration of a design honed through intensive back-and-forth feedback between the brand and its customers. Founder Helmie Ashiblie has drawn on the combined experiences of a military background and product design to create a bag that performs when it needs to and offers an intuitive user experience without being overtly tactical. Sure, it nods to military aesthetics, but with a more stripped-back look that makes it easier to weave amongst an assortment of settings. Plus with a variety of fabrics and colorways on offer, you've got flexibility in the looks department too. The 25L pack provides customized organization courtesy of hook and loop panels, webbing attachment points, and a variety of compartments and pockets. So you can really tailor your setup just how you like it. Additionally, the Full version includes a 15" laptop compartment (the Lite version has no laptop compartment). A combination of load lifters, a sternum strap, and ventilated padded back panel also contribute towards a very comfortable carry experience. With its adaptability for everyday use and short/overnight travel, it's an undeniably versatile piece to have in your carry quiver.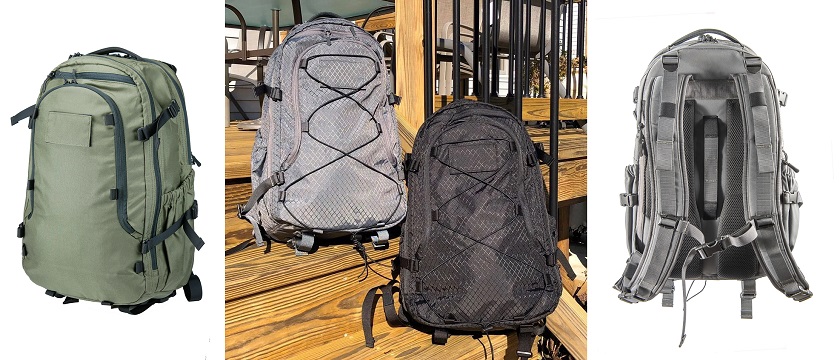 ---
Bellroy's take on designing a concept car? The Apex Backpack brings together a decade of design insights with craftsmanship and patterning designed to push the brand to its boundaries. And what a result! An incredibly clean and refined design gives the Apex an ultra-flexibility to glide from work to play and weekend adventures alike. This pack is all about access, with a universal zipper that opens up the entire main compartment or in varying degrees when it matters. Thoughtfully designed organization including a toolbelt positioning of the pockets around the sides keeps smaller items tidy and out the crush zone while leaving space for bulkier items too. And additional features such as magnetic buttons, a key clip, and adjustable volume all enhance the adaptable, user-friendly design. The Australian B Corp strives not only for quality, functionality, and style but sustainable construction too. And the Apex is crafted with a specially developed recycled Baida Nylon and premium, environmentally certified leather that not only look good but will provide many years of reliability to get the most out of this pack.
---
A lot of everyday bags will carry your tech, gym clothing and even weekend getaway essentials. But what happens when your carry requirements become a little…well…unusual? A chair perhaps? Large packages? Bulky computer monitors? This is where the Osuza Canvas Backpack steps in, easily taking care of day-to-day setups while packing some serious flexibility when your carry gets a little crazy. The lay-flat design expands from 20L to 40L, staying compact for small loads but easily hugging big or awkwardly-shaped ones when the need arises. The pack provides top and side access and a host of organization options including a 17" laptop compartment and numerous pockets and webbing attachment points. Plus you can even partner the pack with optional pouches and straps for additional carry organization. Pretty much as close to morphing carry magic as you can get, the Osuza Canvas Backpack lets you carry almost pretty much anything you want, from minimalist to maxed out as duty calls.
---
VORMANN is a rare beast on the carry scene, exploring the intersection between outdoor, streetwear and EDC while bringing their expert craftsmanship to the fore through a combination of standard and highly customized offerings. The brand designs and crafts gear in their Dortmund-based workshop, with premium components and build quality ensuring you'll be holding onto their gear for a long, long time. What really captures the attention of the savvy carry enthusiast is the FRT Rucksack, available in a wide variety of configurations. The multiple custom options range from fabric and hardware to pockets and more, ensuring this is a pack you can really make your own.
---
Never finding a bag that's "just right" is a bit of a curse when you're as obsessed with gear as the designers and gear reviewers at GWA are. So they did what they had to do: made their own. Seven years in the making, the GWA Citadel Gen 2 was tested and fine-tuned to create an adaptable pack for everyday and travel use. The pack is made in the USA with American materials, featuring a rugged 1000D Cordura body and mil-spec construction that will take a beating and keep on going. The pared-back tactical aesthetic and functional design salutes military utility while remaining compact and low-key enough to move between environments. A clamshell main compartment reveals a Velcro-lined internal back panel for use with tear-away pouches. And the organization continues with a mix of interior and exterior pockets, PALS webbing, and a separate padded laptop compartment. The carry-on compliant pack also offers multiple grab handles, excess webbing management, and a padded ventilated back panel. All resulting in a tough, well-considered bag that easily adapts.
---
You can't think of the German carry scene without thinking of bagjack. Consistently delivering burly and badass designs for demanding users, this Berlin-based brand has been going strong for well over two decades. And they're not afraid to take things to the next level with their aptly named NXL Rucksack Tech Line. NXL stands for Next Level, a line designed to elevate their offerings even further across materials, functionality, design and manufacturing. The NXL Rucksack Tech Line has been designed with the brand's most frequent customer wishes in mind, featuring AustriAlpin Cobra buckles and six rows of MOLLE webbing on the front and sides to support an adaptable modular carry approach. Made by hand in Berlin with PU-coated Cordura, the pack is a fusion of street, techwear, and military aesthetics in a rucksack built to conquer the day-to-day.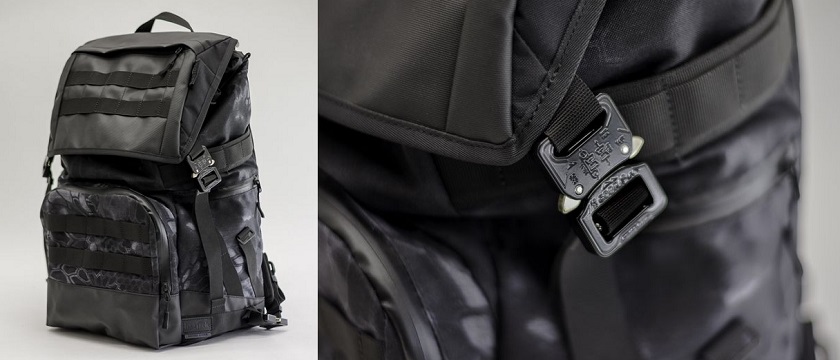 ---
Peak Performance are a Swedish brand with roots in skiing apparel, though now their expanded focus includes outdoor and active performance clothing. Ben Gorham is the founder of luxury Swedish brand Byredo. And when they joined forces, an intriguing collab was likely to follow. Sure enough, the Peak Performance X Ben Gorham Backpack doesn't disappoint. A bag that cleverly interweaves outdoor, fashion and performance elements into its design, the pack is made with a hardy shell fabric (70% Polyamide and 30% Polyester) designed to take northern Sweden's unpredictable weather in its stride. And while its eye-catching aesthetics will turn heads, the multifunctional modular design gives you a whole lot of bag for your buck. Well, three bags actually. The three-in-one design features a main pack with a padded laptop sleeve and two detachable side bags that are secured with Fidlock fastenings. The side bags can be paired with a shoulder strap for independent use, allowing you to alternate between modular components to accommodate larger and smaller loads alike.
---
hobo are purveyors of premium Japanese street carry and accessories, always nailing a refined mix of quality, functionality, and style for urban lifestyles. And their Spectra X-Gridstop Nylon Backpack is no exception. Its super-clean lines are well expressed with the brand's Spectra X-Gridstop fabric, a strong yet lightweight polyurethane coated nylon with excellent tear resistance. The water-repellent 24L pack is made by hand in Japan and balances a sleek exterior with sufficient organization for your everyday gear without cluttering the design. Understated, technical and practical, the versatile daypack has a wide opening for convenient access to the main compartment, an interior sleeve pocket, and exterior pockets for quick-access items.
---
Porter are legendary on Japan's carry scene, while Canadian-based HAVEN are known as one of the world's top streetwear boutiques. Bring them together and you're in for a treat. Expert Japanese craftsmanship harmoniously blended in the Porter x Haven Utility Pack. A 23L pack that looks good, works hard and is ready to tackle the demands of daily commuting and weekend explorations alike, it's made with a hard-wearing combination of water-resistant Cordura® X-Pac Nylon and YKK VISLON® Metaluxe zippers. Efficient organization is on point too (and a nod to military packs), with multiple access options and a choice of easy-reach pockets to keep your gear secure yet close at hand.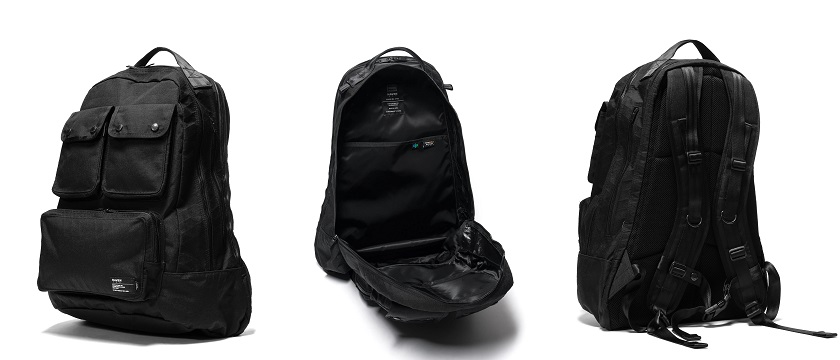 ---
Based out of Bozeman, Montana, EVERGOODS have carved out a solid reputation for their crossover gear designed to straddle urban and outdoor environments. The Civic Half Zip 22L is their answer to a streamlined, efficient daypack that can accompany you on weekly commutes and adapt to outdoor daytrips and travel too. Blending technical construction with everyday functionality, the pack is made with a weather-resistant 500D High Tenacity Nylon 6,6 and offers a wide-opening main compartment for easy packing and quick access to gear. Quick-access pockets partner with interior organization and laptop storage to ensure items stay tidy on the go. You'll also find right and left bladder ports for outdoor flexibility and active use, with a padded back panel and straps in a bag designed to sit high on your back for stable, comfy carry. Clean in looks and versatile in function, this pack effortlessly embraces a variety of settings and needs.
---
Peak Design's Everyday Backpack is a bit of a carry icon to say the least. But sometimes a simpler carry solution is called for. Enter the Everyday Backpack Zip, available in 15L and 20L sizes. A new design forming part of the brand's Everyday Line V2, the pack nods to its big brother but offers a more pared-back aesthetic and functionality. Clean and minimalist on the outside, the pack suits a variety of work environments but is also a fine choice for carrying photography gear in low-key style. But don't let its sleek exterior fool you. Inside the main compartment, accessed via a weatherproof 270-degree zipper, you'll find more than enough organization to keep your daily gear tidy and accessible, including internal FlexFold dividers, pockets, and an external-access dedicated tech compartment. Look to the outside and you'll find side pockets for water bottles or a tripod and stowable straps to secure additional items externally. The pack is made with a weatherproof, 100% recycled 400D nylon canvas shell and even integrates a handy luggage passthrough for travel use.
---
With its well-balanced blend of military-techwear aesthetics, excellent build quality, and urban utility it's not hard to see the appeal of ORBITGear's R103 ADV SR. Forming part of their ADV Series featuring top-grade fabric and components, the Indonesian carry brand have delivered an impressive offering that adapts to modular carry needs thanks to plenty of exterior attachment points. The durable X-Pac exterior and weatherproof construction with a rolltop closure protect gear from the elements, and you'll find a choice of pockets on hand to store your everyday items, including a suspended 15" laptop sleeve. Made in-house in their Jakarta studio, this pack focuses on doing practical details and hard-wearing construction well so you can get on with the day ahead and know your bag has your back.
---
Your carry needs change from day to day. Venturing to work during the week, while tackling to-do lists on your days off. So YETI designed the 23L Crossroads Backpack to go where you go and keep up with tough use and changing environments. The exterior is kept sleek and clean, allowing it to move easily from work to downtime pursuits and back again. But this pack is about functional organization too, offering a wide-opening main compartment with interior pockets, a dedicated tech compartment with internal organization, and quick-access side and front pockets. The nifty exterior bottle pockets also integrate magnetic closures, staying low profile to the pack when not in use. The pack also features a structured, self-standing design to aid in accessing gear throughout the day. And since an everyday pack should keep up with your comfort and durability demands, YETI built the Crossroads Backpack accordingly. The burly 1000D Nylon exterior and 420D Nylon ripstop lining will hold up well during years of use, while contoured straps with dual-density foam and an articulated back panel deliver that all-important carry comfort.
---
Based in Seoul, South Korea, BLANKOF is committed to a design philosophy of functional minimalism. Their Double Clasp Pack evokes their slogan of 'Neat and Proper', offering a bold form that pares back unnecessary elements while ensuring a user-friendly design. The bag combines modern-day functionality with military-inspired aesthetics that still remain understated for everyday settings. The 28L pack is made with durable, water-repellent nylon and YKK AquaGuard zippers to handle frequent use and changing weather conditions. It fits a 17" laptop and makes accessing frequently used items simple and easy thanks to multiple external pockets. A bag created with long-lasting utility and adaptability in mind, it's a pack you can reach for during the commute, as a gym buddy or to stash essentials for a weekend getaway.
---
Japanese brand CIE (Cause In Effect) believes in the spirit of inquiry and bringing value to people through their gear. And the Various Backpack supports both, offering a flexible design that moves with you wherever the day leads. The bag combines a zippered front compartment and rolltop back compartment, with a lay-flat design for storing extra gear between the different compartments. Built to be lightweight and practical, the bag is made in Japan and features a 600D polyester body and polyurethane coating, with weatherproof nylon on the front compartment. Minimalist in aesthetics but multifunctional in design, it's a smart everyday backpack that lets you get creative with the way you carry.
---
A bag that flows effortlessly along the streets of a bustling city while adapting to active use too is not easy to create. But Hong Kong carry brand Able Carry do a darn fine job with the Daybreaker. Designed with a tall and slim profile to remain compact in crowded spaces, the 25L pack carries work supplies, gym gear or outdoor day trip essentials equally well. Available in X-Pac and Cordura Nylon options, this is a lightweight pack too (the X-Pac bag weighs 560 grams, while the Cordura Ripstop option weighs 580 grams). Quick-access open and zippered side pockets hold items like a water bottle and smaller valuables, while the main compartment opens wide for convenient access and fits a 15″ MacBook. Lightweight, durable and streamlined in build, while thoughtfully versatile in design, the Daybreaker lends itself well to a multitude of daily carry uses.
---
At first glance the DUO Daypack looks like your standard, low-key daypack. But that's the whole point. Take a look below the surface and you'll be impressed with the range of features this pack offers, all contained in a sleek silhouette that looks equally at home on city streets, in work environments or out in search of your next adventure or photography shot. Because yep, this pack does it all. Key to the design is the Infinite Zip™ access system that lets you partially or fully open the pack as needed. Dual side access also allows you to easily reach camera gear, safely stored in the innovative interior Pop Camera Cube. As the name suggests, the cube pops up so it's there when you need it, but also lays flat when you don't. Plus the camera cube can also double as separate storage for the likes of shoes or gym clothes. Exterior quick-access pockets and a variety of interior pockets neatly store your gear and you also benefit from a padded interior 15" laptop and tablet sleeve. The 20L pack is made with water-resistant 840D Jr. Ballistic Nylon and 1680D Ballistic Nylon, paired with water-resistant YKK zippers to keep the elements at bay. An adjustable sternum strap and ventilated padded back panel help keep you comfy on the go. And speaking of go, there's also a luggage passthrough when travel beckons.
---
Inspired by the legendary 3 Day Assault Pack but built for everyday urban missions, the 2 Day Assault Pack brings all the rugged durability, functionality, comfort and access you'd expect from the carry experts at Mystery Ranch. This pack salutes its military heritage with plenty of MOLLE webbing to customize your carry layout, but you'll also find an interior suspended padded 15" laptop sleeve and separate divider for a tablet. The laptop is accessible inside the main compartment or via an external side zipper. And for flexibility you can also store a hydration bladder in the laptop sleeve. Additionally, Mystery Ranch's iconic 3-Zip opening ensures you won't have any trouble accessing gear in the main compartment either. Of course, it wouldn't be Mystery Ranch without considered carry comfort. And they have you covered with an adjustable Futura harness and removable waist belt. Ready for a host of EDC and travel missions, it's a solid trooper built to go the distance.
---
Vote Closed