From work trips to long-haul adventures, your travel needs can vary extensively. And while no single carry-on bag will cover every possible environment and load, you can find great options to handle particular environments and needs well. Ultimately a top-notch carry-on bag will travel well, whether that's moving smoothly between plane and Uber and crunching the sidewalk, while keeping you comfortable and prepared for adventure. Our Best Carry-On Bag finalists all offer the above, and a little more.
But which bag really shines in its intended use and maximizes hassle-free travel? Choose your top contender below.
---
Inspired by the iconic Synapse 25, the Synik 30 is ready to take to the skies in super travel-friendly style. The pack is made in the USA by Seattle-based Tom Bihn, a brand with a bag crafting history spanning back to 1972. And it's backed by a lifetime guarantee, so rest assured you've got a travel buddy for the long haul. Available in a variety of fabrics and colorways, the pack offers useful features such as a clamshell opening and removable internal compression straps. You'll also find a separate suspended 15" laptop compartment with external side access and interior top access. But perhaps some of the handiest features are a host of front organization pockets for quick-access and small items. So no more frustrated rummaging for a charging cable, tickets or other essentials while you're on the move. Plus the well-considered front exterior pockets are designed to retain their volume even when the main compartment is full. A tag team partnership of a padded back panel, sternum strap, webbing waist belt, and removable internal frame provide the necessary comfort you want in a carry-on, while a luggage passthrough allows rolled luggage to take on carry duties when the opportunity presents itself.
---
The more organization you add in a bag, the more cluttered it tends to become. But Matador have come up with a clever take on carry-on that offers clean, minimalist aesthetics while delivering lots of flexible organization. Designed with one-bag travel in mind, the 42L bag features a segmented design with multiple pockets that are externally accessible. The pockets can store clothing by type, day or activity, keep clean and dirty gear separate, or not be used at all in order to increase space in the clamshell compartment. Essentially, it's a bag with built-in packing cubes that are there when you need them or store away when you don't. The external laptop compartment, weatherproof build and adaptable carry options including multiple grab handles and stowable backpack straps add peace of mind and convenience to travel life on the go.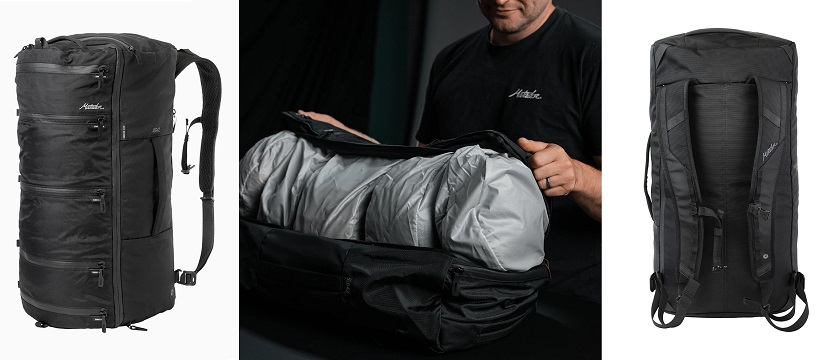 ---
Right from the get-go, San Francisco-based Black Ember have stood out on the carry scene with their cutting-edge designs. Their gear is known for merging technical construction with premium materials and hardware, sleek urban aesthetics and versatility. And they're showing no signs of slowing down with the Black Ember FORGE. This piece finds a sweet spot as a work and travel hybrid. The kind of bag that can accompany you on the commute and effortlessly adapt to a weekend getaway or overnight business trip too. How does it do it? An expandable design that unzips from 20L to 30L with separate storage for travel gear, making it flexible for day-to-day and carry-on use. The bag offers backpack, briefcase and shoulder bag carry options, along with a lay-flat opening for easy access to the main compartment. Built to handle the demands of everyday and travel use, it's made with a burly 800D 3-layer Microhex textile and YKK AquaGuard zippers. And with plenty of pockets on hand to neatly store your tech, quick-access essentials and day-to-day items you'll be good to go whether you're heading to the airport or embracing the daily commute.
---
Adaptable carry options make a real difference when navigating changing travel environments. So Snow Peak designed a bag that can move easily with you wherever the journey leads. Not surprising when you consider the brand was founded in Japan in 1958 with a strong philosophy of encouraging people to enjoy the outdoors and find harmony with nature. And just as Snow Peak ventured to the USA in 1999, expanding its horizons on new shores, their versatile 3way Business Bag helps you do the same. It can be carried by hand, as a shoulder bag, or as a backpack, allowing you to adapt to moving fast with a load or presenting a more formal front in work settings. The 17L bag is made with water-resistant Magic Protection™ nylon and features a clamshell main compartment with an interior partition and mesh pocket. Three front zip pockets take care of your smaller essentials, keeping gear at the ready when you need it and securely stored when you don't.
---
Our friends at Bellroy have built an impressive bag line in the last few years – one of their best being the 28L Transit. And now after calls from their community for a larger long-haul option, they released the Plus. The larger brother that keeps the same DNA but adds a little more. The clean silhouette suits leisure and business trips alike, with exterior-access pockets for frequently required gear. The clamshell-style opening makes it easy to pack and retrieve gear, with internal compression straps and pockets for organization. And an external-access 15" laptop compartment helps you breeze through airport security and get to work when duty calls. Built with long-lasting quality in mind, the 38L bag features durable, water-resistant woven fabric made from recycled materials and top-notch environmentally certified leather. Rounding off the sleek and functional design are padded shoulder straps, a contoured back panel, a stowable waist belt, luggage pass-through, and a removable sternum strap to ensure carry comfort is well covered too.
---
A San Francisco-based carry brand and a Japanese capsule hotel might not seem like the most obvious partners at first. But dig down and it makes a lot of sense. Aer and nine hours both appreciate that urban travel often requires compact, thoughtfully designed carry that delivers a blend of style, access and adaptability. And so the Aer x nine hours Capsule Pack was born. Forming part of the brands' Capsule Collection collaboration, the pack takes inspiration from nine hours' philosophy of simplicity done well. The streamlined silhouette looks right at home in a range of city environments, while the duffel-style main compartment allows for convenient packing and access. Adding to the functionality is a top compartment for smaller essentials and a suspended quick-access 15" laptop pocket. And since carry needs change, the pack flexes accordingly with a removable shoulder strap and a luggage passthrough for additional portability options. Made with durable, water-resistant 1680D Cordura ballistic nylon and YKK AquaGuard zippers, it's also hard-wearing enough to tackle tough travel settings with ease.
---
Topo Designs was founded through a desire for utilitarian gear that would support a love of the outdoors along with city exploration and travel. Not to mention classic styling that could allow you to get a little playful too. Take a look at their Global Briefcase and you'll see all these elements weaved in. A durable build in a choice of burly fabrics and a range of colorways gives you the confidence to explore near and far while expressing your personal style. Multiple carry options also make it easy to adapt on the fly thanks to top carry handles, stowable backpack straps, a removable shoulder strap, as well as a luggage passthrough. When it comes to access this bag serves up a well-considered mix of features including a clamshell main compartment, separate padded external 15" laptop compartment with interior organization, as well as two handy external front pockets. And if you like added flexibility in your carry, this 18.8L bag also makes a solid everyday bag for larger day-to-day loads.
---
Fuller Foundry are a young brand who launched their Duffel through Kickstarter late last year. And despite being new to the carry scene, it's an impressive offering designed to embrace active adventure and business travel alike. Designed with premium performance in mind, the bag blends smart, minimalist aesthetics with water-resistant construction, rugged durability and thoughtful features to make the travel experience as smooth as possible. The bag can be carried as a duffel or backpack and offers a clamshell main compartment with interior organization for tech and clothing. Details like magnetic hardware, premium materials, waterproof shoe and laundry storage, and understated aesthetics elevate the design of this 45L duffel, making it a versatile choice for a range of travel needs and environments.
---
With over four decades of history behind them, outdoor brand Gregory have their fair share of experience in creating trusty carry for adventurous use. And the Border 35 showcases that experience through a carefully considered design that moves from weekend getaways and overnight trips to even extended one-bag travel for the savvy packer. The clean exterior is understated enough to suit a range of outdoor and urban environments, while the clamshell design offers up a choice of interior organization for clothing and additional items. The pack has a dedicated suspended, padded laptop compartment that lays flat for security checkpoints. A reinforced, padded bottom panel and a padded front panel provide extra gear protection too. The dual-density ventilated padded foam back panel, padded airmesh shoulder straps, an adjustable sternum strap and load lifters keep you comfortable on the move. And details such as custom-molded zipper pulls, a luggage passthrough, and grab handles enhance the bag's travel-friendly design.
---
The Property Of Karl… 48h+ Travel Backpack is a suave and functional travel bag that fuses timeless, classic style with durability and practical design. The Amsterdam-based carry brand has integrated a range of features into the 44L bag, starting with rear panel access to a clamshell-style main compartment. You'll find storage for a 15" laptop, a handy removable organization pouch, plus additional pockets for smaller items. The bag can also be accessed from the top via a rolltop opening which enables adjustable volume for smaller or larger loads. Comfort features include a sternum strap for load stability, padded shoulder straps, and a padded back panel. Property Of… also embrace sustainable construction through a durable combination of polyester made from recycled PET and leather detailing, resulting in a bag built to last for years to come in a nod to their "buy less, buy better" philosophy.
---
From its humble beginnings in 1974 with founder Mike Pfotenhauer putting his sewing skills to the test creating backpacks in California, Osprey has grown to become one of the foremost names in outdoor and travel carry. The 36L Transporter Global Carry-On builds on that wealth of experience with a streamlined, efficient design that can be carried by hand, with the non-slip shoulder strap, or via a luggage passthrough. The clamshell main compartment opens flat for easy packing and internal zippered dividers and pockets neatly organize and secure your gear. An external toiletry pocket and a front organization panel keep all your essentials easily accessible too. Plus tech stays at the ready with an external-access padded laptop pocket. The durable, TPU-coated 400D Nylon build protects gear from the elements, while lockable main compartment zippers add further peace of mind during your travels.
---
South Korean brand PROSPECS has almost 40 years of experience crafting quality athletic footwear. And their appreciation for function and style echoes the values of fellow South Korean brand RAWROW. So they teamed up to create a casual travel/everyday bag that ticks both boxes in an elegantly understated way. The PROSPECS X RAWROW PRAW Local Trip Backpack is made from Cordura for enduring durability through travel and day-to-day use alike. The pared-back silhouette moves effortlessly between work, travel and play environments, with flexible portability courtesy of stowable backpack straps and grab handles. The clean aesthetics are carefully balanced with considered organization including a range of pockets and dual compartments to neatly store a laptop, clothing and other travel essentials.
---
Inside Line Equipment have been handcrafting hard-wearing bags in California since 2012. Initially inspired by a love of cycling, their carry offerings have expanded greatly over the years but still focus on core values of strength and simplicity. The ILE Travel Pack celebrates both values with its weatherproof build and functional design that allows you to pack as you prefer, while still offering useful organization. Crafted with X-Pac fabric in a variety of colorways, water-resistant YKK zippers, and a rugged AustriAlpin Cobra buckle, it's built to go the distance and then some. The panel-loading design enables easy packing and access to gear, letting you open the bag fully or partially to access gear through the sides. Interior pockets for a laptop and other smaller items team up with quick-access pockets to handle your frequently used gear. Plus compression straps help cinch the load as needed. Add in the removable waist strap and a sternum strap and this pack is ready to move comfortably across a range of travel environments.
---
Boundary Supply have always taken a technical and sustainable approach to design in order to create long-lasting gear that thrives in demanding environments. And the Arris Backpack is no exception. Designed to be a rugged, weatherproof adventure pack, the Arris forms part of a modular system to accommodate a diverse range of needs. The travel pack functions well as a standalone piece but can also partner with a variety of modular components to increase carrying capacity and flexibility. The 35L pack is sustainably manufactured using bluesign® system partners. It features a water-resistant, high tenacity 400D nylon exterior, taped seams, and weatherproof YKK zippers. Access is straightforward rather than a chore thanks to quick-access exterior pockets, a clamshell main opening, and side zipper access to the main compartment. Varied organization including a removable dry bag, a quick-rip zippered divider, and padded 17″ laptop storage keeps your gear in check. And you don't have to worry about comfort thanks to an easily adjustable harness to suit different users. The ventilated, padded back panel partners with a removable waist belt, magnetic sternum strap, and load lifters to keep the pack stable and secure on the move. With its modular adaptability and burly build, this pack is ready for adventure whether you're roaming light or kitting out for extended trips and expeditions.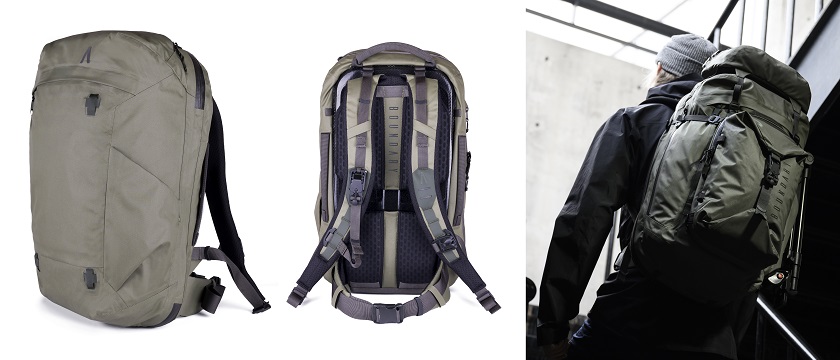 ---
If you're designing a travel backpack, it makes sense to turn to bag experts and travelers for their insights. And that's what Pakt did for their Travel Backpack. Designed with insight and feedback from their travel community and bag reviewer (and former Carryology contributor) Chase Reeves, it's a pack that offers intuitive access, understated design, and straightforward functionality for smooth and easy travels. You benefit from a clamshell main compartment with internal organization, a variety of quick-access pockets, as well as quick-access storage for a 15" laptop. The pack also offers a luggage passthrough, stowable backpack straps, load lifters, a removable waist belt and sternum strap. As an added bonus, the removable waist belt converts to a compact day bag that can be worn around the waist or cross-body. Pakt was founded in 2018 through the desire to create refined, responsibly-sourced travel goods. And they're staying true to their values through a sustainably and responsibly built pack. The bag exterior is constructed with rPET, made from recycled single-use plastic. And the factory that crafts the bag has been extensively vetted for safety and workplace conditions and labour practices. Backed by a lifetime guarantee, understated enough to adapt to work trips and leisure travel, and thoughtfully designed for intuitive use, this is a well-considered travel bag you'll happily reach for year after year.
---
When the bag experts at Mystery Ranch and the expert gear curators at Huckberry come together, you can be sure good things are going to follow. And their collaborative Mystery Ranch x Huckberry Mission Hybrid doesn't disappoint. Three carry options let the 39.6L bag alternate between backpack, shoulder bag and briefcase mode. It's made to thrive in demanding travel use while looking good on the go, featuring a durable, water-resistant Waxed Wood textile consisting of a nylon, polyester, and cotton blend. Rest assured the organization is on point too. You'll find multiple pockets and compartments including a separate padded 17" laptop sleeve and separate shoe pocket, ensuring tech, clothing, and quick-access essentials all stay well organized.
---
Voting Closed