Carrying camera equipment is a challenging niche to nail. Good camera bags need to be on point across multiple elements: Effective access. Efficient organization. A durable build to handle heavy hauling. And of course suitable protection to look after fragile equipment, from shock-absorbing padding to reliable protection from rain, snow, dust and dirt. And since camera gear often leans towards the heavier end of carry, a good bag will maximize your carrying comfort through load stability, cushioning and ventilation.
Our Best Camera Bag finalists aren't ones to shy away from the job of protecting pricey, fragile gear. But which finalist really sets the bar in this challenging category? Pick your top choice below.

VOTING CLOSED
_________________________________________________________
It's not always easy keeping on top of different camera setups. But the Gura Gear Kiboko V2.0 allows you to organize two separate systems courtesy of dual side-by-side compartments. Adjustable padded dividers let you customize the layout to suit specific gear setups, with multiple pockets to neatly store accessories. The burly, weather-resistant build is made with
VX-21, nylon and polyester material and an included raincover adds extra protection from the elements. And with its padded back panel, sternum strap and waist belt you can comfortably carry heavier loads, while top and side handles enhance maneuverability.
_________________________________________________________
With its clean style and rugged, weatherproof build the Integer Camera Pack can transition from urban to outdoor photography settings as duty calls. Convenient access is sorted too, with front and side panel access to the camera compartment and rolltop access to a top compartment that's useful for storing personal items. Plus with a dedicated laptop compartment and a choice of pockets, you've got organization covered. And for bonus flexibility? The camera compartment is removable if you want to use the bag as a travel pack.
_________________________________________________________
Want all-in-one carry for a drone and DSLR setup? Incase delivers a savvy solution with their Camera Pro Pack. The main compartment fits a full frame DSLR with attached lens and features a clamshell opening to easily access contents throughout. The front compartment accommodates a DJI Mavic Pro, while a choice of pockets and customizable dividers step up for organizational duties. The pack is made with abrasion-resistant 840D nylon and exudes Incase's signature sleek styling for understated, urban-friendly camera carry.
_________________________________________________________
Worried about setting your camera pack down in wet or dirty environments in order to access your gear? The BackLight 26L does away with that concern thanks to its back panel access. Simply keep the waist belt secured and spin the bag to your front to create a mobile workstation with convenient gear access. There's no shortage of pockets, dividers and attachment straps so you can tailor your carry setup for urban and outdoor photography sessions. And with its water-repellent build and included raincover, you've got solid protection in inclement weather too.
_________________________________________________________
ILE's Ultimate Photographers Bag MKIV offers a thoughtful blend of durability, access and low-key aesthetics to create a versatile bag for diverse photography settings and setup needs. Wide-opening back panel access keeps your camera gear accessible during sessions, yet protected against opportunistic thieves when you're on the move. And the rolltop storage provides a useful stash point for personal gear or top access to the camera compartment. The burly handmade construction combines X-Pac reinforced Cordura with a Hypalon rubberized nylon base for long-lasting durability. And the comfortably padded shoulder straps, back panel and removable waist belt also help reduce carry fatigue.
_________________________________________________________
Hauling camera gear can be strenuous work. But the StreetWalker V2.0 zooms in on comfort to keep you going strong all day long. The wide, padded shoulder straps, contoured and breathable back panel, and lumbar support help you haul the load comfortably over extended periods of time. And with its clamshell-style main compartment, quick-access pockets and front tripod mount you can store gear neatly and within easy reach when required. Add in the water-repellent construction and included raincover and you've got a versatile photography companion for day-long excursions come rain or shine.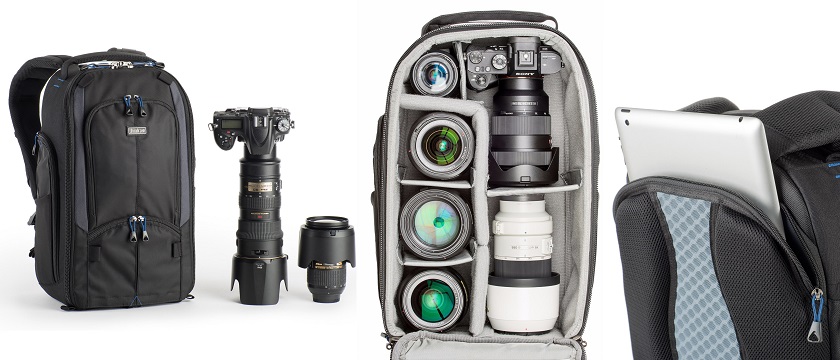 _________________________________________________________
While many camera bags are functional, they don't always excel in the style compartment. But Langly demonstrates you can have both with the Alpha Globetrotter Camera Backpack. This handsome pack delivers old-school charm with a dash of heritage chic complemented by a durable, weatherproof build and practical access. The front-loading camera compartment keeps photography gear at the ready for that great shot, while the top compartment stores a 15″ laptop and personal gear. And the removable sternum and waist straps and custom-molded back panel help keep you cool and moving comfortably while getting your gear where it needs to go.
_________________________________________________________
If you value superior protection from the elements and sustainable construction, the Tillak Siletz Modular Carry System is a solid choice. The completely waterproof Siletz backpack can be paired with modular accessories including the padded Travel/Photo Insert. A versatile module with removable dividers that lets you adapt to travel use, photography excursions or a combination of both. The certified B Corporation uses bluesign® approved materials to create a tough, adventure-ready pack that will protect your gear from whatever the weather throws at it.
_________________________________________________________
Urban-chic style, versatile functionality, modular adaptability and a host of thoughtful details make Boundary Supply's Errant Pack an enticing bag for photography needs and everyday use alike. The pack is compatible with the modular MK-2 Camera Case and CB-1 Photo Insert, allowing you to transition between camera and day-to-day carry needs with ease. Add magnetic access, separate storage for tech devices, a wet/dry pocket and highly water-resistant, sustainable construction with bluesign® materials and hardware to the mix and it's a flexible choice for EDC/camera needs.
_________________________________________________________
When you need to step up your style game while still enjoying easy gear access and flexible organization, the Cecilia Mercator Camera Backpack is a suavely practical pick. Not to mention it's a savvy choice if you're after an understated design that doesn't advertise expensive photography equipment inside. Crafted with full-grain leather, the pack offers back-panel access and a host of interior pockets, customizable dividers and a padded 15″ laptop sleeve to tailor your organization setup. The ventilated, padded back panel helps you stay cool and comfy, while the lifetime guarantee is a welcome touch on this premium piece.
_________________________________________________________
Need a sleek camera carry solution that can slip through crowds while serving up solid access on the go? Meet the f-stop Dalton. The pack's slim profile navigates crowded spaces easily, while dual side access lets you easily reach gear. The padded main compartment has five dividers for organization and is removable if desired, allowing you to convert the pack to a standard rolltop daypack. Additionally, a padded back pocket stashes 15″ tech devices securely, all dished up with a durable, water-resistant build for peace of mind when showers threaten.
_________________________________________________________
Photography missions aren't always the same. Some days you need to carry and organize a lot, while other days you may need smaller loads or the ability to carry larger, awkwardly-shaped items. And this adaptability is deftly delivered through the Loewpro FreeLine BP 350 AW. The pack's clever QuickShelf divider unfolds into a three-tier shelf for organization or can alternatively be removed if required. So you get the flexibility of a photography bag and everyday or travel backpack in one. Dual side access allows you to easily reach gear on the go, while the abrasion-resistant and water-resistant build shrugs off demanding use and inclement weather. Plus with quick-access pockets, storage for a 15″ laptop, and exterior attachment straps you can conveniently store frequently used items close at hand.
_________________________________________________________
Tenba's tactically-inspired Axis collection puts the focus on fast and flexible access so you don't miss that epic shot. By swinging the bag round to your front you can quickly reach gear through the side panel access. Alternatively the top access lets you get to gear while maintaining a small footprint if you need to set the bag down. And if you need complete access to all your gear, the back panel opening has you covered. MOLLE-compatible webbing lets you adapt to changing gear setups easily, while keeping essentials at the ready. And other nifty features that dial in the comfort and fit? Adjustable shoulder strap lengths to suit different torso lengths, as well as a removable waist belt when you need to haul heavier loads. The Axis collection includes 20L, 24L and 32L backpacks, so a variety of photography setups are covered.
_________________________________________________________
Vote now!