Accessories are some of the most useful tools in carry. Designed with specific goals in mind to help you tune your daily or travel setup. They may serve as organization for corralling smaller essentials, useful allies in protecting gear from the elements, or clever travel companions to help save space or improve enjoyment.
Our Best Accessory finalists have been created with different needs and purposes in mind, but all do a stellar job of meeting those needs. However, which one stands out by really nailing that fit-for-purpose design in a big way? Choose your top pick below.
---
Think you can't enjoy a coffee dripper wherever you go? Think again. MiiR's Pourigami is a highly portable coffee dripper that's small enough to fit in a back pocket when not in use, yet easily assembles into a compact coffee dripper through three interlocking stainless steel panels. The Pourigami comes with a storage case that has room for filters and its durable build is backed by a lifetime warranty.
---
Traditional tripods are bulky and often take up a lot of space. So Peak Design took a different approach in creating their Travel Tripod, rethinking what the category could be and achieve. The highly considered design not only packs down to the diameter of a water bottle, but is also super easy to set up and pack down. It features secure yet quick camera release, a stowable mobile phone mount, and a pro-ready build with a 20lb weight capacity. And with eye level, low and inverted modes, you can easily position a camera in your perfect spot.
---
Hyperlite Mountain Gear know that packing efficiency is key for successful ultralight adventures. So they designed their stackable Pods to make packing as efficient as possible. Created to snugly fit their packs with no wasted space, the Pods come in small and large sizes and are handcrafted in Maine with Dyneema Composite Fabric, water-resistant zippers and taped seams. Resulting in highly weatherproof storage and organization for your outdoor adventures. The clamshell opening makes it easy to pack and access gear. And of course, there's no reason they can't be paired with other brands' packs too, making a convenient transferable storage system.
---
Small tech items are easy to lose in a bag. So Bellroy created their Tech Kit as a stylish and practical all-in-one storage solution. The clamshell opening allows easy access to the contents, with a variety of pockets (including a magnetic pocket for a power bank or other bulkier items) and elastic loops to neatly store items. Made from recycled woven fabric, its clean design moves easily between work, travel and play, while ensuring all your small tech essentials are quickly available. Not to mention easily transferable between bags when you want to swap out your carry.
---
BOND Travel Gear rebranded to LOCHBY last year, shifting their focus to stationery, notebooks and savvy ways to carry them. Their Pocket Journal does a great job of protecting and organizing your stationary in a ruggedly built zippered case crafted from durable waxed canvas. There's a nod to classic, heritage aesthetics neatly balanced with pocketing for a small notebook, business cards, pens, a passport and more, making it a versatile organizer for both everyday and travel use.
---
Tile are known for their compact trackers that can slip easily inside bags and wallets. But what about tracking items that don't have storage pockets? That's where the Tile Sticker comes in. Compact and waterproof, the Sticker attaches easily to pretty much anything, from camera gear to bicycles, phones, laptops and more. It features an inbuilt three-year battery and a range of 150 feet (46 meters), so you can easily keep track of valuables and frequently used gear at home and out and about too.
---
Having to constantly rummage for items during the day isn't only frustrating but impacts your productivity too. The Orbitkey Nest was designed to avoid this, providing a customizable desktop organizer that can also store essentials as you move from meeting to meeting. The lid is a handy catch-all tray that also features an inbuilt charging pad for wireless charging. Inside you can use customizable dividers to tailor the layout for a range of setups. The Orbitkey Nest has a versatile hinge system that allows the lid to be completely removed for easy access to the contents or alternatively keeps the lid attached but easily openable for clamshell access. Built for long-term durability and timeless style, it's a clever and classy organizer for everyday, work and even travel items.
---
Whether you're traveling, venturing on a day hike outdoors, or simply out and about in town, staying hydrated is important. But most water bottles are bulky items that continue to take up space even when empty. Matador's Packable Water Bottle is a tough yet lightweight 1-liter bottle that packs down small when empty, helping you minimize carry bulk and storing away compactly when not in use. Made from BPA and PVC-free TPU, the bottle has a full-length straw with a lockable bite valve and a removable cap. Easily filled and washed through the zippered base, it's a useful addition to everyday, travel and outdoor setups alike.
---
Keep losing your keys or phone at home? Tired of hunting for misplaced tools or earphones? Dango's EDC Tray offers stylish storage for your everyday essentials and tools. Four compartments neatly separate items, while keeping everything easily acccessible. Plus it's got added functionality too, with multiple inbuilt tablet and phone stands to securely hold tech, as well as cable management for tangle-free storage. Machined in the USA from solid aluminum, the tray also includes anti-slip rubber footing for added sturdiness.
---
Phones and water don't go well together. But the Nite Ize RunOff Waterproof Phone Case provides peace of mind that your phone will stay safe from water and dust. It features Nite Ize's groundbreaking TRU® Zip waterproof zipper in combination with a tough TPU build and RF-welded seams. So you get a completely waterproof and dustproof case with an IP67 rating (submersible in 1 meter of water for up to 30 minutes). The material is touchscreen-friendly and even allows for underwater photography using front and back phone cameras. An interior pocket provides storage for cards and cash, while the included adjustable lanyard allows you to carry the case around your neck or cross-body. The case is also slim enough to fit in most pockets and can be attached to a belt using the integrated loop.
---
It's important to keep wet and dry items separate, whether you're commuting to work or heading on your travels. Boundary Supply's Port Kitt features a modular design that neatly organizes smaller dry goods and wet/liquid items alike. Two compartments keep items tidy yet separate, with a Duramax Kodra compartment for dry items such as tech accessories and EDC gear and a waterproof Hypalon compartment for items such as toiletries. The design can lay flat for compact storage in luggage and also integrates a hanging hook for convenient bathroom use. Plus for ultimate flexibility you can separate the compartments and use them individually too.
---
Patagonia takes their iconic Black Hole duffel and makes it a perfect backup when you need extra carry muscle. The wide zippered opening lets you easily pack and retrieve gear in the main compartment, with an external zippered pocket and exterior daisy chains for organization. Weighing just 230 grams (8.11 oz) and crafted with a 100% recycled body fabric, lining and webbing, it's a sustainable pick for lightweight and adaptable carry that fits any adventure.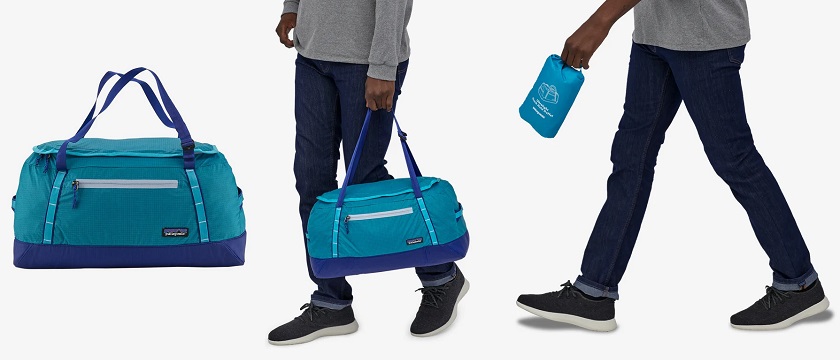 ---
Sometimes simplicity is the best approach to your organization needs. And that's what GORUCK offers with their Wire Dopp. A simple but effective organizer, it features a folding design that lays flat for easy access. Three zippered mesh pockets keep gear easily visible and accessible yet secure on the go. The Wire Dopp is made in the USA with 1000D Cordura and backed by GORUCK's Scars lifetime guarantee. Flexible for standalone use or as easily transferable storage within a larger bag, the GORUCK Wire Dopp helps you stay on top of smaller EDC and travel items in no BS efficiency.
---
Traveling is often tiring, so it's valuable to be able to catch some shut-eye when the opportunity presents itself. The Banale Omni Pillow is a three-in-one travel pillow designed to maximize comfort wherever you are. Three different modes including neck pillow, bed pillow and double cushion setups let you get the most out of the pillow as it adapts to different settings. It's made with comfortable memory foam, a washable cover and a conveniently portable form that can be carried in a bag or clipped to the exterior for on-the-go access.
---
Space in travel accommodation can sometimes be tight. But Aer keeps your travel essentials easily accessible in their Travel Kit courtesy of a hanging design with a full clamshell opening. The kit offers a variety of pockets and elastic loops to organize toiletries or other travel items, with a handy water-resistant lining. The exterior is a rugged 1680D Cordura ballistic nylon that's more than capable of handling demanding travel use. All delivered in a sleek and compact design that slips easily into an everyday commuter bag or travel bag.
---
Your hands are arguably your most valuable tools on adventures and in the outdoors. And when the going gets tough, you want to know they're well protected. Triple Aught Design teamed up with Patrol Incident Gear (PIG) to create a new standard of adventure gloves that also serve first responders and military personnel well. The PIG Full Dexterity Tactical (FDT) Delta+ Glove TAD Edition features an upgraded take on PIG's Delta+ glove with a single layer leather palm for hard-wearing use. The gloves also don't overlook modern-day tech use and are touchscreen compatible on the thumb and index finger. A paracord pull loop enables both a tight fit and a secure attachment point. Add in TAD's signature logo Ranger Eye and 3D topo screen print and you get trusty gloves with an undeniable element of adventure-cool to them.
---
Incase have always focused on tech and its protection. Now they're stepping up their laptop case range with the Textured Hardshell in Nanosuede. Available in sizes to suit 13″ and 15″ tech, the MacBook cover is made with an injection-molded shell and rubberized feet for a secure grip. The Textured Hardshell is overlaid with NanoSuede material, a tough polyester-based fabric with the aesthetics of suede but with higher resistance to abrasion, stretching and shrinking, yet still retaining a soft and anti-slip hand-feel. Inbuilt ventilation and access to ports and buttons also helps keep your tech cool and user-ready whenever you need it.
---
Voting Closed